Nevada Supreme Court ends 5-year fight by denying gun club appeal
December 23, 2016 - 1:35 pm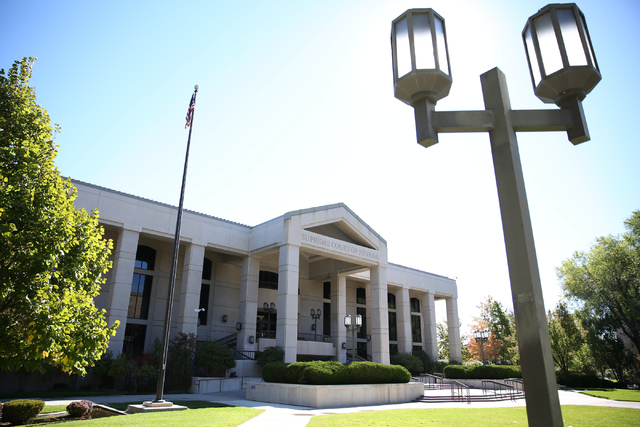 CARSON CITY — The Nevada Supreme Court shot down an appeal by a Boulder City gun club over Clark County's denial of a hillside display advertising the business, ending a five-year dispute.
An order signed Thursday by three justices denied a petition from Eldorado Hills to review Clark County's rejection.
The case involves a hillside sign on Eldorado property made with a chalk substance in 2011 advertising Pro Gun Club. According to Eldorado Hills' complaint, a group of Boulder City residents objected to the markings as a "blight" on the landscape.
Boulder City adopted a resolution disapproving of the sign, but lacked jurisdiction for legal action because the property is outside the city's boundaries.
Residents took their complaint to the Clark County Commission, and the company agreed to remove one marking on a south-facing hillside and reduce the footprint of another on the east side of a hill, which reads "Pro Gun Club."
But the county launched an investigation and threatened that the club could face fines unless it applied for a land-use permit, which was approved by the Clark County Planning Commission despite a recommendation of denial by staff.
Residents, however, appealed that decision to the Clark County Commission. Commissioners voted 4-3 to deny the sign application.
Eldorado Hills took the matter to court, but a judge declined to review the county's action.
In its appeal to the Nevada Supreme Court, the gun club argued the county's action was arbitrary and in violation of the club's First Amendment rights. It also argued Clark County lacks ordinances governing hillside markings that are flat on the ground, and that such displays do not fall under regulations for freestanding signs that set limits on height and size.
The gun club, in court documents, disputed a staff report that said the hillside marking was excessive because it stands more than 110 feet tall. It said while the marking may be 110 feet long, it "is no more than a few inches tall."
Nevada Justices Michael Cherry, Michael Douglas and Mark Gibbons disagreed, and said Clark County code provides that design and aesthetic features of on-premise signs must "create an orderly and aesthetically pleasing environment … compatible with development in the area."
Justices also said county commissioners had discretion to determine whether the hillside sign was "unsightly, undesirable or obnoxious in appearance."
Contact Sandra Chereb at schereb@reviewjournal.com or 775-461-3821. Follow @SandraChereb on Twitter.