Early voting numbers in Nevada looking a lot like 2012's
October 29, 2016 - 2:21 pm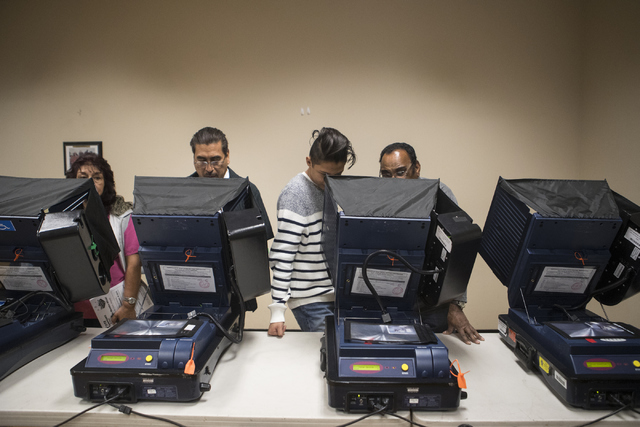 Through the first full week of general election early voting in 2016, the numbers are looking a lot like 2012.
With some rural tallies from Friday still uncounted, Democrats hold a lead of about 28,500 votes over Republicans, according to the Nevada secretary of state's website.
That number will likely drop slightly once all of the counties have reported as the rural counties lean Republican. Democrats held a lead of 28,652 after the first week in 2012.
What that means for candidates in tight down-ballot races such as those seeking U.S. Senate and two ultra-competitive Congressional seats isn't exactly clear.
In 2012, Nevadans picked incumbent Democratic presidential candidate Barack Obama and elected Democrat Steven Horsford to the 4th Congressional District seat.
And despite the raw-vote lead for Democrats statewide and in Clark County, the state went GOP for the Senate (Dean Heller) and 3rd Congressional District (Joe Heck) that year.
So even with a significant raw-vote lead for the Democratic party all the way through Election Day in 2012, Republicans still managed to hang on for key victories.
About 380,000 Nevadans voted in the first week between in-person and mail-in ballots. That's about 26 percent of the active voters in the state.
Both parties are turning out roughly the same percentage of their voter base. Statewide, 29 percent of Democrats have voted as have 28 percent of registered Republicans.
In Clark County, where roughly 69 percent of the state's voting population resides, that number sits at 28 percent for both major parties.
Should that trend continue the next week, Democrats would end the early voting period with a similar lead they enjoyed in 2012, when they headed into Election Day with a raw-voter lead of about 48,000.
Contact Colton Lochhead at clochhead@reviewjournal.com or 702-383-4638. Follow @ColtonLochhead on Twitter.
MORE INFO
More information on voting site locations and their dates and times of operation can be found online at: http://bit.ly/2ey6QbQ
RELATED
More than 225,000 county voters cast ballots in first six days of early voting
Nevada, Clark County Democrats keep up the pace in early voting
Nevada voters have unique option in presidential race: None of These Candidates
Democrats roll past Republicans in record Nevada early voting turnout
Clark County sees record-setting weekend for early voting
Clark County voters set early-voting record as nearly 40K turn out on day 1 — PHOTOS