Heller among Republicans targeted by national PAC
December 10, 2017 - 10:45 pm
Updated December 11, 2017 - 12:20 pm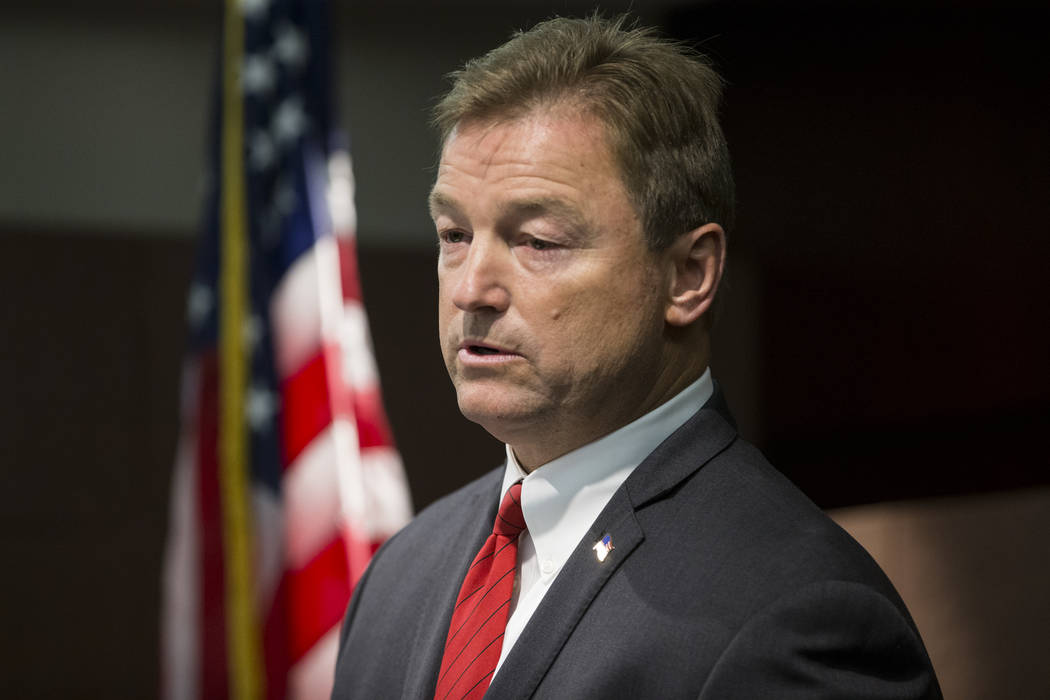 A national Democratic political action committee is targeting U.S. Sen. Dean Heller as part of a $35 million campaign to unseat 20 sitting Republicans in Congress.
The Nevada Republican is one of two senators targeted by the PAC. Other notable targets include Texas Sen. Ted Cruz, House Speaker Paul Ryan and California Rep. Dana Rohrabacher.
The "Big Money 20" effort comes from End Citizens United, which does not accept donations larger than $5,000, as part of a campaign aimed at ridding Congress of members who do the bidding of special interest groups.
Heller is expected to face a tough challenge in the Republican primary against businessman Danny Tarkanian. If Heller beats the perennial candidate in the June election, he would likely square off with freshman U.S. Rep. Jacky Rosen, who is leaving the House in an attempt to turn both of Nevada's U.S. Senate seats blue.
That could be one of the nation's most expensive races next year.
"Senator Heller represents a rigged system that puts mega-donors and the special interests above Nevada families," End Citizens United President Tiffany Muller said in a statement. "Donald Trump was elected on a promise to drain the swamp, but things are only getting worse in Washington. Dean Heller is one of the worst offenders and we will hold him accountable."
The group also knocked Heller for voting against reforms that would have provided more transparency in campaign finance reporting.
Heller's campaign countered that the PAC's campaign is "just more East Coast liberals supporting Jacky Rosen and Danny Tarkanian."
"A liberal group spending $35 million to oppose special interests? Does anybody find the humor in that?" Heller campaign spokesman Keith Schipper said in a statement.
Another candidate
Democrats have a new target in the 2018 race to control the state Senate: District 20.
Political newcomer and local businesswoman Julie Pazina is the first Democrat to join the race, which includes Republicans Keith Pickard and Byron Brooks.
Pazina is the national sales director for Edlen Electrical Exhibition Services, which specializes in temporary utility services for trade shows and special events. She served on the Las Vegas Hospitality Association board of directors for six years, including a stint as president in 2013.
"I want to bring the experiences I've gained working in the private sector to the State Senate and focus on helping create good-paying jobs for our community," Pazina said in a statement. "I'm stepping up to run for office because I believe Nevada must do more to develop and diversify our economy."
Pazina said she wants to invest in public schools, "double down" on clean energy solutions, help small businesses thrive and grow the state's tourism numbers.
The candidates are vying to replace Michael Roberson, who is leaving the seat that encompasses parts of Henderson and the southern Las Vegas Valley to run for lieutenant governor.
The most recent voter registration statistics from the Nevada Secretary of State shows a pretty even party split in the district, with about 800 more registered Democrats than Republicans.
Endorsements
The Senate Democratic Caucus endorsed Assemblyman James Ohrenschall in his bid for Senate District 21, a seat previously held by Mark Manendo. Manendo resigned in July following an investigation into sexual harassment allegations leveled against him.
Contact Colton Lochhead at clochhead@reviewjournal.com or 702-383-4638. Follow @ColtonLochhead on Twitter.