Heller, other GOP lawmakers tour US-Mexico border
February 22, 2017 - 2:42 pm
Updated February 22, 2017 - 2:58 pm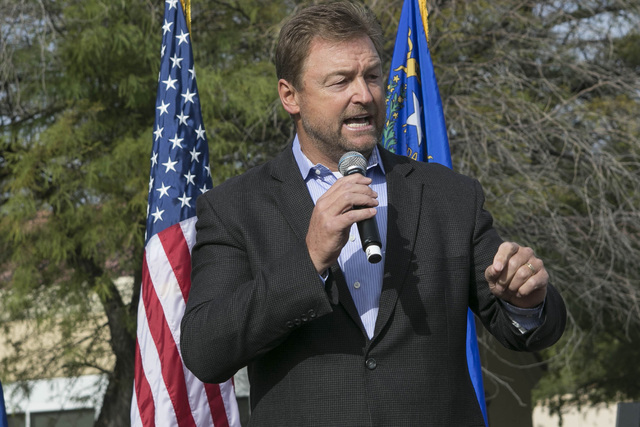 WASHINGTON — Congressional Republicans responsible for legislation to build a wall along portions of the 2,000-mile, U.S.-Mexico border toured parts of Texas this week to discuss the logistics of erecting barriers with federal and local officials.
U.S. Sen. Dean Heller, R-Nev., was one of those on a tour with U.S. Sen. John Cornyn, R-Texas, the second-highest ranking Republican in the Senate. They spent the day in the Rio Grande Valley on U.S. Customs and Border Protection boats in a river that already serves as a geographical barrier between the neighboring countries.
It remains an entry point for a large percentage of illegal immigration.
Heller called the tour a great opportunity to hear border agents and discuss border security.
"Ensuring a safe and secure border has always been a priority of mine," Heller said, following a helicopter ride over the Rio Grande.
Another tour was conducted Wednesday by House Speaker Paul Ryan, R-Wis., whose chamber will write the legislation to authorize and appropriate the needed funds to build a wall along parts of the border.
That tour included U.S. Rep. Michael McCaul, R-Texas, the chairman of the House Homeland Security Committee. McCaul has been a frequent proponent of strengthening border enforcement and using surplus U.S. military equipment to bolster efforts to stanch the flow of immigration and illegal narcotics.
President Donald Trump has made building a wall along the Southwest border a cornerstone of his security platform. During the campaign, Trump declared that he would make Mexico pay for building the wall.
Congressional GOP estimates say the wall will cost $10 billion, but Trump has insisted the construction costs would be much less — more like $8 billion.
Mexican officials have chafed at the proposed wall, and the president's insistence that they pay for it.
Several former Mexican presidents have said Mexico would not pay for the barrier, and many leaders there have called on President Enrique Pena Nieto to stop enforcement of illegal immigration of Central Americans fleeing violence in their countries and passing through Mexico to enter the United States.
The Trump administration, meanwhile, rolled out new directives this week to ramp up enforcement of illegal immigration. White House spokesman Sean Spicer said the measures were not intended to produce "mass deportations."
Immigration rights groups say the directives broadened language that would target more immigrants for deportation for traffic and minor criminal violations.
Administration officials insisted the measures were designed to protect legal citizens from crimes committed by undocumented immigrants.
The directives were announced just hours before U.S. Secretary of State Rex Tillerson and John Kelly, the secretary for the Department of Homeland Security, traveled to Mexico to meet with Pena Nieto to repair relations that soured earlier this year.
The Mexican president abruptly cancelled his visit with Trump last month when Trump announced the border wall proposal. Trump said the meeting was not needed if Mexico did not agree to pay for the "badly needed wall."
Trump also has called for a renegotiation of the North American Free Trade Agreement, which lowered trade barriers between the United States, Mexico and Canada.
On Wednesday, Spicer sought to portray the bilateral relationship between the United States and Mexico as "healthy and robust."
"The relationship with Mexico is phenomenal right now," Spicer said.
The Trump administration is expected to send a budget blueprint to Congress next month to outline spending for fiscal 2018, which begins Oct. 1.
Some House Republicans have balked at border spending without budget cuts to offset the new spending.
In addition to the construction of a wall, the Trump administration in its immigration directives has called for hiring of 5,000 additional Border Patrol agents and 10,000 Immigration and Customs Enforcement agents.
Those new hires would likely take place over a period of several years due to screening and background checks required to hire additional law enforcement personnel.
Contact Gary Martin at gmartin@reviewjournal.com or 202-662-7390. Follow @garymartindc on Twitter.
RELATED
Trump plans to go forward with border wall, considers refugee restrictions
Building US-Mexico border wall could cost up to $15B, GOP leaders say
Trump wants taxpayers to finance building border wall with Mexico reimbursing US
Mexico's president cancels meeting with Trump after border wall tweet