Hispanic support for Hillary Clinton in Nevada fell short of Obama's total
November 19, 2016 - 10:26 pm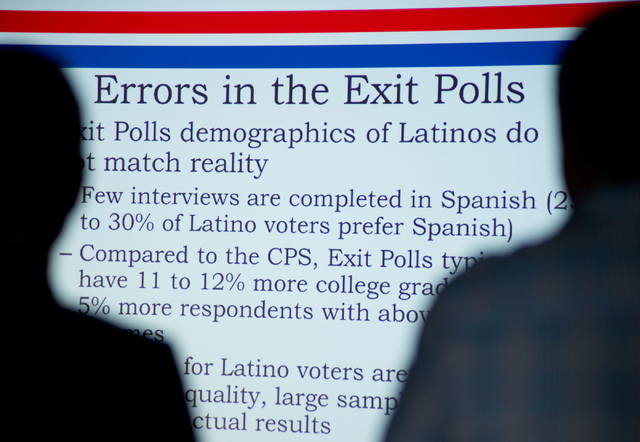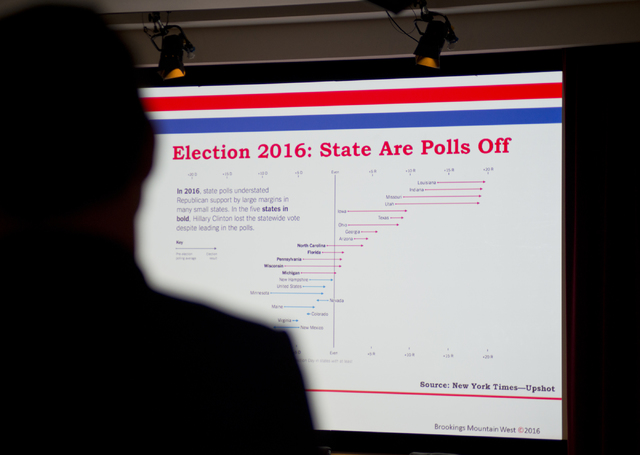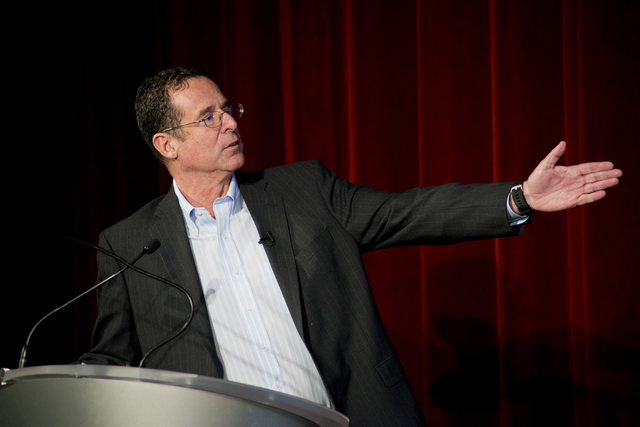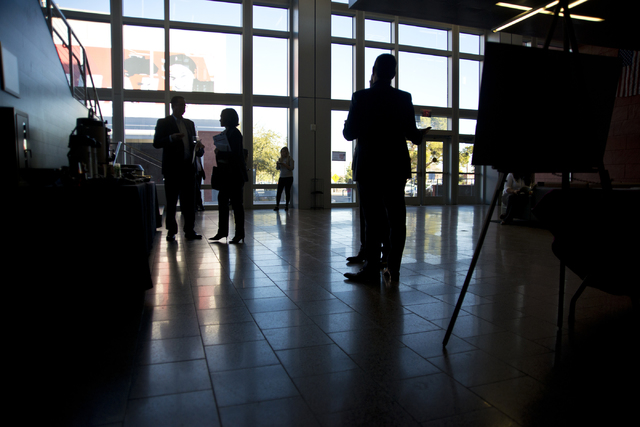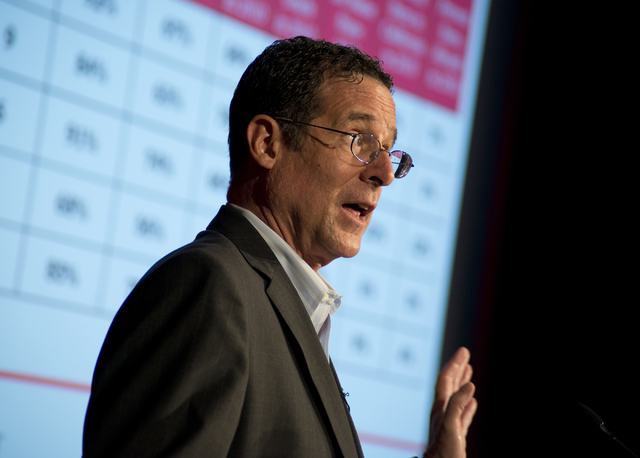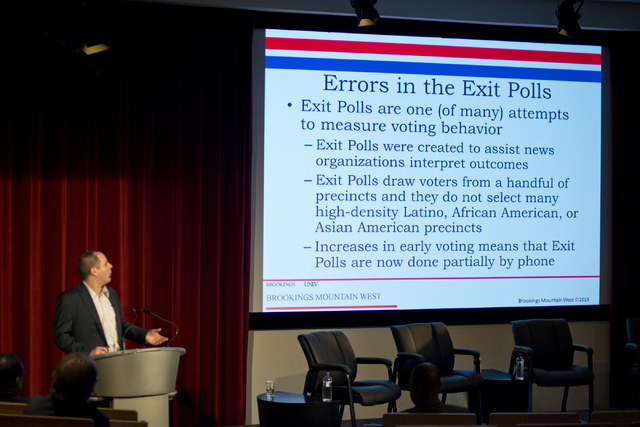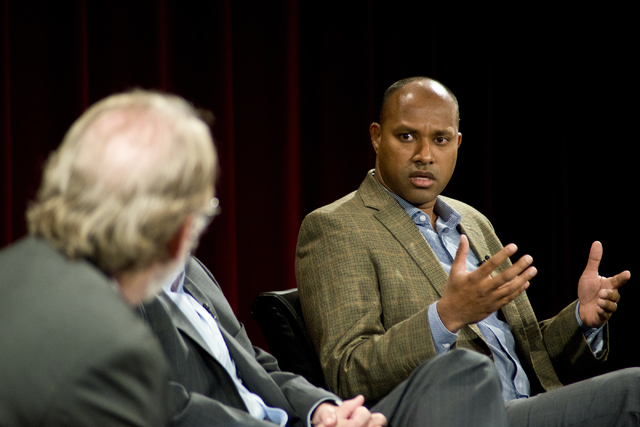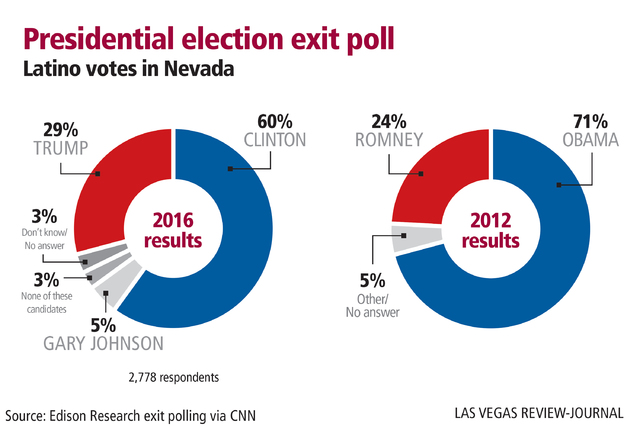 Hillary Clinton overwhelmingly won Nevada's Latino vote by a 2-to-1 margin over Donald Trump, according to exit polls conducted during the Nov. 8 election.
But that margin was significantly tighter than anyone expected and trailed the support President Barack Obama garnered from Latinos in the 2012 exit polls.
And despite all the pre-election talk that Trump would be decimated in the Latino demographic because of his disparaging campaign-trail comments about Mexican immigrants and his vow to build a border wall between the U.S. and Mexico to keep undocumented immigrants out, he may have actually outperformed his 2012 Republican counterpart, Mitt Romney.
Exit polls offer a rough estimate as to how some demographics, such as race, age and income, voted based on responses to specific questions. The exit polls in Nevada indicate that Latinos voted for Clinton over Trump by an overwhelming margin — 60 to 29 percent. In the Senate race between Democrat Catherine Cortez Masto and Republican Joe Heck, Latinos voted by a similar margin of 61 to 32 percent.
Despite the tighter margin among the growing Latino voting electorate, Clinton, Cortez Masto and Democrats up and down the ballot still managed to win in Nevada while the party struggled elsewhere, especially in the nation's Rust Belt.
TRUMP GAINED SUPPORT
The exit poll conducted for the national news outlets by Edison Research shows that Clinton's support among Latino voters in Nevada was significantly lower than the 71 percent Obama received in his 2012 race.
Those numbers, which are disputed by Hispanic political groups, would mean Trump gained about five points among Latinos in Nevada compared with Romney, a finding many in the political and election fields find difficult to fathom.
"That would be a surprising result," said pollster Anthony Williams from the Florida-based polling group Bendixen & Amandi International.
Clinton lost support among women voters in the state as well, receiving 53 percent of votes cast by female voters compared with Obama's 57 percent, according to the exit polls.
Especially among college-educated white women, a demographic Clinton was expected to win handily after a leaked audio tape from 2005 recorded Trump making lewd comments about groping women, the support just wasn't there. Clinton ended up with just 51 percent of that demographic's vote compared with 45 percent for Trump, according to the exit polls.
"Realistically, she's not the most inspiring orator," Williams said. "There's some level of drop-off from an enthusiasm standpoint."
Those drops could help explain why Clinton won the state by just 2 percentage points while Obama won by 7 in 2012.
EXIT POLLS DISPUTED
But some Hispanic political groups argue that the exit polls don't accurately represent the Latino vote.
Latino Decisions, which conducted pre-election polls of Nevada Latinos, showed Clinton up 81 percent to 16 percent over Trump. Their 2012 poll showed Obama with an 80-17 percent margin over Romney in Nevada.
America's Voice, an immigrant advocacy group, argues that the exit polls "defy common sense," when it comes to Latinos. The group says that the nature of the exit polling procedure, which is to find a handful of precincts with demographics roughly the same as the state, causes exit polls to under-sample Latinos. The group also said that not conducting some interviews in Spanish is a flaw.
"For over a year, Trump belittled, disparaged and dehumanized millions of Latino-American citizens and noncitizens," said America's Voice executive director Frank Sharry. "To think that after a year of humiliation that same group would do anything but reject Trump by historic margins defies political gravity and common sense. The bogus exit poll number effectively disenfranchises millions of Latino voters and relegates their votes to the dustbin of history."
The group also points to the numerous pre-election polls that showed Hispanics rebuking Trump, with most showing him garnering support in the high teens at best.
But most pre-election polls proved historically wrong this year.
Most showed Clinton winning the election with relative ease. In Wisconsin, for example, every major poll between June and November showed Clinton ahead of Trump by at least 3 percentage points and as many as 13. But then Trump won Wisconsin once Election Day came around.
A NEW BLUE WALL?
Nevada stood out as the oddball state in a country that saw red on Election Day.
States in the Rust Belt that were supposed to be the "blue wall" that would guarantee Clinton the victory, like Michigan, Wisconsin and Pennsylvania, instead went for Trump, lifting him to victory.
But in Nevada, nearly everything — including the races for president, Senate, House of Representatives and the state Legislature — went blue.
Experts aren't sure how Democrats will fare in those Rust Belt states going forward. But UNLV's Brookings Mountain West director Robert Lang thinks the American Southwest could soon become its own blue wall for Democrats.
The Clinton wins in Nevada and Colorado, and even the results in Arizona — where Trump won by just 4 points — help illustrate that shift, Lang said. As the Latino populations in those states continue to grow, their voting electorate will lean further toward the Democrats, he added.
As in Nevada, Clinton underperformed Obama in Arizona and Colorado. In Arizona, Clinton received 61 percent of the Hispanic vote compared with the 74 percent Obama claimed in 2012. Had she done better with Hispanics there, the outcome in Arizona might have been different.
Lang cited an organized effort, especially on behalf of the powerful Culinary Local 226, for getting Latinos out to vote in Southern Nevada this year. Having 88 percent of the state's registered voters living in the two urban counties of Clark and Washoe makes the get-out-the-vote efforts simpler for Democrats, he said. Arizona and Colorado have similarly clustered metro areas that make up the majority of their respective populations, which should make similar efforts effective in those states as well, he added.
"It's a small enough state to organize," Lang said of Nevada. "It's not Florida."
Contact Colton Lochhead at clochhead@reviewjournal.com or 702-383-4638. Follow @ColtonLochhead on Twitter.
RELATED
RJ poll shows Clinton adding to lead over Trump in Nevada
Keeping early voting polls open past closing broke no laws, official says
RJ's Nevada Poll shows Clinton and Trump are in statistical tie