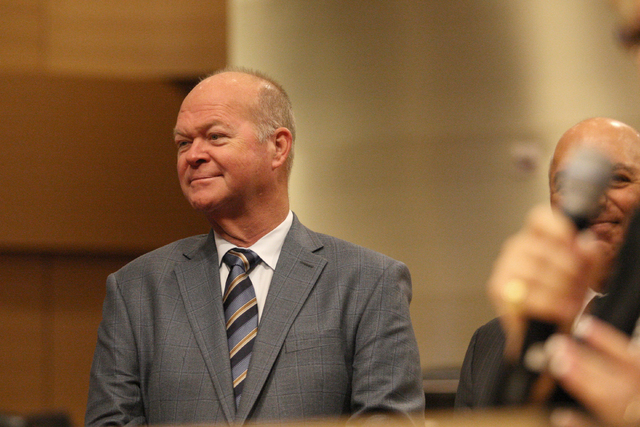 Retired Air Force Col. Steve Seroka is aiming to unseat Las Vegas City Councilman Bob Beers from his Ward 2 seat, alleging the incumbent is too "cozy" with the Las Vegas elite.
Seroka, 54, announced his candidacy Wednesday morning in a news release.
"Our councilman, a career politician, has gotten entirely too cozy with the developers, lobbyists and big money donors," Seroka said in the release. "He has completely lost touch with those he was elected to represent — the people."
Seroka said his run was spurred by a proposal for a large-scale development "right at his doorstep." He alleged that Beers has worked behind closed doors "to juice the project" at City Hall.
For the better part of a year, Las Vegas city officials have been considering a contentious proposal for residential development on the Badlands golf course, in Ward 2, the northwestern part of the city.
Developers EHB Cos. want to build 720 units at the course's eastern edge, at Alta Drive and Rampart Boulevard. A group of neighbors from the nearby Queensridge community has staunchly opposed the development.
Reached by phone Wednesday, Beers said he's not surprised the Badlands proposal has manifested into a campaign issue. Since August, Beers said, a handful of Queensridge residents have threatened to fund a campaign against his re-election bid.
Seroka, who lives in a neighborhood adjacent to Queensridge, said he was not persuaded by others to run for the Ward 2 seat.
Beers said he had no idea sure where Seroka got the idea that he has worked privately to broker a deal regarding the Badlands development. Beers noted that dozens of impassioned public meetings have been held regarding the Badlands development.
"I don't really understand what he's talking about," Beers said.
Beers said he has not heard from Seroka personally about the Badlands issue, and his office doesn't have any record of Seroka reaching out, either.
In his three-decade career in the U.S. Air Force, Seroka served as a division chief at the Pentagon and oversaw air operations in the Middle East and air defense planning for the North American Aerospace Defense Command. He is president of the Disabled Veterans Business Alliance and previously served as the chief of staff for the Las Vegas Metro Chamber of Commerce.
Seroka served at Nellis Air Force Base and retired to Las Vegas, according to Wednesday's announcement.
Beers was first elected to the City Council in a 2012 special election. He is a certified public accountant and served in the Nevada Legislature from 1999 to 2008, in both the Assembly and the Senate.
The filing period for the city elections starts Jan. 24. The primary is April 4 and the general election is June 13. The city's three even-numbered ward seats and three judge seats are up for election. City races are officially nonpartisan.
Reporter Colton Lochhead contributed to this report. Contact Jamie Munks at jmunks@reviewjournal.com or 702-383-0340. Find @JamieMunksRJ on Twitter.