Fremont Street Experience to move forward with $33M upgrade
Updated March 21, 2018 - 4:18 pm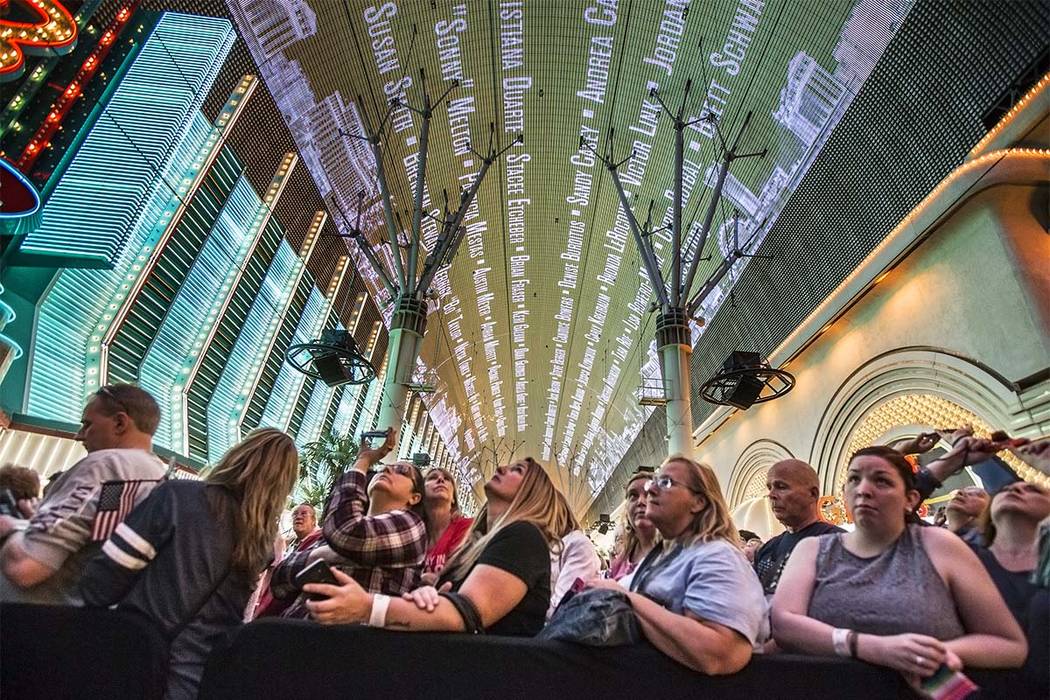 The Las Vegas City Council authorized Wednesday nearly $44 million in bonds to finance several large-scale projects, including a Fremont Street Experience overhaul and a homeless courtyard plan.
The Fremont Street Experience is planning large-scale upgrades, including an overhaul of the canopy LED display, the content offerings and interactive elements.
The LED display's brightness — currently 700 nits — will increase to 5,000 nits, Fremont Street Experience President and CEO Patrick Hughes told the City Council on Wednesday.
That will allow the overhead light display to be on during the day.
"During the summer, we have to wait until 8 o'clock to turn the lights on," Hughes said.
The total cost of the Fremont Street Experience project is expected to near $33 million, with the FSE putting in $12.6 million, $10.7 million from the city and $9.5 million from the Las Vegas Convention and Visitors Authority.
The upgraded Fremont Street Experience is expected to be unveiled next year. The light display was last upgraded in 2004.
The council authorized $21,615,000 in taxable bonds with a 5 percent interest rate to be repaid using city redevelopment agency dollars over 10 years.
The council authorized $22,265,000 in tax-exempt bonds with a 4 percent interest rate to be repaid over 10 years to finance fire protection upgrades at the fire department's Station 3 on West Washington Avenue, city Finance Director Venetta Appleyard said.
The city will also finance the build-out of the city's courtyard project, which aims to connect homeless people with a range of services.
A pilot phase of the courtyard project is operating at Las Vegas Boulevard and Foremaster Lane, and the city plans call for the program to move to a 24/7 operation later this year.
The tax-exempt series will be repaid with Fire Safety Initiative dollars and Community Development Block Grant funds.
Contact Jamie Munks at jmunks@reviewjournal.com or 702-383-0340. Follow @Journo_Jamie_ on Twitter.