Las Vegas officials not giving up on camping ban
September 17, 2018 - 12:54 am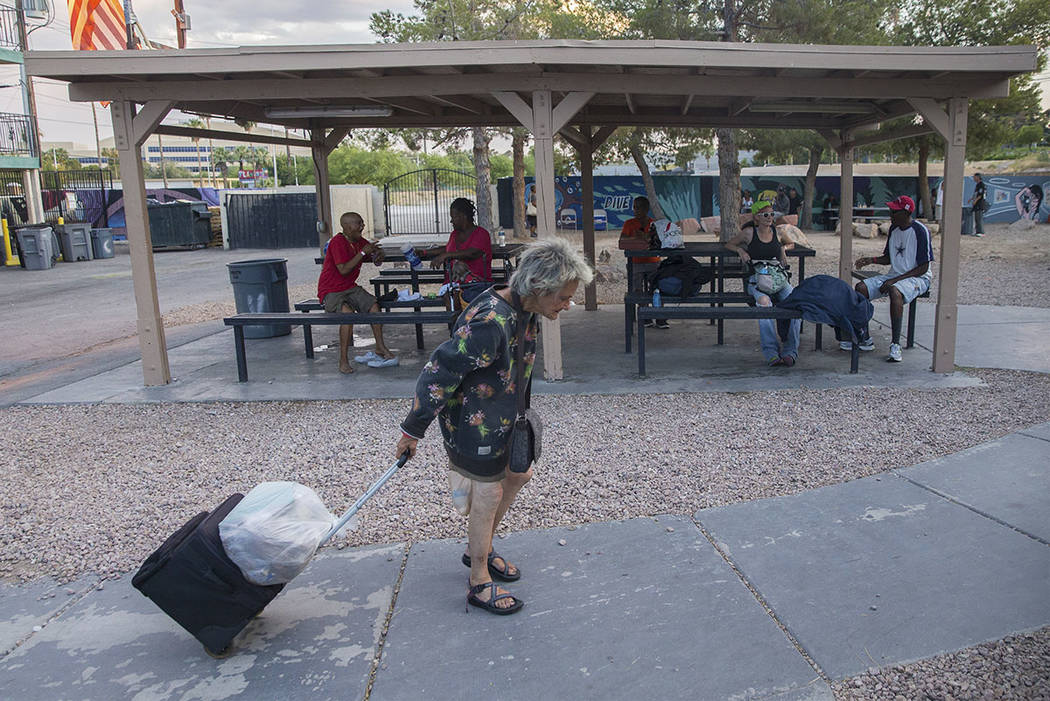 Las Vegas city officials killed a controversial measure this month that would have made it illegal for people to sit and camp within 1,000 feet of food processing facility loading docks, which critics contend would unfairly target homeless people.
But the council members who sponsored the ordinance say something similar will be on a future agenda.
"It will be coming back in some way, shape or form," Councilman Cedric Crear said. "We're just trying to be proactive and smart about it."
Crear, who represents Ward 5, where many of the city's homeless shelters and service providers are, sponsored the initial ordinance alongside Councilwomen Lois Tarkanian and Michele Fiore.
The council killed the ordinance at the Sept. 5 meeting, a day after the Ninth U.S. Circuit Court of Appeals ruled that cities cannot prosecute people for sleeping on the streets. Six homeless people in Boise, Idaho, sued the city over an ordinance banning sleeping in public spaces.
"Homeless people gather in front of Anderson Dairy because there's shade," ACLU of Nevada Communications Manager Wesley Juhl said, referring to the business that's near the city's Corridor of Hope, where there's widespread unsheltered homelessness. "In Las Vegas, that's a life-sustaining activity, quite frankly."
The ordinance that would have restricted activities around food processing facilities was aimed at preventing public health issues that other cities have grappled with, like a deadly Hepatitis A outbreak that rocked San Diego's homeless population last year, Crear said.
"We don't want the city of Las Vegas turning into San Francisco," Fiore said. "When you have these individuals getting naked and literally excreting on our sidewalks, in front of people in the middle of the day, that's really — it's something that we as a city need to get under control. It's not OK for this sort of thing to be happening."
It wasn't immediately clear how a new ordinance will differ from the one struck from the September City Council agenda.
"This bill will criminalize people in our community for the unfortunate condition of being without a home, and will make it illegal to sit or sleep on the sidewalk in the homeless corridor," Nevada Homeless Alliance Executive Director Emily Paulsen told City Council members this month.
Restrictions that affect the homeless population have faced legal challenges before. A U.S. District Court judge struck down a 2006 Las Vegas ordinance that banned feeding homeless people in parks.
Las Vegas has one of the largest homeless populations among large American cities, and officials have in the last year launched a courtyard at Las Vegas Boulevard and Foremaster Lane that connects homeless people with a range of services.
The project is modeled after the Haven for Hope in San Antonio , which Fiore, Crear and Councilman Bob Coffin visited last week.
Contact Jamie Munks at jmunks@reviewjournal.com or 702-383-0340. Follow @Journo_Jamie_ on Twitter.