Las Vegas officials to make another push at luring pro soccer team to city
January 4, 2017 - 11:11 pm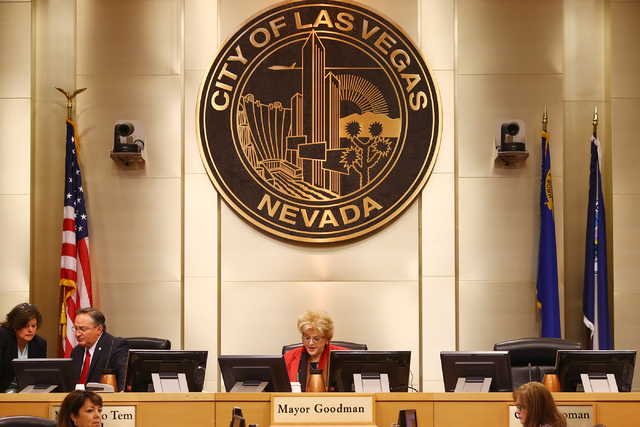 The city of Las Vegas is renewing its drive to attract a Major League Soccer franchise.
The City Council on Wednesday voted 5-2 in favor of a contract to pay New York-based Inner Circle Sports LLC up to $80,000 to market Las Vegas to possible investors as a Major League Soccer site.
The city made an unsuccessful bid for an MLS franchise for the league's 2017 or 2018 expansion, which was paired with a controversial proposal for a $200 million, 24,000-seat stadium at Symphony Park — and sharply divided the council. That was rendered moot when the league passed on the city's bid for an expansion team.
Memories of that fractured council were fresh Wednesday, and Councilman Bob Coffin said he would support the contract if there was a feeling among council members that it was a way to explore the possibilities for professional soccer in Las Vegas, rather than the beginning of another battle.
"We lost our collegiality for a while," Coffin said. "It grew nasty and sometimes we were ill-tempered with each other. Now it appears to me that maybe the table is set a little differently."
The company's role will be to put together a "playbook" designed to attract investors to partner with the city and attract a franchise, said David Abrams of Inner Circle Sports. If the city continues work with Inner Circle Sports beyond the initial $80,000 contract, another council vote would be required.
Councilmen Bob Beers and Stavros Anthony, who opposed the city's last soccer stadium proposal, voted against the new contract Wednesday. On the Symphony Park stadium proposal, Councilwoman Lois Tarkanian also voted no, but Wednesday said she views this contract differently.
Anthony questioned the need to fund a marketing effort when city officials have made clear there's a desire for an MLS franchise.
"To spend money to let folks know that we're interested in a major league soccer team here doesn't seem like it's an appropriate use of money," he said.
Mayor Carolyn Goodman, a strong stadium proponent on the city's last MLS bid, said last week she favors downtown Cashman Field as a possible soccer stadium site.
"I know we're ready downtown, I know we need this, I know so many things have been improved upon downtown and this would just kick it in the pants," Goodman said Wednesday.
Goodman said before the council's vote that city officials learned a lot from the failed effort to attract an MLS team and that it's time for the city to "move to the next level."
"If not, everything is going to go to the other end of the Strip and we're just going to watch ourselves die," she said.
Goodman and her husband and predecessor in the mayor's office, Oscar Goodman, have been relentless advocates for revitalizing downtown Las Vegas.
Goodman on Wednesday cited past downtown projects — the Smith Center for the Performing Arts in Symphony Park, a former rail yard, and the Mob Museum in a former courthouse and post office — as council decisions that drew substantial pushback but have "become absolutely stellar."
The next two MLS expansion cities are expected to be announced in the second and third quarters of 2017. Two more expansion teams will be announced later, as the league continues with its plan to grow to 28 teams. When MLS Commissioner Don Garber recently announced the league's expansion timeline, the league acknowledged that 10 cities have publicly expressed interest in being the site of an expansion team; Las Vegas was not included on the list.
Councilman Steve Ross said he doesn't want to see the city miss out on the opportunity, as several other cities nationwide mount campaigns for their own MLS teams.
"I think we need to do everything we possibly can to push this train down the road and seize the moment and get a team for the city of Las Vegas," Ross said.
Contact Jamie Munks at jmunks@reviewjournal.com or 702-383-0340. Follow @JamieMunksRJ on Twitter.
RELATED
Las Vegas officials to take another shot at getting Major League Soccer team
Las Vegas is still not in the running for a Major League Soccer team
Las Vegas keeps focus on Cashman as 'Field of Dreams' site
Major League Soccer takes a pass on Las Vegas, ending downtown stadium dreams
Failed soccer stadium project cost Vegas $3.1 million