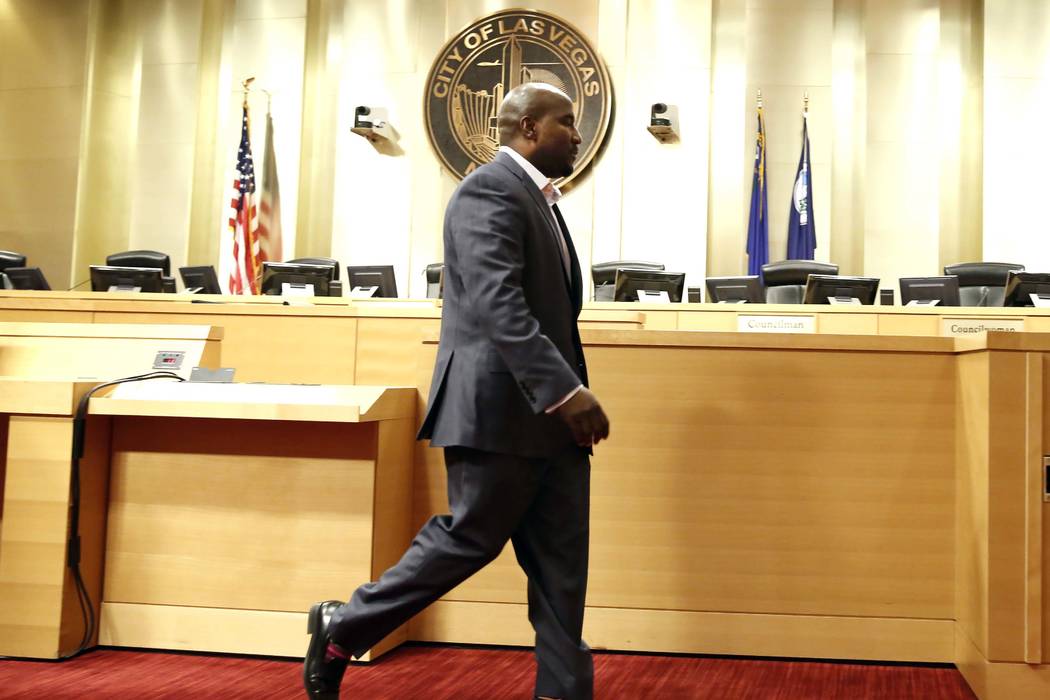 Las Vegas city officials aren't expected to officially set a course to install a new Ward 5 City Council representative for at least two weeks.
With five Wednesdays this month, the council doesn't meet again until Feb. 7, when the remaining six council members are expected to discuss publicly whether to set a special election or appoint someone to serve out the last year-plus of former Councilman Ricki Barlow's term.
Barlow resigned Monday and said he will plead guilty to a federal felony charge for fraudulently converting campaign funds from his 2015 re-election effort to personal use.
If the council chooses a special election, it must adopt a resolution that sets dates and deadlines, Las Vegas City Clerk LuAnn Holmes said.
If the council wants to go the appointment route, it can discuss the process Feb. 7 but likely will not select a representative. The name of a would-be council appointee will need to be listed in advance on the council agenda for the meeting at which the vote will take place, Holmes said.
Term limits would have forced out Barlow following a general municipal election in June 2019, so his replacement will serve fewer than 18 months. The replacement could run for election next year.
If the council decides to hold a special election, the time frame will be "fairly quick," about 60 days, Holmes said.
In the meantime, Ward 5 staff members who worked under Barlow remain in place and will collaborate with other city staff to answer constituent questions and respond to issues, city spokesman Jace Radke said.
The voicemail message in the Ward 5 City Council office at City Hall still identifies it as "the office of Councilman Ricki Barlow." Emails sent to Barlow's former city of Las Vegas address on Tuesday bounced back with a "message not delivered" reply.
Contact Jamie Munks at jmunks@reviewjournal.com or 702-383-0340. Follow @Journo_Jamie_ on Twitter.