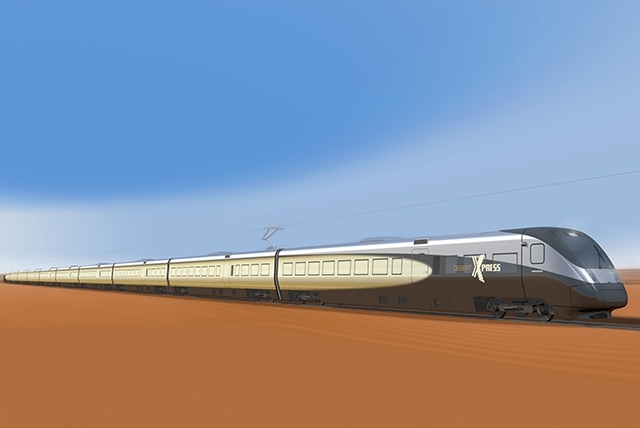 UNLV received a $1.4 million federal grant to research the design, construction and maintenance of future high-speed rail projects, U.S. Sen Harry Reid, D-Nevada, and Rep. Dina Titus, D-Las Vegas, announced on Thursday.
The U.S. Department of Transportation grant will allow the university to collaborate on a rail infrastructure study with the University of Delaware and the Virginia Polytechnic Institute and State University.
The partnership, known as the University Transportation Centers program, will allow students to examine how rail systems can operate more efficiently and safely.
"I have long promoted increasing rail transportation projects, and that is why I worked hard to secure this funding," Reid said in a prepared statement. "Improving transportation infrastructure is essential to boosting our economy, protecting the environment and reducing America's dependence on foreign oil."
The project shows promise for the return of passenger rail service to Las Vegas after nearly two decades. Amtrak killed its Desert Wind route between Las Vegas and Southern California in 1997 because of waning demand and cuts in federal subsidies.
"By applying new research methodologies and new technologies, we have the ability to help secure a world-class rail system and transportation infrastructure in the U.S. that can serve the public for decades into the future," said Rama Venka, dean of the Howard R. Hughes College of Engineering at UNLV.
Last year, the Nevada High-Speed Rail Authority approved XpressWest's plan to build a dual-track line connecting Las Vegas and Southern California, with round-trip tickets expected to cost about $100 per passenger.
In June, however, XpressWest cut its ties with the Chinese company that was supposed to help finance the project, citing problems with performance deadlines. Company officials said last month that XpressWest is pursuing other financing options while also working on a ridership study.
Titus has spent the past several years advocating for some sort of rail service for Southern Nevada, noting that the region has swelled to more than 2 million residents. An average of 44,419 vehicles daily crossed the California-Nevada border along Interstate 15 last year, according to the Las Vegas Convention and Visitors Authority.
"With its longstanding rail program, UNLV is well positioned to galvanize high-speed railways in the desert Southwest and partner with academic institutions that have the common goal of deploying safe and innovative projects across the nation," said Titus, who is advocating for Amtrak to renew passenger service from Las Vegas to Southern California.
Contact Art Marroquin at amarroquin@reviewjournal.com or 702-383-0336. Find @AMarroquin_LV on Twitter.