Minnesota governor to name Al Franken's replacement Wednesday
December 13, 2017 - 3:39 am
Updated December 13, 2017 - 8:39 am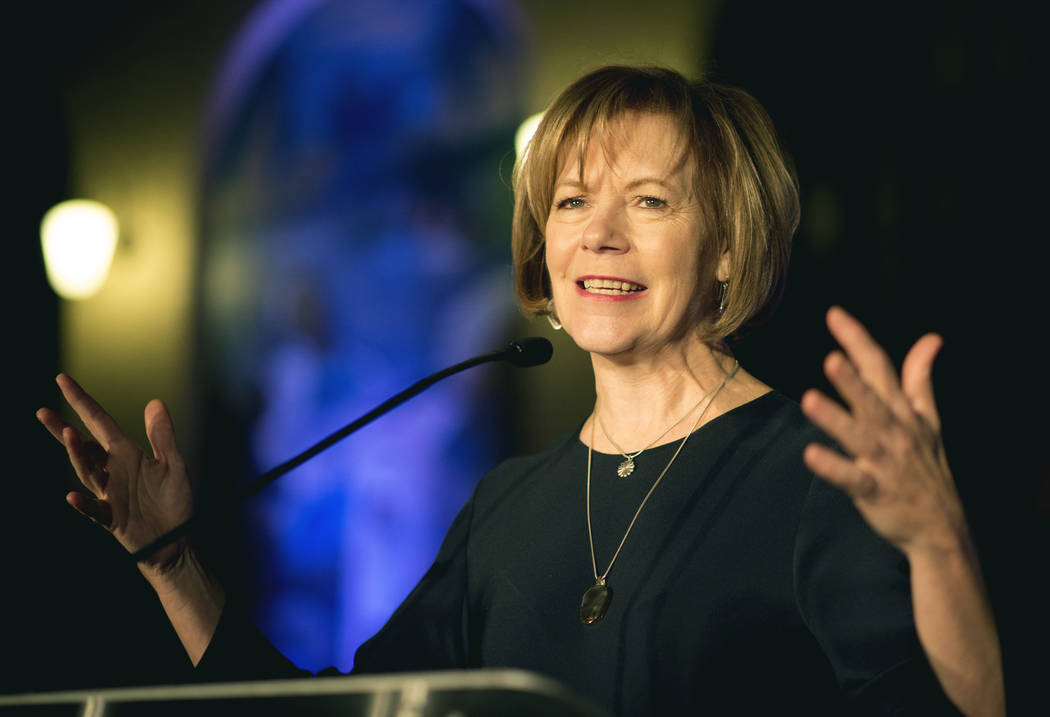 ST. PAUL, Minn. — Minnesota Gov. Mark Dayton appointed fellow Democrat Lt. Gov. Tina Smith on Wednesday to replace Sen. Al Franken until a special election in November, setting up his long-time and trusted adviser for a potentially bruising 2018 election.
Smith was widely seen as Dayton's top choice from the moment Franken announced his resignation last week, and she said she would run in the November special election to complete Franken's term through 2020.
"I will run in that election and I will do my best to earn Minnesotans' support," she said at the news conference where Dayton announced her appointment.
Smith had previously declined to run for governor, raising questions about whether she would launch a Senate campaign that would be in the national spotlight. But Dayton was under pressure from fellow Democrats in Washington to ensure his pick would use the appointment as a springboard for the November election.
It's not clear when Smith will head to Washington. Franken, who resigned under pressure from his own party after he was accused of improper behavior by at least eight women, announced last Thursday that he would resign "in the coming weeks." His office said Tuesday that he had not yet set a final departure date.
The appointment won't change the balance of power in the Senate; both Franken and Smith are Democrats.
Smith, 59, served as Dayton's trusted chief of staff for four years before ascending to become his No. 2 when he needed a running mate in 2014. Dayton has long treated her as an equal in the office, and it was that deference that fueled speculation she was being groomed to succeed him.
Smith's path to politics was unconventional. A native of New Mexico, she graduated from Stanford and earned an MBA from Dartmouth. A marketing job with General Mills brought her to Minnesota, where she eventually started her own marketing and political consulting firm.
She managed Ted Mondale's unsuccessful campaign for governor in 1998, then ran the short-lived 2002 Senate campaign for his dad, former Vice President Walter Mondale. Smith served as chief of staff to Minneapolis Mayor R.T. Rybak before eventually taking the same job with Dayton in 2011.
Smith, a soft-spoken, smiling presence at the Capitol, is credited with playing quiet but key roles in the response to the 2007 bridge collapse in Minneapolis and in the building of a new Vikings stadium. Dayton made her his point person on a massive public-private partnership to work with Mayo Clinic on an ambitious expansion in Rochester.
Next year's race to fill the final two years of Franken's term is certain to be one of the nation's most closely watched and expensive. Republicans immediately floated former two-term Gov. Tim Pawlenty as a possible candidate, but many others were said to be weighing a race.
Smith may have competition from her own party as well, with several Democrats who had hoped to succeed Dayton likely to eye the Senate race as well. And her past work with Planned Parenthood in Minnesota and other Midwestern states, where she served as an executive, was sure to become a flash point with Republicans on the campaign trail.