UNLV Immigration Clinic may close without funding from Legislature bill
Updated April 10, 2023 - 2:13 pm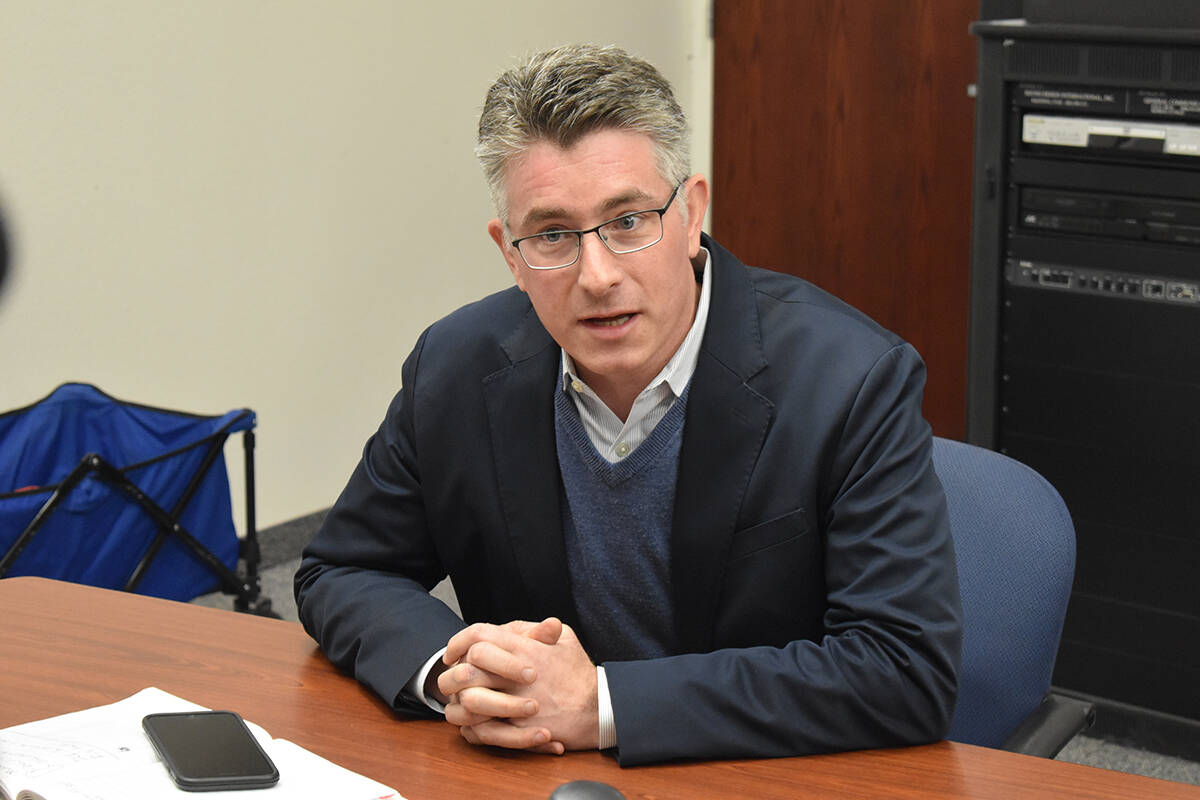 UNLV's Immigration Clinic may be at risk of shutting its doors if it doesn't secure additional funding, but a bill in the Nevada Legislature could help keep the office open.
On April 3, the Nevada Legislature heard Assembly Bill 328 which would double the clinic's funding to $1 million for two years.
Last year, the clinic — which is housed downtown — represented over 200 immigrants facing deportation. Roughly 150 of those cases were children, with the youngest client age 3, according to director Michael Kagan.
During the 2021 legislative session, the state passed a bill that gave the clinic $500,000 over two years. Clark County matched those funds, while Las Vegas attorney Ozzie Fumo donated office space to the clinic in the city's Arts District.
Two years later, the clinic now has five attorneys who provide free legal immigration services for over 200 open cases, but the office still doesn't have enough staff to work as efficiently as possible, Kagan said.
Since the office opened last year, the demand for legal services has grown, Kagan said. In December, the clinic had 90 children on the wait list, and that number continues to grow, as 27 more caretakers of unaccompanied children have called for help.
The clinic has received 114 calls since January from immigration detention centers asking for help, but these cases may have to be turned away because of a lawyer's workload or the case's level of urgency, according to Leslie Joya, an Immigrant Justice Corps fellow who works at the clinic.
"We're a state with a very large immigrant population and many people are touched by the immigration system," Kagan said. "Deportation doesn't just affect one person, it affects a whole family."
The bill received opposition from conservative organizations, such as the Nevada Families for Freedom and Nevada Republican Club. They've expressed concern that the funding would protect undocumented criminals, but the clinic primarily represents unaccompanied children facing deportation.
"You are out of line to expect taxpayers to pay for the result of criminal behavior and bad policies that allow trafficked children and illegals to flood through our border," Susan Proffitt, a director with the Nevada Republican Club, said during the public hearing. "… Democrats open the border to the cartels that murdered my daughter with fentanyl and thousands more."
Reliable and committed legal services
In 2014, the clinic started working on unaccompanied children cases, in which children are often escaping violence in their home countries and end up on U.S. soil, according to Kagan. If not for the clinic, children would have to represent themselves in court.
"We know that when someone goes to immigration court alone, they have nearly no chance and are nearly short of being deported," Kagan said. "And they don't have to be."
Kids facing deportation don't fully understand what's at stake when they go to immigration court, Joya said. In court, children are asked to answer tough questions — like why they fled — that could risk re-traumatizing them.
For Joya, she sees herself and her mother in the people she represents.
"I grew up undocumented for most of my life," she said. "These are the exact services that I wish my family had access to when I was growing up."
Deanna Hua Tran, a coordinator with the Nevada Immigration Coalition, believes the clinic is in the best interest of its clients, as not all immigration legal services are created equal.
"People find ways to really prey on our communities," Hua Tran said. "The more reliable and committed legal support services we can continue to advocating for, we should."
Contact Jimmy Romo at jromo@reviewjournal.com or call 702-383-0350. Follow @jimi_writes on Twitter.