Ads target Dean Heller, other GOP senators to sway vote on health care bill
Updated June 19, 2017 - 6:56 pm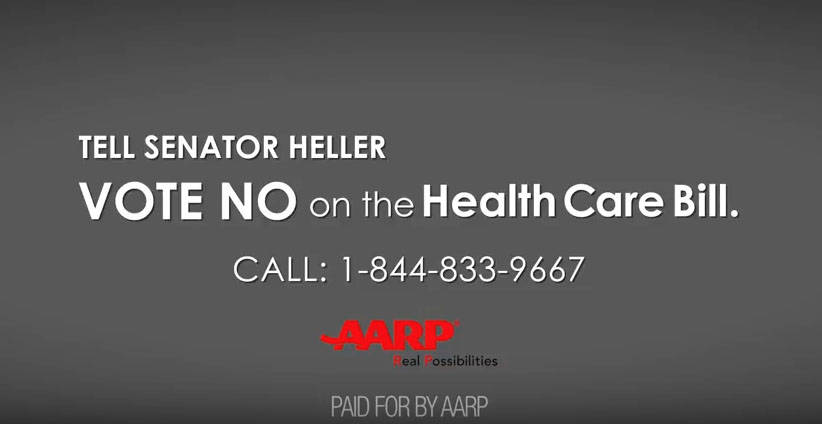 WASHINGTON — With a critical vote quickly approaching on the Senate health care plan, special interest groups and the Democratic Senatorial Campaign Committee have targeted Republicans like Dean Heller in television advertisements to sway the outcome and possibly kill the bill.
TV ads by AARP, the nation's largest nonprofit, nonpartisan lobby representing the elderly, are being aired in targeted markets in opposition to the House-passed health bill and provisions that may be kept in the Senate version of the legislation.
"As the Senate continues debating health care reform, AARP is stepping up our advocacy on behalf of our 38 million members and all older Americans," said Nancy LeaMond, AARP executive vice president.
The 30-second, TV ads running in Nevada are part of a seven-figure buy nationwide. It targets the "age tax" in the House bill, which would allow insurance carriers to charge the elderly more for coverage, and include pre-existing conditions in those premiums.
The Senate is writing its own bill behind closed doors. There have been no hearings, even though senators expect a vote on the legislation before the July 4th recess.
Moderate senators want to keep protections for those with pre-existing conditions, and some are concerned about the phaseout of federal funding for Medicaid expansion, which brought 11 million people under the insurance program.
Nevada is one of 31 states that expanded Medicaid under the 2010 Affordable Care Act, or Obamacare.
Although the House bill would eliminate federal funds for the expansion in two years, Heller, R-Nev., supports a proposal by Sen. Rob Portman, R-Ohio, that would phase out the program in seven years.
Heller, who represents a state Hillary Clinton won in 2016, is considered one of the most vulnerable members in the Senate in the upcoming midterm election. He is being targeted by several groups running ad campaigns.
"Liberal groups are putting politics above people, plain and simple," said Megan Taylor, a Heller spokeswoman in Washington. "They don't care about Nevada or the people of Nevada."
Also targeted is Sen. Jeff Flake, R-Ariz., Sen. Susan Collins, R-Maine, Sen. Shelley Moore Capito, R-W.V., and Sen. Lisa Murkowski, R-Alaska.
Another radio and TV ad running in Nevada urges Heller to vote against the Senate health care bill. The Community Catalyst Action Fund, a health care advocacy group, is airing the ad.
It warns that the House-passed American Health Care Act places annual caps on coverage that could make insurance unaffordable. Similar ads are running in other states.
"The Senate is working in secret and rushing to pass a bill that will closely mirror the AHCA passed by the House, which strips care from 23 million people, raising costs for millions more and punishes kids, seniors and people with disabilities through steep cuts to Medicaid," said Robert Restuccia, Community Catalyst Action Fund executive director.
Senate Majority Leader Mitch McConnell said all Republican senators have been involved to some degree in health care meetings and that Democrats would have a chance to amend the legislation they produce, once it is brought to the Senate floor.
"We're going to have a meeting on the Senate floor, all hundred of us, with an unlimited amendment process," McConnell said. "So there will be no failure of opportunity."
Meanwhile, the DSCC has launched Google takeover ads on the Internet. The ads target older voters, women and swing voters. Versions of the ads are running in Nevada, Arizona and Florida as part of a six-figure buy, said David Bergstein, a DSCC spokesman.
The Nevada ads charge Heller with supporting legislation that would eliminate coverage for 203,900 Nevadans. It also claims Republican Gov. Brian Sandoval, who favors preserving Medicaid expansion, opposes Heller's position.
Taylor said Heller is working with colleagues from Medicaid expansion states and "Governor Sandoval on solutions that will lead to lower costs and provide Nevadans with more health care options."
Contact Gary Martin at 202-662-7390 or gmartin@reviewjournal.com. Follow @garymartindc on Twitter. Reuters contributed to this report.