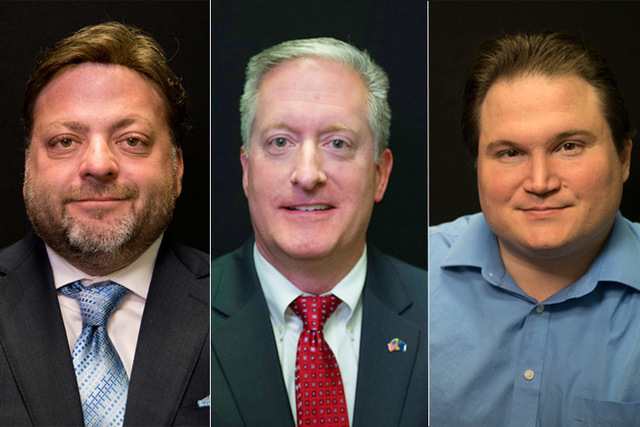 Luis Aguirre-Insua and Mark W. Isquith face each other for the Democratic spot on the Assembly District 22 ballot while Republicans Richard Bunce and Keith Pickard seek victory in their party's primary election.
The seat for the district will be open for November's general election because longtime Republican Assemblyman Lynn Stewart, who served as minority whip during the 2013 session, has decided not to run for re-election.
All but one of the candidates are running for their first time for elected office. Bunce lost to Stewart in Bunce's first bid for the Assembly District 22 seat in 2014.
REPUBLICANS
In the Republican race, Keith Pickard said his strategy is not to raise taxes. Rather his approach is to improve the economy's base and have an educated workforce.
"At the end of the day by improving our education system and expanding our tax base by incentives to large businesses with higher-paying jobs, we're going to see growth in the economy," Pickard said.
He supports Gov. Brian Sandoval's approach to businesses such as Tesla and Faraday Future to offer bench-line incentives in exchange for tax breaks.
Bunce said he will push for the Legislature to approve a state lottery system to increase revenue for schools to improve public education. He estimates a lottery alone could raise a "couple hundred million" dollars per year.
In light of email revelations about higher education officials undermining the Legislature's effort to evaluate college and university funding models, Pickard said the issue should be investigated first, followed by taking appropriate action.
Bunce said wants to know more details about the issue but said reform of the system is "most likely needed."
Pickard said one of his priorities "is to get the education system out of the courtroom and into the classroom." He added that he'd "like to see more time and effort looking at the judicial system" so that it is more accessible to everyone.
DEMOCRATS
Isquith said he doesn't favor tax hikes. "I'm in favor of finding ways to redistribute revenues from current waste and unnecessary programs into more desirable and more needed areas," he said.
"We all get taxed enough," Isquith said, adding that, if elected, he would take a look at where tax money is going and how much is wasted.
Aguirre-Insua said he, too, would take a more creative approach to using existing tax revenue more efficiently rather than resorting to tax increases to run state programs.
"What we have is what we have," Aguirre-Insua said. "I don't think we need to increase anything. I'm more in favor of reviewing where we are spending money."
Isquith said in light of the recent revelations about college and university funding models, any perceived corruption among higher education leaders should be scrutinized and the system "needs to be revamped for sure."
Aguirre-Insua said legislators "should not be very much involved in education issues in how administrators do their jobs."
If they are doing something wrong, the boards overseeing public schools and higher education should take action to correct problems, he said.
If elected, Aguirre-Insua said one of his priorities will be to ensure that local schools have autonomy "to make decisions so they can best meet the needs of their students."
He also wants to make sure there are more business opportunities for the economy to grow. "If somebody opens a business, three or four families are going to have jobs," Aguirre-Insua said.
Isquith said his three priorities are to create opportunities for health care, education and employment.
"We need to improve education by putting funds in appropriate programs that are needed such as computers and new schools," he said.
He said Clark County "has great programs in certain parts of town" but there is disparity in the opportunities for too many students overall.
Contact Keith Rogers at krogers@reviewjournal.com or 702-383-0308. Find @KeithRogers2 on Twitter.
Luis Aguirre-Insua
Party: Democrat
Age: 36
Occupation: Insurance company general manager
Mark W. Isquith
Party: Democrat
Age: 46
Occupation: Advertising agency president
Keith Pickard
Party: Republican
Age: 53
Occupation: Attorney
Richard Bunce
Party: Republican
Age: 35
Occupation: Software engineer