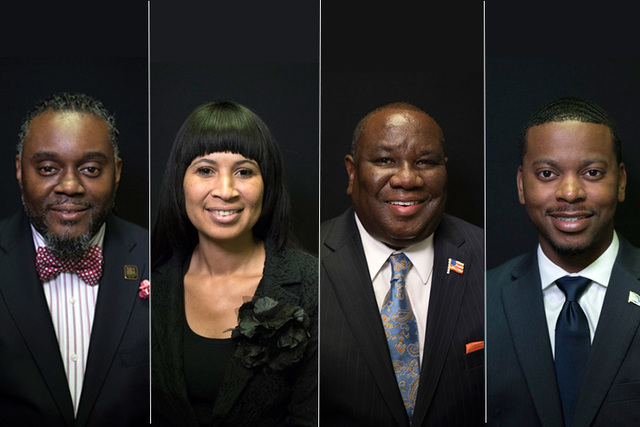 Whoever wins the crowded Democratic primary race for an open seat in Assembly District 6 will be in a prime position to win in November.
The majority-minority district, which borders downtown Las Vegas to the west, has been held by a black Democrat for more than a decade. As of 2016, 66 percent of the district's 23,177 voters were registered Democrats.
Four candidates are vying for the open seat vacated by Harvey Munford, D-Las Vegas — Arrick "Kerm" Foster, 38; Valencia Burch, 46; William McCurdy II, 28; and Macon Jackson, 56.
It's a second chance for Foster. In 2014, the Cox Communications security consultant challenged Munford, but received only 12 percent of votes. This time, he said, he's ready.
Foster said he cares deeply about the area he wants to represent — his family has lived in the Berkley Square neighborhood since the late 1950s. And he said he has ideas to help fight neighborhood dilapidation and spur development, including a proposal for a property tax relief program for those most in need.
He opposes lifting the property tax caps. Rather than more taxes, he said the Clark County School District needs alternative revenue sources.
"You can find other ways than taxing people," Foster said.
Burch said she wants to use her experience in business and law to help open more small businesses in the district and help with larger economic projects.
She said that when she moved to the valley in the late 1990s, small businesses were flourishing throughout the district. She had great success running her own salon on the corner of Martin Luther King Boulevard and Washington Avenue.
She said projects such as the Tenaya Creek Brewery and Moulin Rouge development plans on Bonanza Road are a good sign for the area, but the district needs leadership at the state level to keep moving forward.
"We need to stabilize and make sure we can build upon it," she said.
McCurdy, a resident of the West Las Vegas Heights neighborhood, said the property tax issue should be examined by the Legislature, which may choose to raise property taxes.
The first-time candidate and union organizer is interested in criminal justice and education issues. Like Foster and Burch, McCurdy supports the "ban the box" movement to remove questions about criminal convictions from job applications.
When asked how his policy views differ from his opponents, McCurdy pointed instead to his personal history. He said he had a rough upbringing and a troubled past — including a 2012 arrest for DUI — and hopes to teach youths that people can turn their lives around.
Jackson, an equipment operator for Las Vegas, was unavailable for interviews. He has not taken a stance on the issues of recreational marijuana or expanded gun background checks, according to his responses to a Las Vegas Review-Journal questionnaire. Every response Jackson gave said he hadn't made up his mind and was still polling constituents.
Whoever wins the primary election on June 14 will face the sole Republican candidate, Carlo Maffatt, in the November general election.
Contact Wesley Juhl at wjuhl@reviewjournal.com and 702-383-0391. Find @WesJuhl on Twitter.
Arrick Foster
Party: Democrat
Age: 38
Occupation: Security consultant
Valencia Burch
Party: Democrat
Age: 46
Occupation: Business consultant
William McCurdy II
Party: Democrat
Age: 28
Occupation: Union organizer
Macon Jackson
Party: Democrat
Age: 56
Occupation: Equipment operator