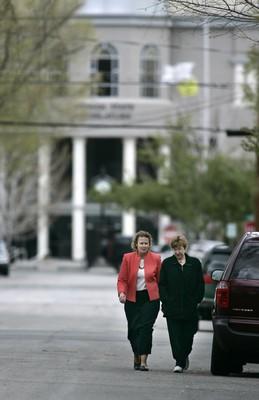 CARSON CITY — Nevada lawmakers passed nearly 40 bills on Thursday, including one in the Assembly that would require banks to train employees to spot abuse of the elderly.
Legislators also passed measures dealing with death sentences, city annexation procedures and mail-in ballots.
Assemblywoman Sheila Leslie, D-Reno, sponsored the elder abuse bill, Assembly Bill 87, which was amended after banks protested it could make criminals of tellers.
The bill, now moving to the Senate for final action, requires a training course for tellers and mandates that banks appoint a manager to review suspected cases of abuse. Civil penalties would be imposed if suspected abuse is not reported.
Leslie said the bill is particularly important given the sentencing last week of a Sparks man who depleted $250,000 from a 91-year-old woman's life savings. Authorities were alerted by a bank teller who noticed Lee Mack was cashing checks by the woman.
Also Thursday, the Senate voted for Assembly Bill 192, an Assembly-approved measure that spells out the governor's authority to stay a death sentence. The bill now goes to Gov. Jim Gibbons for his signature.
AB192 cites wording in the Nevada Constitution which says the governor has the power to grant reprieves "for all cases, except in cases of impeachment."
The upcoming procedural deadline requires that Assembly measures be voted upon by the full Assembly and Senate measures be voted upon by the full Senate by Tuesday — or go into the wastebasket.
The Assembly also passed:
• Assembly Bill 50, which would restrict the release of a police officer's address if he has been arrested.
• Assembly Bill 160, which would allow property owners to protest a proposed annexation into a city if they live within 750 feet of the area to be annexed.
• Assembly Bill 322, which would require greater disclosure of contributors to ballot initiatives. Under the bill, any changes to language would void signatures on the original petition.
• Assembly Bill 301, which would change the qualifications needed to run for county sheriff to include some police experience.
• Assembly Bill 342, which would allow people to deliver mail-in ballots in person on election day in certain cases.
2007 Nevada Legislature