Attempt to recall Nevada Sen. Nicole Cannizzaro can continue
December 19, 2017 - 3:34 pm
Updated December 19, 2017 - 5:13 pm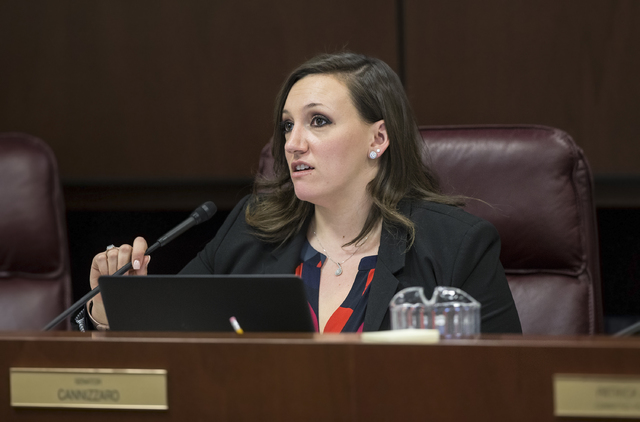 An effort to recall state Sen. Nicole Cannizzaro has enough signatures to continue, the Nevada secretary of state's office said Tuesday.
The petition to recall Cannizzaro, D-Las Vegas, gathered 15,018 valid signatures — clearing the 14,975 threshold, according to a notice of sufficiency the secretary of state's office issued Tuesday to Clark County Registrar Joseph Gloria.
Opponents have five business days to challenge the legal sufficiency of the recall, Deputy Secretary for Elections Wayne Thorley said. If legal challenges are unsuccessful, a special election will be scheduled.
Cannizzaro was "not intimidated one bit by the shady special interests and desperate politicians behind this manipulation of the recall process," she said in a statement after the signatures were submitted last month.
She couldn't immediately be reached for comment Tuesday.
Senate Majority Leader Aaron Ford called the recall efforts "dishonest" and "baseless" in a statement.
"Republicans have been running a dishonest smear campaign to hijack our democracy, and voters are disgusted with their lies and the blatant abuse of the recall process," Ford said. "Nicole Cannizzaro's public service is just getting started, and we're confident she will continue to be a champion for Nevada families in the State Senate."
Cannizzaro was elected in 2016 to represent Senate District 6 in the Nevada Legislature. The recall committee submitted 16,875 signatures in November to the county registrar of voters.
Recall efforts have also targeted state Sens. Joyce Woodhouse, D-Henderson, and Patricia Farley, I-Las Vegas. They have also panned the attempts to oust them from office.
The effort to recall Farley failed, and she has said she will not run for re-election. The attempt to oust Woodhouse has been held up in court, but if she and Cannizzaro are recalled and a Republican wins Farley's District 8 seat, the GOP could reclaim the majority in the state Senate, which they lost last year.
Democrats have an 11-9-1 advantage. Farley caucused with Democrats.
The Democratic Party sued in Clark County District Court, arguing that 5,500 signatures on the Woodhouse recall petition are invalid and should be disqualified.
In the last 14 years, 150 recall efforts in Nevada have sought to remove an elected official from office. In that time, no recall efforts targeting state legislators have succeeded.
Contact Jamie Munks at jmunks@reviewjournal.com or 702-383-0340. Follow @JamieMunksRJ on Twitter.