Campaign 2018: Another ethics complaint filed against Dean Heller
Updated August 6, 2018 - 11:08 am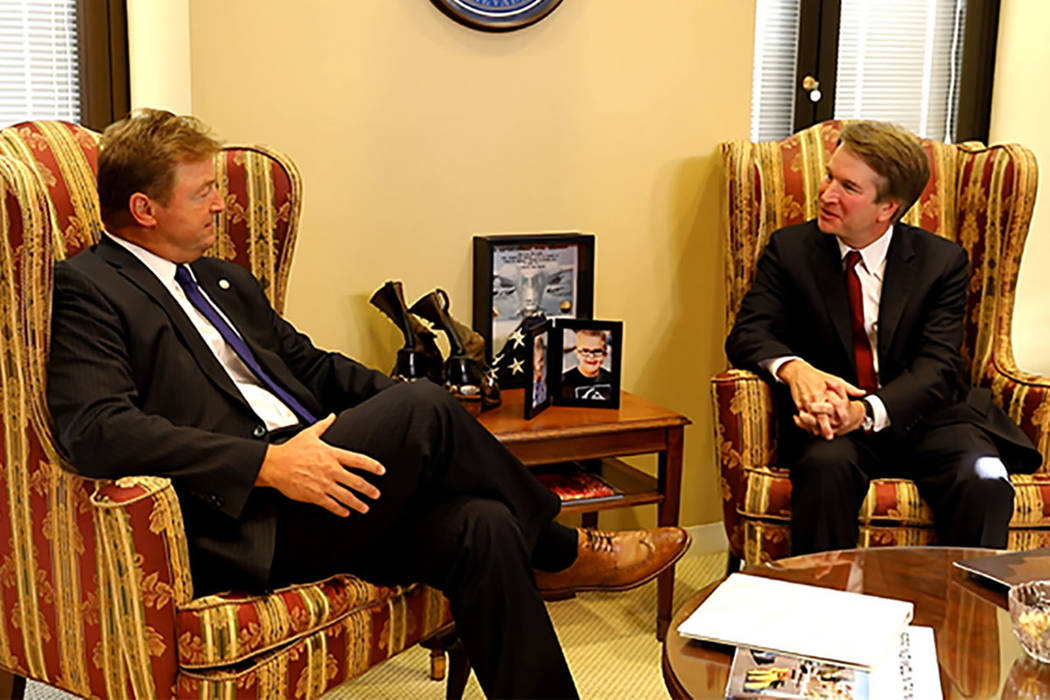 The Nevada Democratic Party filed another ethics complaint against incumbent U.S. Sen. Dean Heller, alleging that his re-election campaign used a future vote to solicit campaign donations.
Democrats pointed to a July 26 campaign fundraising email in which Heller is quoted as saying "I'm proud to say that I will stand by President Trump's SCOTUS pick and help create a strong conservative court — regardless of the consequences of my political career…! President Trump can count on my vote — because it's the right thing to do."
The state Democratic party says the email violated the Senate ethics rules by using a future or potential Senate vote to ask for campaign donations.
Heller's campaign said his Democratic opponent, U.S. Rep. Jacky Rosen, has sent similar emails soliciting campaign cash to "fight back" against Heller's "yes" vote for Trump's Supreme Court nominee, Judge Brett Kavanaugh.
"We look forward to the Nevada Democrat Party filing an identical frivolous complaint against Jacky Rosen's campaign for sending the same type of emails," Heller campaign spokesman Keith Schipper said.
Democrats have filed several other complaints against Heller dating to last fall.
"The fact that Heller and his campaign continue to participate in this blatantly unethical conduct to raise campaign cash proves that Heller's vote is for sale and that he thinks he's above playing by the rules," Nevada Democratic Party Chairman William McCurdy II said in a statement.
Goodman backs Laxalt
Former Las Vegas Mayor Oscar Goodman excited Republicans this week with the announcement that he is endorsing Adam Laxalt for governor.
The news lit up GOP social media channels as the campaign celebrated support from the former Democrat who is now registered as nonpartisan. The campaign also announced an endorsement from former Reno Mayor Bob Cashell.
"I've always worked with people in both parties to get things done, and as Governor I'll always put the people over politics. These are great leaders and it's an honor to have their support," Laxalt said in a statement.
Democrats add voters
The Nevada Secretary of State's office announced July voter registration numbers, with Democrats adding 2,057 voters and Republicans getting 1,610 new voters. There was an overall increase of 5,446 voters statewide last month.
The fastest-growing party appears to be nonpartisans — which increased by 0.54 percent in July. Of the state's 1.4 million registered voters, 38 percent are Democrats, 33 percent are Republicans, 21 percent are Nonpartisan. The rest belong to the Independent American Party, Libertarian and other parties.
News and notes
— Clark County Commissioner Chris Giunchigliani launched a political action committee to fight for progressive policies.
The Be The Change PAC, which uses the red mountain logo from Giunchigliani's unsuccessful gubernatorial campaign, says it will fight to elect a Democratic supermajority in the Legislature, protect immigrants, public lands and the LGBTQ community.
"I can't sit back on the sidelines while our Nevada values are under attack. It's up to us to get involved and say, no way, not on our watch," Giunchigliani said in an email announcing the PAC.
— U.S. Sen. Catherine Cortez Masto endorsed Marsy's Law, or Question 1, on the November ballot. The measure aims to bolster victims' rights, including the right to be notified about all public proceedings in their case.
— The Humane Society Legislative Fund PAC is hosting a happy hour to benefit Democratic congressional candidates Susie Lee and Steven Horsford. The event, from 5 to 6 p.m. Wednesday at La Comida in Las Vegas, will also feature Oregon Rep. Earl Blumenauer.
— Nevada Democrats opened a new field office on Sunday, marking the occasion with appearances by Rosen, congressional candidate Susie Lee, lieutenant governor candidate Kate Marshall and attorney general candidate Sen. Aaron Ford. The grand opening of the office, at 4760 W. Dewey Drive, Suite. 120, in Las Vegas, is 12:30 p.m. Sunday.
Contact Ramona Giwargis at rgiwargis@reviewjournal.com or 702-380-4538. Follow @RamonaGiwargis on Twitter. Contact Capital Bureau reporter Colton Lochhead at clochhead@reviewjournal.com or 775-461-3820. Follow @ColtonLochhead on Twitter.