Campaign 2018: Dems continue keep registration edge
Updated June 1, 2018 - 6:12 pm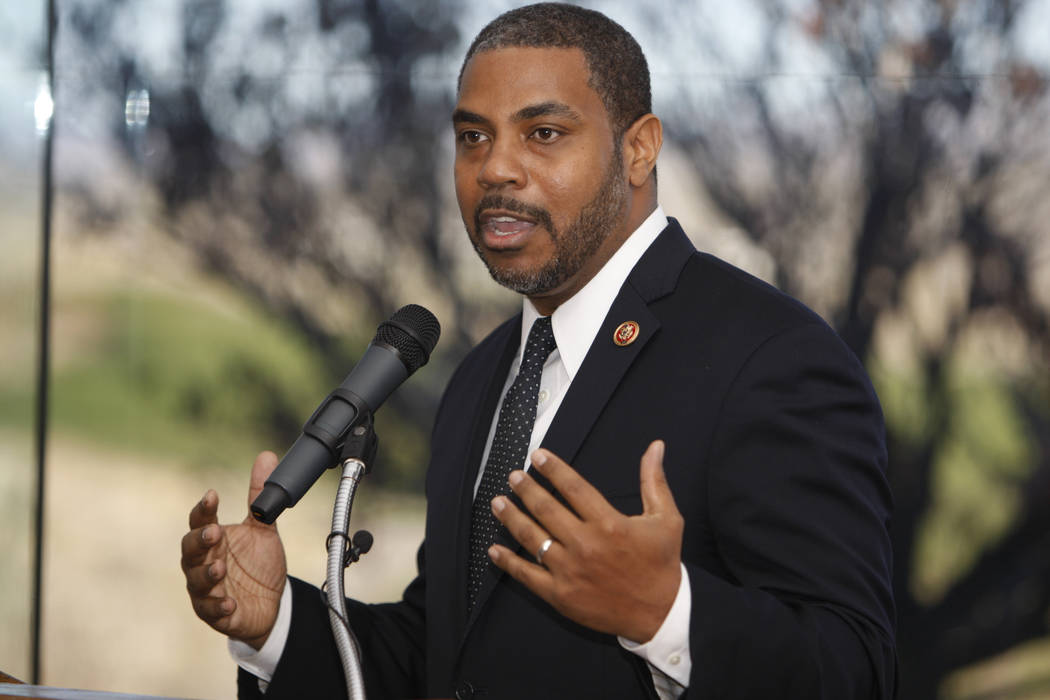 Nevada Democrats in May continued their trend of registering the most voters, but Republicans aren't far behind.
Democrats added 5,631 more voters to their ranks while Republicans registered 4,359 more voters, according to new figures released Friday by the Nevada Secretary of State. The data covers May 1 through May 24.
An additional 15,034 Nevadans have registered to vote in May, an increase of 1 percent. The total number of voters is up 11 percent compared to this point in the 2016.
There are 1.4 million registered voters in Nevada — 38 percent are Democrats, 34 percent are Republicans, 21 percent are Nonpartisan and remaining 7 percent belong to other parties.
Residents are also turning out in high numbers to vote early. As of Thursday, 53,351 voters statewide have cast votes — the majority of whom are Democrats. Early voting ends June 8.
Vilela gets sued
A Nevada consulting firm is suing Congressional District 4 candidate Amy Vilela for $90,000. The lawsuit, filed May 8, says Vilela agreed to pay People's Project LLC up to $8,000 a month and 15 percent of funds raised for consulting services. The firm, formed last year by six people, including Vilela's current campaign manager Keenan Korth, provided interview coaching, speechwriting, website design and other services.
But the lawsuit says Vilela only paid $5,751, even after the agency terminated its contract, and is paying Korth the money owed to the firm. "Mr. Korth has acted against the interests of (People's Project LLC) numerous times by competing with the company," the lawsuit said.
Korth did not immediately respond to requests for comment.
Sanctuary cities
A measure to ban sanctuary cities in Nevada could head to voters in 2020.
Carson City District Court Judge Todd Russell on Thursday approved new language for a potential ballot measure. The proposed constitutional amendment would make it illegal for Nevada cities and counties to become sanctuary communities — which means they do not cooperate with federal immigration officials.
The initiative's wording was challenged by the American Civil Liberties Union of Nevada, which argued it was broad and confusing. The judge's decision opens the door for placing the measure on the ballot in 2020. If approved by voters, it would need to be approved again in 2022 because it's a constitutional amendment.
Endorsements
— Former Nevada Rep. Steven Horsford landed an endorsement from U.S. Sen. Kamala Harris as he fights to win back his former seat.
"Steven Horsford understands what it means to struggle, so when he fights for Nevada's working families, it is personal," said Harris, a California Democrat who's rumored to be eyeing a 2020 presidential run. "He will take on this Administration's reckless agenda to strip health care from millions of Americans while giving tax breaks to the wealthiest corporations. Steven is a leader who will cut through the chaos in Washington and get things done to help Nevadans."
Horsford is running for Nevada's 4th Congressional District, which he represented for one term before losing to Republican Cresent Hardy in 2015.
— The Las Vegas Metro Chamber of Commerce endorsed Sen. Joe Hardy for District 12, Cinthia Moore in Assembly District 12, Assemblywoman Lisa Krasner in District 26, Assemblyman Mike Sprinkle in District 30, Assemblyman John Ellison for District 33, Alexander Assefa for Assembly in District 42, Jo Cato for Board of Regents, District 1, and Irene Cepeda for Clark County Board of School Trustees, District D.
— The Center Action Fund, a nonprofit affiliated with the Center for Biological Diversity, endorsed Clark County Commissioner Chris Giunchigliani for Nevada governor, state Sen. Tick Segerblom for Clark County Commission District E, state Sen. Yvanna Cancela for Senate District 10 and Howard Watts for Assembly District 15.
Contact Ramona Giwargis at rgiwargis@reviewjournal.com or 702-380-4538. Follow @RamonaGiwargis on Twitter.
The Associated Press contributed to this report.