Campaign 2018: Heller, Rosen release new ads in Senate race
Updated June 18, 2018 - 1:56 pm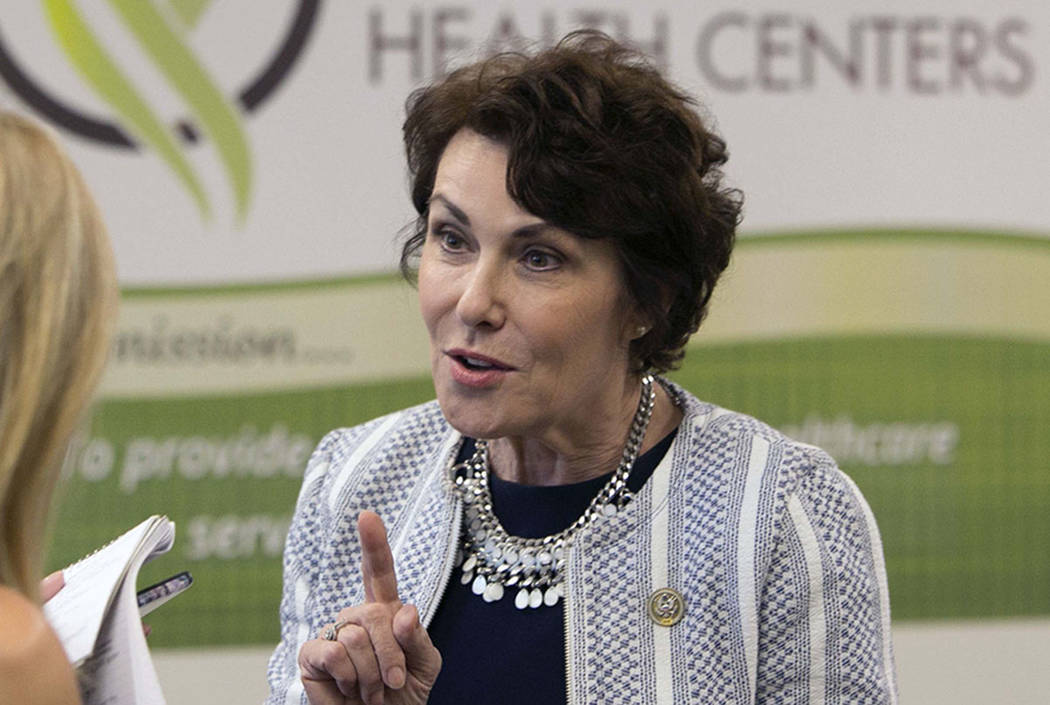 One of the first statewide ad buys since U.S. Sen. Dean Heller won the Nevada primary focuses on the GOP senator's work with veterans.
Heller's re-election bid is being challenged by U.S. Rep. Jacky Rosen.
The 15-second digital ad is part of a five-figure ad buy from the National Republican Senatorial Committee. It begins by telling viewers that Heller is "delivering for Nevada's veterans" and focuses on a law signed by President Donald Trump that included three of Heller's proposals.
The announcer says that Heller passed "historic reforms to give veterans more health care choices so they can get care where and when they need it" and encourages viewers to thank Heller.
Rosen also releases new ad
Rosen released a new Spanish-language ad seizing on the beginning of the FIFA World Cup.
The 30-second piece begins by panning over soccer players and fans cheering in the stands. "This is our moment of pride, when our players leave it all on the field," the narrator says in Spanish. "And here in Nevada, we are doing the same. Jacky Rosen is the congressional candidate who isn't afraid to confront Donald Trump."
The ad says Rosen is fighting for a path for Dreamers — young immigrants who were brought to this country illegally as children — and will secure their future, unlike Trump, who wants to separate mothers from their children.
"Immigrants work, strive and inspire the world," the announcer concludes. "And with Jacky's team, we won't back down."
Targeting voters
The Voter Participation Center, a nonpartisan voting rights organization, focused on unmarried women, minorities and millennials in mailing 75,000 voter registration forms to Nevada's most underrepresented voters.
"More than one million people of color, unmarried women and millennials aren't registered in Nevada, which means they aren't able to have their voices heard in our democracy," said Page Gardner, founder and president of the Voter Participation Center.
In Nevada, 32.5 percent of unmarried woman are not registered to vote; 32.3 percent of Latinos are not registered; 27.7 percent of African Americans are not registered and 41.5 percent of millennials are not registered to vote.
The nonprofit found that 40 million Americans who voted in 2016 likely won't cast a ballot this year, including 309,470 millennials, minorities and unmarried women in Nevada.
Renewable energy initiative
Backers of an initiative that requires Nevada to increase its renewable energy portfolio will drop off signatures Monday to qualify the measure for the November ballot.
Nevadans for a Clean Energy Future, the group behind the ballot initiative, is expected to deliver more than 112,000 signatures at 11 a.m. Monday at the Registrar of Voters office in Las Vegas. Advocates will be on hand to celebrate the milestone. If passed, the measure would require that 50 percent of the state's electricity is generated with renewables by 2030. Tuesday is the deadline to submit measures for the November ballot.
State conventions
Nevada's Democratic and Republican parties will host their 2018 state conventions next week. The Nevada Democratic Party's 2018 convention begins at 9 a.m. Saturday at the Grand Sierra Resort in Reno. U.S. Sen. Elizabeth Warren of Massachusetts will be the keynote speaker.
The Nevada Republican Party is holding its 2018 state convention Friday and Saturday at the Suncoast in Las Vegas. No keynote speakers have been announced, though several GOP insiders say Trump might make an appearance.
Candidate training
Battleborn Conservative Women PAC is hosting a training session for candidates, future candidates and those who want to learn more about running for office. Former Assemblywoman Victoria Seaman and political consultants Lisa Mayo and David McGowen will give instruction from 5:30 to 7:30 p.m. Thursday. The event is free, but registration is required. Go to bbcw.eventbrite.com.
Contact Ramona Giwargis at rgiwargis@reviewjournal.com or 702-380-4538. Follow @RamonaGiwargis on Twitter.