Campaign 2018: National GOP group pulls funding for Cresent Hardy
October 20, 2018 - 4:05 pm
Updated October 20, 2018 - 11:19 pm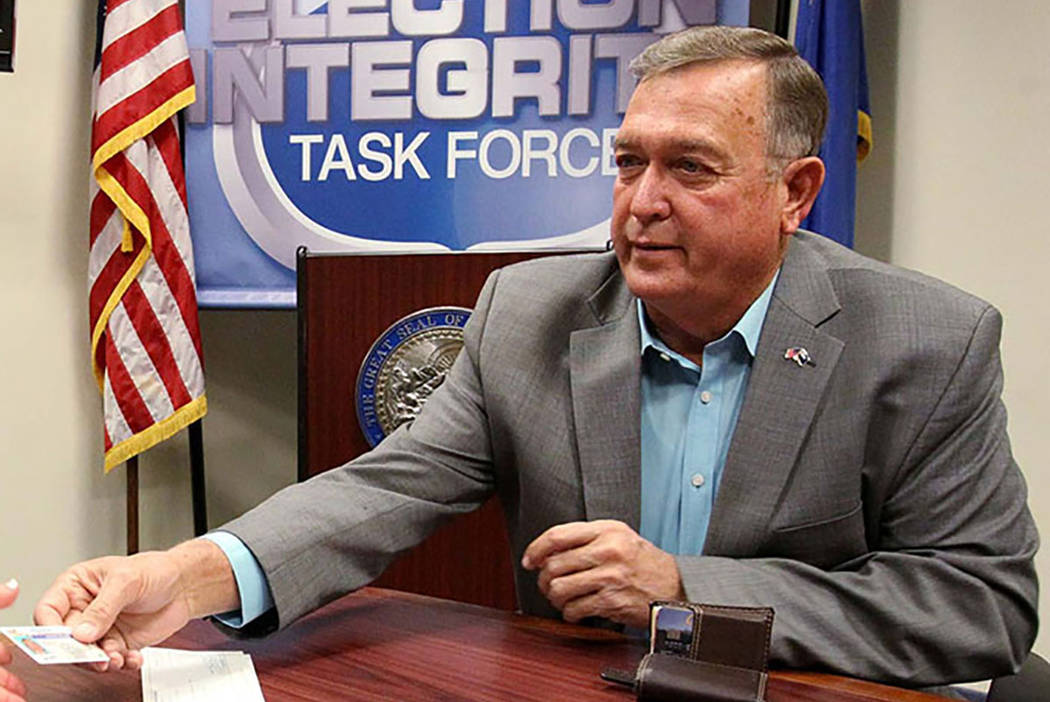 The National Republican Congressional Committee has pulled spending from Republican Cresent Hardy in his rematch against Democrat Steven Horsford for Nevada's 4thCongressional District.
The NRCC had planned to spend $1.2 million in the weeks before Election Day to boost Hardy's bid.
A source familiar with NRCC's decision said the money is needed elsewhere. The NRCC will focus its spending on helping House Republicans facing tough re-election bids, the official said.
Political analysts say the canceled funding could mean the NRCC has lost confidence in Hardy's ability to win the swing district, which has flipped political parties every election since it was formed after the 2010 census. Hillary Clinton won the district two years ago.
The NRCC has not canceled its spending in Nevada's 3rd Congressional District, where GOP businessman Danny Tarkanian is facing off with Democratic philanthropist Susie Lee.
The Cook Political Report rates both open Nevada seats as leaning Democrat.
Patagonia gets political
Outdoor clothing company Patagonia is jumping into the political fray by endorsing candidates for the first time.
The company on Friday announced its backing of Nevada Rep. Jacky Rosen and Montana Sen. Jon Tester. Both are Democrats running for U.S. Senate seats.
The endorsements are the first ever issued by the company in its 45-year history, according to a press release sent Friday.
The company, whose global distribution center is located in Reno, said it is backing Rosen and Tester because Patagonia has "significant history" in each state and the politicians have worked to protect public lands.
Days after Trump administration announced plans to shrink Bears Ears National Monument in Utah by 85 percent in December, Patagonia founder Yvon Chouinard penned a letter to the U.S. House Committee on Natural Resources which was posted on the company's website that blasted the committee as "shackled to special interests of oil, gas, and mining," and said they would "seek to sell off our public lands at every turn and continue to weaken and denigrate Theodore Roosevelt's Antiquities Act, which has preserved our treasured public lands for over 100 years."
In its endorsement announcement Friday, the company said Rosen "will be a great partner to ensure Nevada's public lands are protected for future generations."
"(Patagonia is proud to support) Jacky Rosen because she will fight to protect Nevada's public lands and the vibrant outdoor industry that depends on them," Patagonia CEO and President Rose Marcario said in a statement. "Jacky has a strong record of defending public lands in Congress and protecting our access to clean air and clean waters. We need her leadership to protect Nevada's economy and the basic health of its people, so the business community can thrive and so Nevadans can prosper. I hope all Nevadans vote in this vital election—and when they do, I encourage them to vote for Jacky Rosen."
Tarkanian expands lawsuit
Tarkanian on Friday announced he is suing the Democratic Congressional Campaign Committee for "defamatory statements" used in ads during the 2016 election.
"Growing up, my parents taught me the importance of fighting for what's right," Tarkanian said. "I'm not going to let a group of D.C. political hacks get away with spreading malicious lies about me. The DCCC's disgusting behavior is disrespectful to all voters who value truth and honesty."
The ads claim that Tarkanian helped set up telemarketing scams that defrauded seniors. Tarkanian says he served as a registered agent for those companies, but didn't know about the scams.
Tarkanian won a defamation lawsuit against former state Sen. Mike Schneider in 2009 for similar attacks in 2004. Tarkanian also sued Rep. Jacky Rosen in 2016 for publishing similar claims.
"Danny Tarkanian suing over his lengthy history of setting up telemarketing companies that scammed seniors is surprising, given that Danny Tarkanian has himself admitted to setting up these companies," DCCC spokesman Andrew Godinich said.
Fumo in hot water
Assemblyman Ozzie Fumo reportedly violated Nevada election law by exceeding campaign contribution limits, according to a complaint filed against the Las Vegas Democrat.
Patrick James gave Fumo $10,000 in October 2017 and again in May, campaign finance reports show. Nevada election law limits campaign contributions to $5,000 for the primary election and $5,000 for the general election for a total of $10,000 per election year.
Las Vegas attorney David Edelblute filed a complaint against Fumo, who faces Republican Cherlyn Arrington for the Assembly District 21 seat. Fumo could not be reached for comment.
Wayne Thorley, who oversees elections for the Nevada Secretary of State's Office, said Fumo returned the excess $10,000 and has amended his campaign expense reports. He will not face any penalties.
"He asserts that the violation was not intentional or willful," Thorley said.
Obama visiting Las Vegas Monday
Former President Barack Obama's early vote rally to support Democrats in Nevada happens Monday at noon at UNLV's Cox Pavilion. Tickets are required, but free and can still be picked up at sites throughout the Valley. For details, visit votenvdems.com/obama.
News and Notes
■ Lee was endorsed by Henderson Mayor Debra March, and her two predecessors, Jim Gibson and Andy Hafen. Henderson Councilwoman Gerri Schroder also announced her support of Lee.
■ The North Las Vegas Police Officers Association endorsed state Senate Majority Leader Aaron Ford for attorney general.
■ The Brady PAC announced a large digital ad buy denouncing Tarkanian for his position on gun control. The first 15-second ad touts Lee as a champion for gun safety while the other links Tarkanian to the NRA.
■ Sen. Lindsey Graham (R-S.C.) is hitting the campaign trail to stump for Republicans in House and Senate races across the country, including a soon-to-be-announced visit to Nevada.
■ Three wildlife groups, The Nevada Wildlife Federation, National Wildlife Federation and the Center for Biological Diversity, have endorsed Question 6. The measure would require Nevada to obtain 50 percent of its energy from renewable sources by 2030.
■ Rosen released her seventh Spanish-language ad in her bid to unseat GOP Sen. Dean Heller, focusing on President Donald Trump's attacks against her and his "anti-immigration" agenda. Heller also released two Spanish ads this week, his first in the campaign cycle, focused on his work with veterans and tax reform.
— The Clark County Education Association Executive Board endorsed Rosen's Senate campaign.
— Rosen endorsed Marsy's Law, or Question 1 on the ballot, which expands victim's rights and enshrines them into the state constitution.
Contact Ramona Giwargis at rgiwargis@reviewjournal.com or 702-380-4538. Follow @RamonaGiwargis on Twitter.