Campaign 2018: Sandoval dismisses California-zation of Nevada
Updated September 16, 2018 - 6:24 pm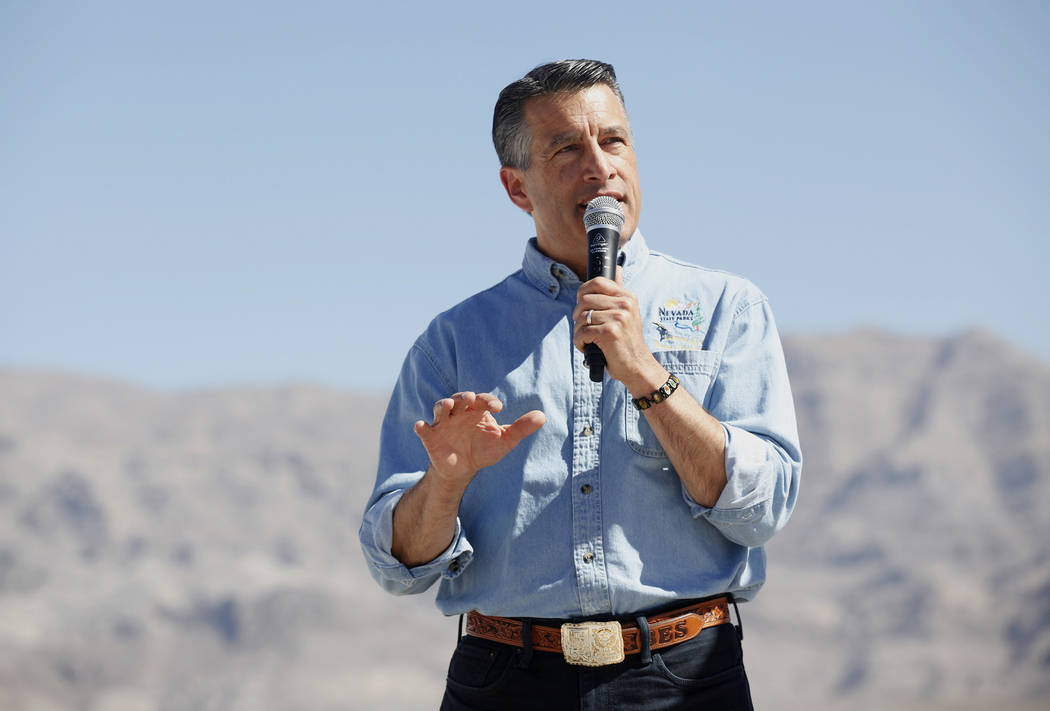 Republicans in Nevada have made California the boogeyman of the 2018 midterm elections, stoking fears that if Democrats win in November they will turn the Silver State into the Golden State.
Nowhere was that clearer than in August at Republican gubernatorial candidate Adam Laxalt's Basque Fry, where speakers railed the neighboring state as the epitome of what happens when Democrats are in control.
But what does the popular current Republican Gov. Brian Sandoval think of the comparison?
"I honestly don't know what that means," Sandoval told the Review-Journal this past week.
Instead, Sandoval praised the progress Nevada has made during his nearly eight years in office.
"I just know that in my term as governor we've worked hard to increase funding and improve the delivery of education for K-12, improve health care, improve the infrastructure, diversify the economy," he said. "We're doing as well (as) or better than we ever have. "
Sandoval also noted how well Nevada has recovered from the recession, including low unemployment, the paying off of debts owed to the federal government and a replenishing of the state's rainy fund.
"I'm focused on what my administration has accomplished over the last eight years. And I'm hopeful that continues. Different people can interpret that in different ways," Sandoval said. "We are all Americans, all Nevadans, and we all want the same things."
Sandoval has said he won't endorse any candidate in the race to replace him between Laxalt, Democrat Steve Sisolak and three third-party candidates.
'A spending problem'
The Congressional Budget Office announced this past week that the federal deficit is expected to hit $895 billion through the first 11 months of fiscal year 2018, which is 32 percent, or $222 billion, higher than it was at the same point last year.
The CBO report cited increased spending by Congress and the new tax law as key reasons for the increase, noting that revenues for the federal government grew by 1 percent while spending grew by 7 percent.
Republican U.S. Sen. Dean Heller said Friday that he doesn't believe it's a revenue problem.
"We have a spending problem back in Washington D.C.," Heller said.
Heller said one way for Congress to reduce that spending is by passing a budget as opposed to omnibus spending bills, which have become the norm in Washington.
"Without a budget, without looking at every agency line by line and determining what their spending is, no, we're not going to solve the deficit," he said.
Republicans in Trump overdrive
The Nevada Republican Party is taking its love for President Donald Trump to a new level.
With less than two months to Election Day, the state party announced a series of weekly events to energize the base and to "help (elect) candidates who will support President Trump's America first agenda."
The events pay homage to Trump's talking points: "MAGA Monday," Trump Tuesday" and "America First Friday." And that was before it was announced that Trump will visit Las Vegas on Thursday.
The meetings happen every week all over the state — including Henderson, Reno, Carson City and Spring Valley — until election day. Go to www.eventbrite.com/o/nevada-republican-party-1127369731 for details.
Tarkanian's got jokes
Nevada Congressional District 3 candidate Danny Tarkanian's first TV ad takes a lighthearted look at his campaign featuring Tarkanian, his four children and Jake, the family dog.
"We need to reform Washington," Tarkanian says to his sleeping wife at 6:12 a.m. "Term limits would end career politicians."
Tarkanian, who is facing Democrat Susie Lee for the open seat, later explains his platform to his children and dog while they're eating dinner, getting food from the fridge and playing basketball.
News and Notes
— Reno Mayor Hillary Schieve endorsed Sisolak, saying he understands the inner workings of local government.
— The Black Economic Alliance endorsed Congressional District 4 candidate Steven Horsford, one of 14 endorsements the organization announced this past week.
— The campaign for Marsy's Law, or Question 1, began airing radio ads in English and Spanish featuring two women discussing the measure. The initiative would enshrine certain victims' rights into the state constitution.
— Lieutenant governor candidate Ed Uehling became the first Nevada candidate to accept Bitcoin donations. Uehling said he welcomes "new ideas and ways of thinking to turn common sense into solutions."
Contact Colton Lochhead at clochhead@reviewjournal.com. Follow @ColtonLochhead on Twitter. Contact Ramona Giwargis at rgiwargis@reviewjournal.com or 702-380-4538. Follow @RamonaGiwargis on Twitter.