Casino chiefs urge Nevada lawmakers to fund proposed Raiders stadium in Las Vegas
October 10, 2016 - 8:10 pm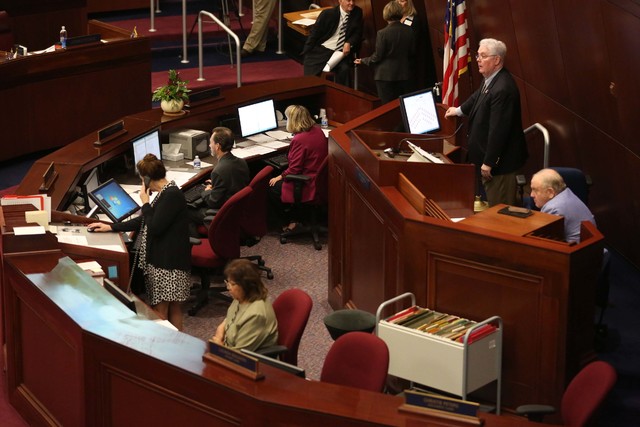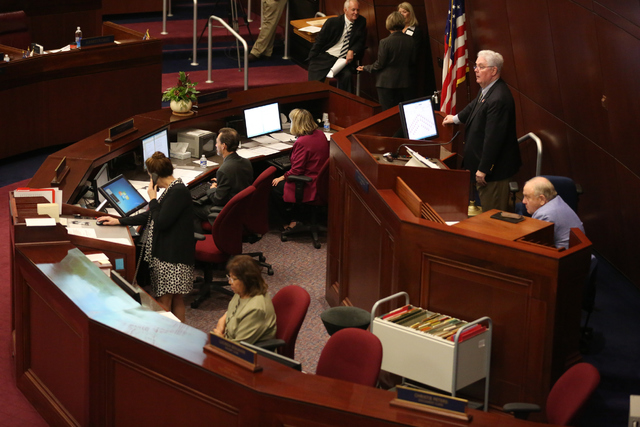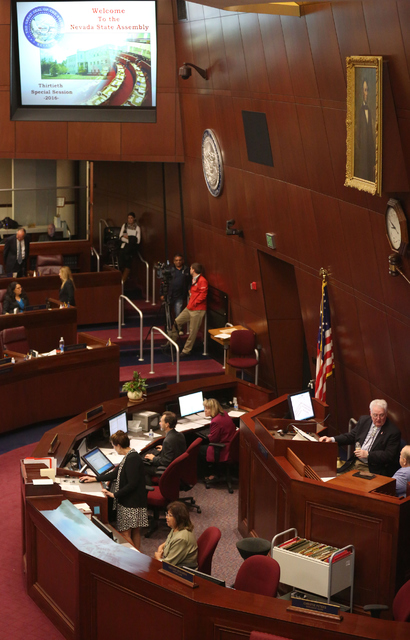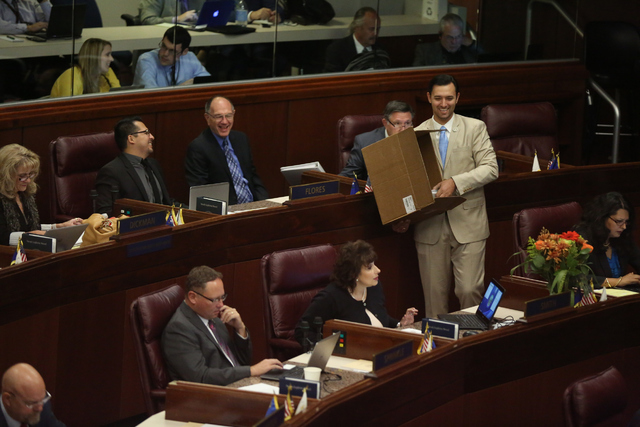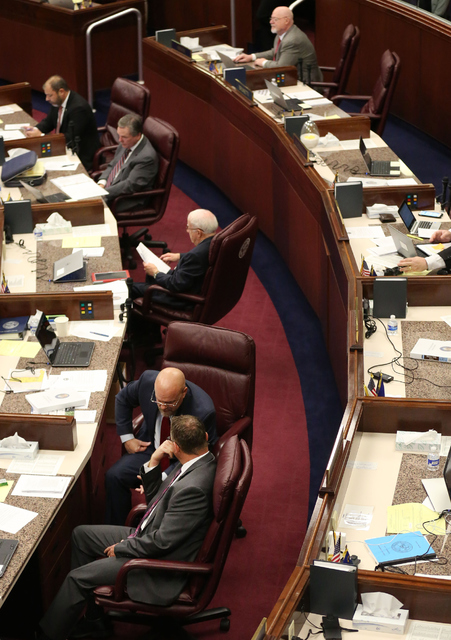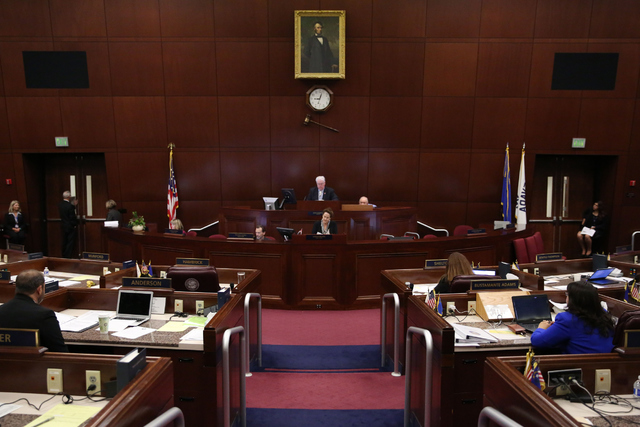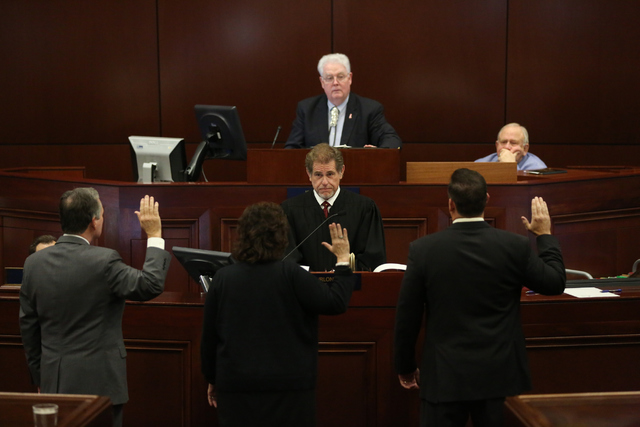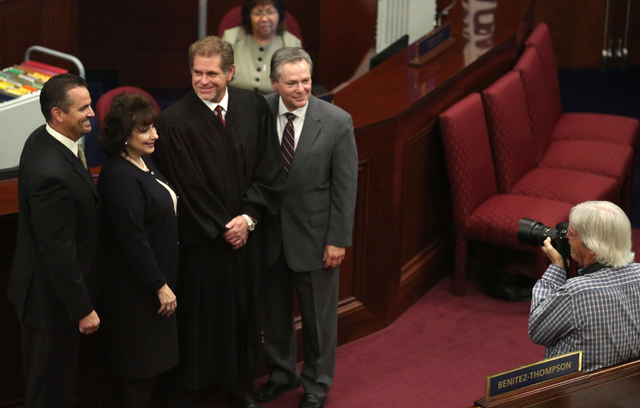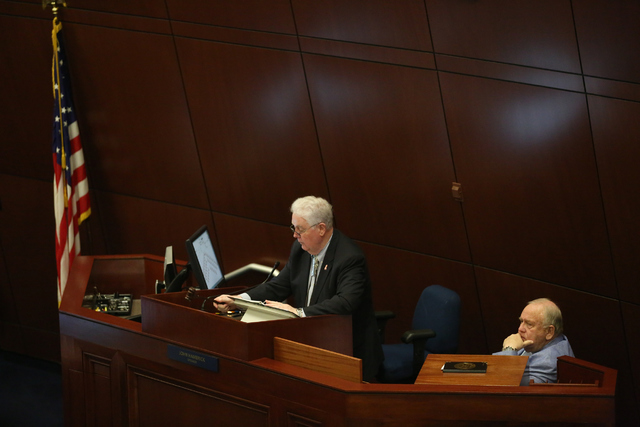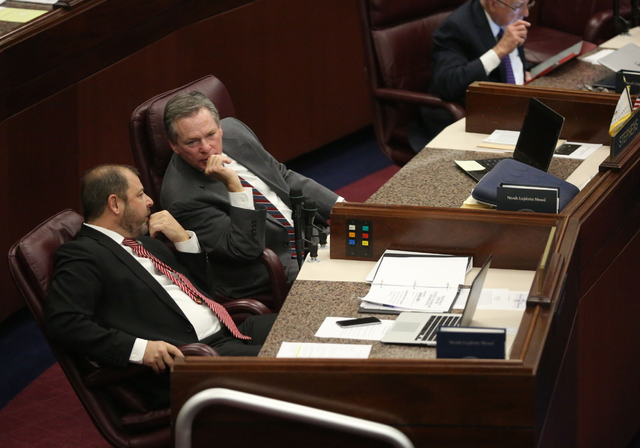 CARSON CITY — A chorus of casino titans and other supporters urged Nevada lawmakers on Monday to support public funding to build a $1.9 billion domed football stadium and expand the Las Vegas Convention Center as a special session began to vet the details of both projects.
The fate of a stadium that could become home to the National Football League's Oakland Raiders will be decided by the 63 lawmakers by the end of the week. A two-thirds vote in both the Senate and Assembly will be needed to push the projects forward.
Heavy hitters testifying on behalf of the multibillion-dollar projects included Steve Wynn, chairman and CEO of Wynn Resorts Ltd., and Jim Murren, chairman and CEO of MGM Resorts International.
Wynn urged lawmakers meeting on the first day of the session to take advantage of a rare opportunity to move Las Vegas forward as a tourist destination.
Wynn said that in his 49 years in the gaming business in Las Vegas, no single opportunity has presented itself that would have such an impact on the tourism industry.
"If the NFL and the Raiders come because we build the stadium, and we won't build the stadium unless they're coming, for the first time in modern history the National Football League has signaled a willingness to allow the team to transfer," he said.
"My friend Jerry Jones and Robert Kraft and others with whom I have a personal relationship have told me the NFL is ready to do it if Nevada steps up in Las Vegas with a stadium," Wynn said.
Jones, owner of the Dallas Cowboys, and Kraft, owner of the New England Patriots, previously have said they would support the Raiders' relocation to Las Vegas. Three-quarters of NFL owners (24 of 32) must approve the move.
Murren also supported the stadium and convention center projects, saying that while they are different, they are "equally important to the success of our community."
"We can't afford to lose this opportunity," he said.
Senate Bill 1 calls for a 0.88 percentage-point room tax increase in the Clark County room tax to finance $750 million in bonds over 30 years for the 65,000-seat domed stadium. The family of Las Vegas Sands Corp. Chairman and CEO Sheldon Adelson has pledged $650 million toward the deal. The Raiders have committed $500 million. The Adelsons would cover any cost overruns.
Another 0.5 percentage-point room tax increase would finance $400 million of a $1.4 billion upgrade and expansion of the Las Vegas Convention Center.
Former Las Vegas Mayor Jan Jones Blackhurst, an executive vice president of Caesars Entertainment Corp., said the projects will help push visitation to Southern Nevada beyond the more than 40 million who came to the region last year.
Blackhurst said Las Vegas currently cannot stage large-scale events such as those held in other big cities. The stadium will fill that gap, she said.
"If you think about it, it's been almost a decade since there has been a major infrastructure investment in the Las Vegas Strip," Blackhurst said. "And the time for a new investment is now."
Danny Thompson, executive secretary-treasurer of the Nevada state AFL-CIO, also endorsed the projects, saying it is the right move for Las Vegas and Nevada. Representatives of many other groups, including the Latin and Urban chambers of commerce, and Len Jessup, president of UNLV, endorsed the projects.
But Shaundell Newsome, with the Urban Chamber, also made it clear that the small-business owners he represents want a chance to participate in the economic opportunities the stadium and convention center expansion will provide.
"We want to ensure that equity and inclusion is part of the contracts," he said. "To include construction, professional services, concessions, employment, facilities and maintenance."
The businesses want the same provisions for minority opportunities contained in the Faraday Future legislation, approved by lawmakers last year, included in these two projects, Newsome said.
Outside the Legislature building, a small contingent of demonstrators protested what they called a corporate give-away, carrying signs that read, "Take our money, lose our vote," and claiming the tax increase could fund 21,400 teachers.
"I just believe that $750 million of our taxpayer money can fund our education, help our seniors," said Autumn Zemke, a Carson City activist. "There's so many other things."
Stacey Shinn with Progressive Leadership Alliance of Nevada echoed that sentiment.
"We need to start putting people over profits and corporations in this state," she said.
Opponents also complained they were kept waiting for an opportunity to voice their concerns while casino executives were allotted scheduled time to promote the projects.
Senate Majority Leader Michael Roberson, R-Henderson, later announced he would receive more public comment at 8 a.m. Tuesday in the Senate.
In another favorable development for the stadium project, the Nevada Taxpayers Association on Monday announced that it had withdrawn its opposition, opting instead to take no position on the proposal.
Anna Thornley, the group's president, said the change came after the board had a chance last week to ask "specific and challenging questions" of the proponents.
She said the organization "was able to remain open-minded enough to receive and consider additional information related to the project in a thoughtful fashion."
Steve Hill, executive director of the governor's Office of Economic Development, walked senators through the particulars of SB1, how much money it would raise, and protections for Clark County taxpayers who could be on the hook if the economy tanks and room taxes don't materialize to cover the debt.
Hill, who chaired the Southern Nevada Tourism Infrastructure Committee, created by Gov. Brian Sandoval, said the projects are critical for Las Vegas to maintain its place as an international tourism and convention destination.
But the stadium proposal dominated the discussion.
Hill said the lodging tax increase for the stadium would generate $85 million annually — 80 percent more than what would be needed to make the bond payments. Excess collections would be used for stadium operation, to build up reserves and reimburse UNLV for up to $3.5 million annually for lost revenue from aging Sam Boyd Stadium, the largest stadium in Las Vegas and home to the Rebel football program.
UNLV's football team would pay to play at the new stadium, though a final rent agreement would be worked out later.
The SNTIC projects the stadium would draw more than 800,000 people annually and generate $620 million in annual economic activity, but some lawmakers questioned that assumption.
The Review-Journal is owned by the family of Sheldon Adelson, chairman and CEO of Las Vegas Sands Corp.
Review-Journal reporter Rick Velotta contributed to this report. Contact Sandra Chereb at schereb@reviewjournal.com or 775-461-3821. Follow @SandraChereb on Twitter. Contact Sean Whaley at swhaley@reviewjournal.com or 775-461-3820. Follow @seanw801 on Twitter.
RELATED
Steve Wynn, MGM's Jim Murren believe stadium would spur sports growth
UNLV president knows stadium will take leap of faith for Rebels