Danny Tarkanian brings in big names to bolster congressional campaign
September 25, 2018 - 6:14 pm
Updated September 25, 2018 - 7:57 pm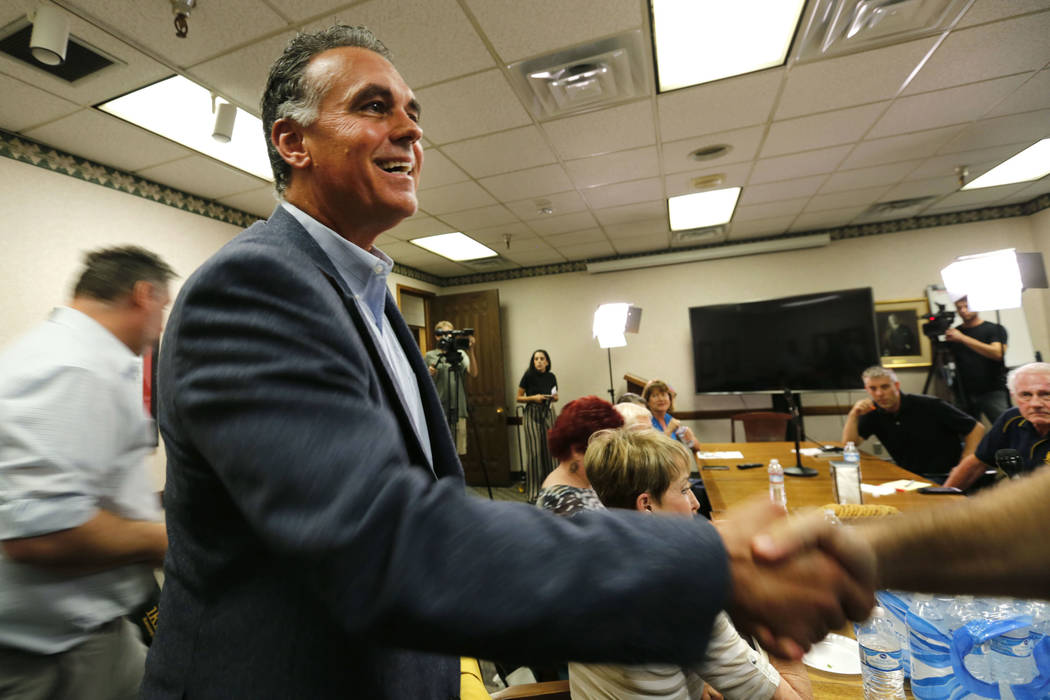 From a former presidential candidate to the president's oldest son, businessman Danny Tarkanian has called on some of the biggest names in politics and entertainment to boost his congressional campaign.
And to help bolster his campaign coffers.
"We're proud that our campaign continues to attract national attention and investment," Tarkanian said Tuesday. "We, of course, experience strong surges of support and visibility each time we welcome national figures to Nevada."
On Wednesday, Tarkanian is hosting a fundraiser with Donald Trump Jr. and former Fox News personality Kimberly Guilfoyle. The event, which costs $500 per person, has 200 confirmed attendees and has exceeded a fundraising goal of $50,000.
Tarkanian, who faces Democrat Susie Lee for the open 3rd Congressional District seat, has hosted events with major headliners for months, starting with Herman Cain at a Las Vegas Italian restaurant in March.
The Tarkanian campaign said the event headliners don't get paid for their appearance.
"We're fighting hard to raise the money necessary to get out our message to Nevada voters in one of the most expensive congressional races in the country, so every dollar counts," Tarkanian said.
The district is critical this year as Democrats — who have only held the seat for two terms since the district was created in 2002 — fight to win control of the House. The seat is open because Rep. Jacky Rosen, who narrowly beat Tarkanian to win it in 2016, is running for the U.S. Senate.
"You're seeing this interest in our campaign nationally not only because of Danny's support of Donald Trump's America-first policies, but because Danny is very much in favor of common-sense solutions," said campaign spokesman Richard Hernandez. "The dollars are coming in, and the interest is very strong."
Hernandez said Tarkanian has raised $300,000 to $400,000 this quarter, but that doesn't include money from a fundraiser headlined by President Donald Trump last week. "We expect that to go up significantly," he said.
Saturday is the next deadline to file federal campaign finance reports.
Tarkanian, at the behest of the president, dropped his bid to challenge Sen. Dean Heller and has hosted half a dozen events since then with famous guests.
One of the fundraisers in July featured "Pawn Stars" celebrity and Gold &Silver Pawn owner Rick Harrison. Attendees were asked to pay anywhere from $250 to $2,700, the maximum individual contribution limit, to catch a glimpse of Harrison.
Other events featured Cain, a 2012 presidential candidate and radio show host, Tea Party leader Niger Innis and Rep. Doug Collins, R-Ga.
Longtime Nevada GOP strategist Robert Uithoven called the headliner-based fundraising strategy a "smart move" for Tarkanian.
"It shows the importance of the CD3 race in the effort to keep the House. It shows he has solid relationships in Southern Nevada, as well as a trusted relationship with the president and his team, and it shows that he knows how critical turnout is this November," said Uithoven, founder of the campaign consulting firm j3 Strategies.
Hernandez said the big-name events draw attendees from across the country, but the strategy isn't new: Tarkanian welcomed House Speaker Paul Ryan in 2016 when he ran for Congress.
Despite the national figures headlining his events, Tarkanian has trailed in fundraising.
Most recent campaign filings show he raised $1.3 million through June and spent $723,112, while Lee raised $2.1 million.
Contact Ramona Giwargis at rgiwargis@reviewjournal.com or 702-380-4538. Follow @RamonaGiwargis on Twitter.