Diaz quits Nevada Assembly, will run for Las Vegas City Council
Updated December 3, 2018 - 11:49 am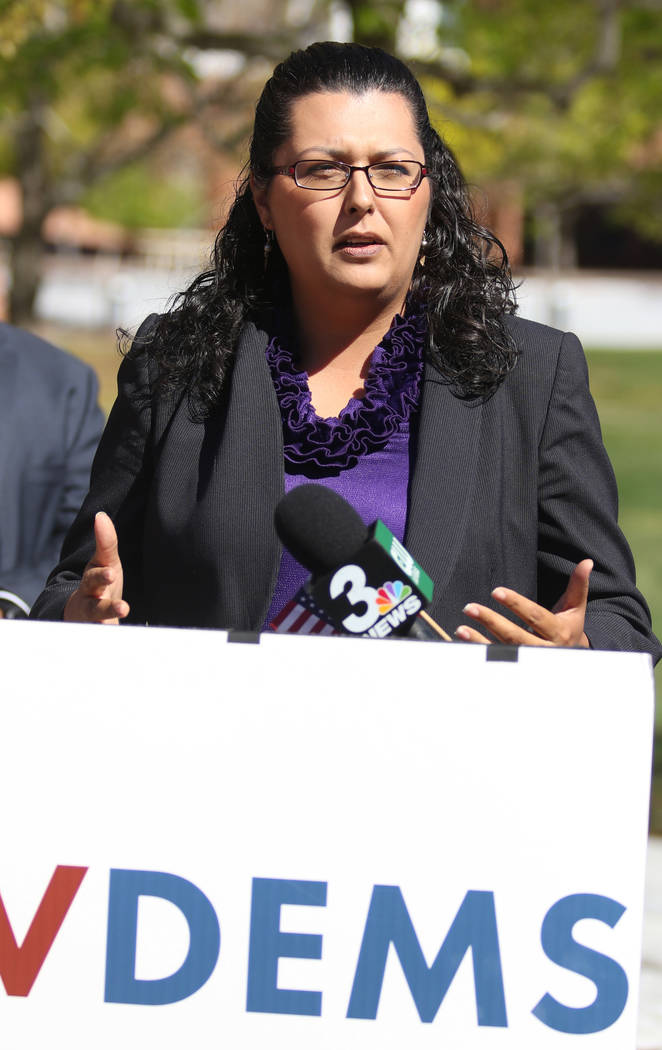 Barely a month after being elected to her fourth term in Nevada Assembly District 11, Olivia Diaz has resigned and announced her intentions to run for the Las Vegas City Council.
Diaz, a 40-year-old Las Vegas Democrat, announced her resignation on Monday. She was elected Nov. 6, earning 81 percent of the vote to defeat Republican Gianna Miceli. In a Twitter post, she announced she was planning to run for the Ward 3 city council seat, which is being vacated by outgoing councilman Bob Coffin.
Although she's considered making a city council run for a while, Diaz said she didn't make her decision to run until Coffin confirmed he would not seek another term. She said the full-time year-round city council job allows for greater contact with constituents.
"I definitely am excited about the possibility of having constant and continual contact with the residents of the ward," she said.
A crowded field
Diaz's move comes less than a week after Coffin said that he will not seek a third and final term in the office. Coffin, 76, cited back pain that's been lingering since a 1981 car crash.
If elected, Diaz said she plans to operate as though the seat is a "joint partnership" with residents. Diaz, who works with elementary school students who struggle with reading, has lived in the ward for more than 30 years.
"I feel like it would be great to elect someone who has grown up there and has so much respect and love for that ward and wants to continue to give back," she said.
Ward 3 includes downtown Las Vegas and is one of three seats on the seven-member board that's up for election.
Diaz will join three other candidates who have declared their intentions to run in Ward 3. Melissa Clary, 36, a Department of Veterans Affairs project manager announced her campaign last week. Political newcomer Shawn Mooneyham declared his candidacy in July and former Las Vegas parks commissioner David Lopez tossed his hat into the ring in late 2017.
In Ward 1, termed-out Mayor Pro Tem Lois Tarkanian's assistant Robin Munier, former Las Vegas employee Brian Knudsen and coffee shop owner Sherman Avery Ray have each expressed interest in Tarkanian's seat.
The Ward 5 seat, occupied by Councilman Cedric Crear, and Mayor Carolyn Goodman's seat are also up for election.
The candidate filing period is Jan. 22 through Feb. 1. Following the April 2 primary, the general election is June 11.
Replacing Diaz
Assembly Speaker Jason Frierson called Diaz a "trailblazer and role model for many aspiring leaders."
"While I'm sad to see Assemblywoman Diaz leave the legislature, I know that she will never stop fighting for our community and Nevada," Frierson said in a statement. "I look forward to seeing what's next for her, and I'm honored to have worked with her these past several years."
Diaz's departure means the Clark County Commission will have to appoint four members to the Legislature ahead of the 2019 session, which begins Feb. 4.
The commission this week will appoint people to the seats in Senate districts 3 and 11, which became vacant when Las Vegas Democrats Tick Segerblom and Aaron Ford were elected to other offices. Clark County also is working with Nye and Lincoln counties to appoint a replacement for Assembly District 36, because Dennis Hof won that seat despite dying a month before the election.
Appointees must be of the same political party, so Diaz's departure will have no bearing on the 29-13 majority Democrats hold in the Assembly.
Diaz said she planned to work closely with Frierson to help fill the seat with someone who can hit the ground running.
"I'm here for them to help them transition as best as possible," she said.
Contact Meghin Delaney at 702-383-0281 or mdelaney@reviewjournal.com. Follow @MeghinDelaney on Twitter.
Review-Journal Assistant City Editor Rob Johnson contributed to this report.