Guinn Center lays out facts on Nevada ballot measures
September 14, 2018 - 3:02 pm
Updated September 14, 2018 - 8:50 pm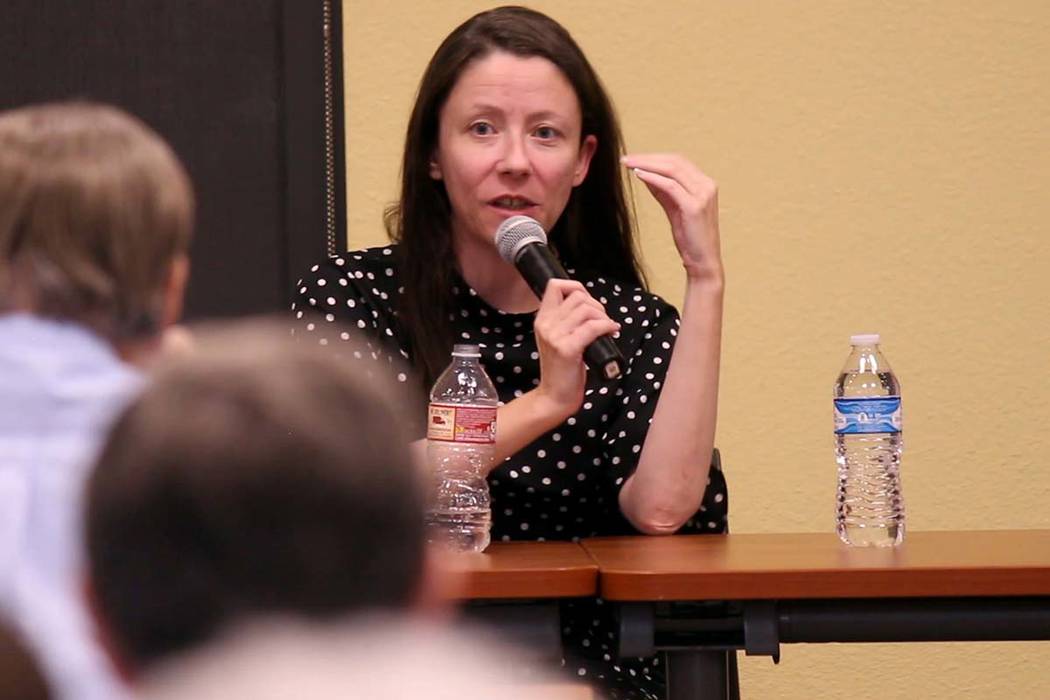 An independent research center on Thursday explored both sides of six ballot measures facing Nevada voters in November — four of which would be etched into the state constitution.
Meredith Levine, the Guinn Center's director of economic policy, laid out the facts about each measure.
Question 1: Marsy's Law
Marsy's Law would enshrine 17 rights of victims into the Nevada Constitution. The rights include a full and timely restitution, victim privacy protections, notification of public hearings and the right to refuse a deposition request.
California was the first state to pass the law, which is named for Marsalee "Marsy" Nicholas who was murdered by her ex-boyfriend in California in 1983. He was released a week later and saw her family, who had no idea he was out of jail.
The measure's backers say it would expand the definition of a "victim" and provide stronger, enforceable rights. Opponents say the protections already exist in statute, and Marsy's Law undermines the defendant's constitutional rights and financially strains the criminal justice system. They're also worried about putting those rights into the constitution.
"We can debate quite endlessly what that balance should be for victims versus the defendants," said Sara Price Mason, an attorney and ACLU board member who attended the meeting. "You don't have the opportunity to evaluate that in any significant way once you get that stuck in the constitution."
Question 2: 'Pink Tax' Sales Exemption
This measure would exempt tampons and sanitary napkins from state and local sales tax.
Supporters say taxing feminine hygiene products is unfair and discriminatory because only women use those items and there's no substitute for them. The exemption was approved by state lawmakers last year and requires a vote of the people to become law.
Opponents argue that the exemption would cost the state $4.9 million to $7.1 million in lost revenue each year. They also say most women don't spend that much on those taxes — about $5 per person per year.
Question 3: Energy Choice Initiative
Question 3, which would restructure Nevada's energy market to end monopolies like NV Energy and open the market to competitors, has dominated the airwaves this election cycle.
Proponents say competition would lower electricity rates, while opponents contend the measure could increase costs. The Guinn Center's analysis could not determine the accuracy of either claim.
"We have absolutely no idea," Levine said. "The problem is that the data is not comparable across states."
The measure was first approved by voters in 2016, but requires a second vote to become law.
Question 4: Medical Patient Tax Relief Act
Similar to Question 2, this measure would exempt certain medical equipment from sales tax. This measure, also approved by voters in 2016, would be a constitutional amendment if approved again this year.
The exempted equipment includes oxygen tanks and mobility-enhancing devices. Backers say an exemption would reduce the burden on disabled Nevadans, including seniors and low-income residents. Opponents say it's insufficient because it doesn't include hearing aids or vision devices and poses a financial burden to the state. The state has no official estimated loss of revenue, but has said that it would be "nominal."
Question 5: Automatic Voter Registration
Currently when Nevadans go to the DMV to change their address or get a new driver's license, they must choose to register to vote. This measure would automatically register residents to vote unless they opt out.
If someone doesn't opt out, they'll be automatically registered as nonpartisan, although they can change parties later. The measure doesn't change the political party of registered voters.
Supporters say it would eliminate a barrier to voting and expand voter rolls, resulting in 120,000 potential new voters in Clark County. Opponents say registering voters doesn't guarantee they'll vote or be engaged, and it shouldn't be a state function.
Question 6: Renewable Energy Promotion
The newest measure to qualify for the ballot, Question 6 would require electric providers to acquire 50 percent of their electricity from renewable sources by 2030. The current state goal is 25 percent by 2025.
Proponents say it would force renewable energy compliance and bolster the economy. Opponents say it could be burdensome and costly to ratepayers.
Contact Ramona Giwargis at rgiwargis@reviewjournal.com or 702-380-4538. Follow @RamonaGiwargis on Twitter.