Gun background check bill clears another hurdle: Nevada Senate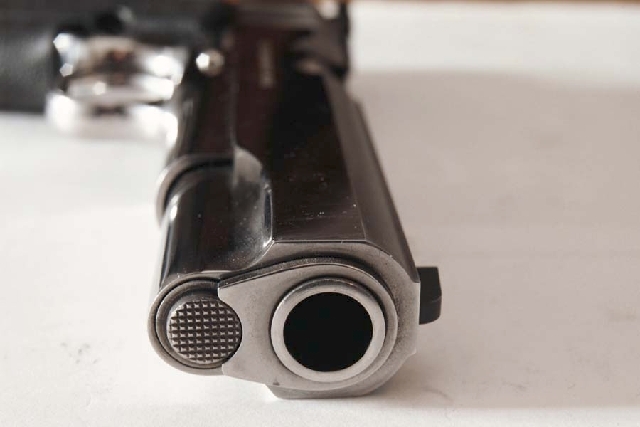 CARSON CITY — A bill requiring background checks for private sale gun purchases won approval Wednesday in the state Senate on an 11-10 party line vote with Democrats in support.
It now goes to the Assembly, where Democrats have a 27-15 majority.
The vote on Senate Bill 221 did not come before Senate Minority Leader Michael Roberson, R-Las Vegas, tried to amend the measure to eliminate the requirement that private gun purchases be processed through a federally licensed firearms dealer so that a background check could be run first.
Instead, he proposed that a gun seller be allowed to voluntarily run a background check of a potential buyer through the state-run repository for records of criminal history at no charge.
His amendment also proposed to have the Legislature conduct a study on firearms issues, among other provisions. The amendment failed on a voice vote.
The debate on the bill sponsored by state Sen. Justin Jones, D-Las Vegas, occurred as supporters of the measure, including individuals who lost family members in the December shooting deaths at an elementary school in Newtown, Conn., watched the measure's progress.
Jones opposed Roberson's amendment, saying law­makers propose a study when they don't want to make tough choices. Jones then spoke in support of the bill.
"What we need right now is sensible and meaningful legislation that respects the rights of law-abiding gun owners while taking an important step in the direction of keeping guns out of the hands of felons, domestic violence perpetrators and those that are mentally ill," Jones said.
Federally licensed gun dealers would be allowed to charge $30 for the required background checks.
State Sen. Debbie Smith, D-Sparks, acknowledged the bill won't fix everything, but she said it is the appropriate action to take. A gun owner, Smith said the bill does not impair anyone's Second Amendment rights.
State Sens. Patricia Spearman and Kelvin Atkinson, both D-North Las Vegas, spoke during the debate about how gun violence has affected them personally through the deaths of family members.
Atkinson said he was attending school back East in 1990 when his mother called to tell him his father had been slain. The killer was never found.
"My father was my best friend," Atkinson said.
Atkinson said he is a gun owner and a supporter of the Second Amendment but that the bill brings needed change to Nevada's firearms laws.
State Sen. James Settelmeyer, R-Minden, said the bill is an infringement on those who lawfully carry guns. Criminals will just ignore the law, he said.
State Sen. Mark Hutchison, R-Las Vegas, said he supports background checks. But he expressed concern about giving the government personal in­formation about his gun purchases.
Gov. Brian Sandoval said in a statement he is monitoring Jones' bill but has not made a decision on whether to sign it if it reaches his desk.
Contact Capital Bureau reporter Sean Whaley at swhaley@reviewjournal.com or 775-687-3900.