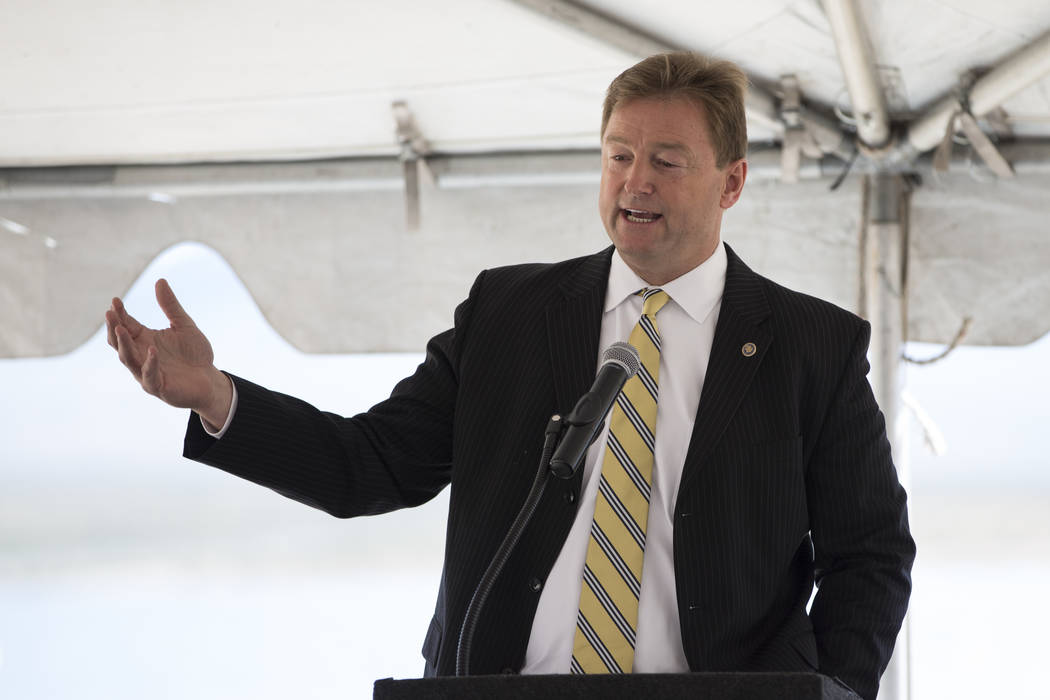 WASHINGTON — Nevada Sen. Dean Heller's re-election campaign reported $2.6 million in cash on hand Tuesday as national Democrats targeted him and other vulnerable Republicans with an internet ad buy attacking them on health care.
The ads are part of a six-figure digital ad buy by the Democratic Senatorial Campaign Committee as senators returned home for a two-week congressional recess.
"Dean Heller won't stand up for Nevadans' healthcare," the DSCC digital ads state. "Dean Heller 100 percent with Trump."
Heller spokeswoman Megan Taylor said, "Democrats are so desperate that they're making things up."
"Senator Heller is on the record multiple times in clear opposition to a plan that at the time and in its current form he could not support, so this is nothing but a blatantly false attack," Taylor said.
A House plan backed by President Donald Trump to repeal and replace the Affordable Care Act was pulled from consideration when moderate and conservative GOP lawmakers failed to back the proposal last month.
GOP leaders are retooling the bill, but consideration was put off until after the Easter/Passover recess. Congress returns April 24. Senators and House members are currently in their states and districts for the recess.
"As he returns home amidst his health care fiasco and broken promises, Sen. Heller can't escape his Party's toxic Plan that makes older Nevadans pay five times more for care," DSCC spokesman David Bergstein said in a statement.
Bergstrom said the ads will reach voters across the state during the two-week period.
Heller voiced his opposition to the GOP House plan after Nevada Gov. Brian Sandoval, a Republican, raised his objection to Medicaid funding in the proposal.
Democrats are targeting Heller and Sen. Jeff Flake, R-Ariz., in the upcoming 2018 election. Similar ads are running against Republican House members in six other states.
Meanwhile, Heller's campaign reported $2.6 million in cash on hand Tuesday. The campaign reported raising $1.4 million in the last fundraising quarter.
One Democrat so far has announced his intention to challenge Heller for the seat. Jay G. Craddock, a retired fire captain from Las Vegas, announced March 5 that he would run as a Democrat for the Senate in 2018. Craddock signed a statement of candidacy with the Federal Election Commission dated March 28.
Rep. Dina Titus, D-Nev., is considering a bid and is expected to make a decision within the next couple of months.
"Dean Heller is the only Republican senator up for re-election next year who represents a state that Hillary Clinton won. That makes him the most vulnerable Republican by default," said Kyle Kondik, a campaign expert at the University of Virginia Center for Politics.
"But Democrats have to find a candidate — perhaps Titus is that person, but she would have to give up a safe seat in order to pursue a challenging Senate seat," Kondik said.
The nonpartisan Cook Political Report currently ranks the 2018 Senate race in Nevada as competitive but leaning Republican.
The money Heller has raised is a fraction of what it is likely to cost to run statewide.
In 2016, Catherine Cortez Masto, a Democrat, spent $18.6 million in her successful campaign to succeed Sen. Harry Reid, D-Nev., according to the Center for Responsive Politics, a non-partisan watchdog group. Rep. Joe Heck, the Republican in the race, spent $11.7 million.
Contact Gary Martin at gmartin@reviewjournal.com or 202-662-7390. Follow @garymartindc on Twitter.
Note: An earlier version of this story incorrectly stated that no Democrat had announced candidacy against incumbent Sen. Dean Heller.