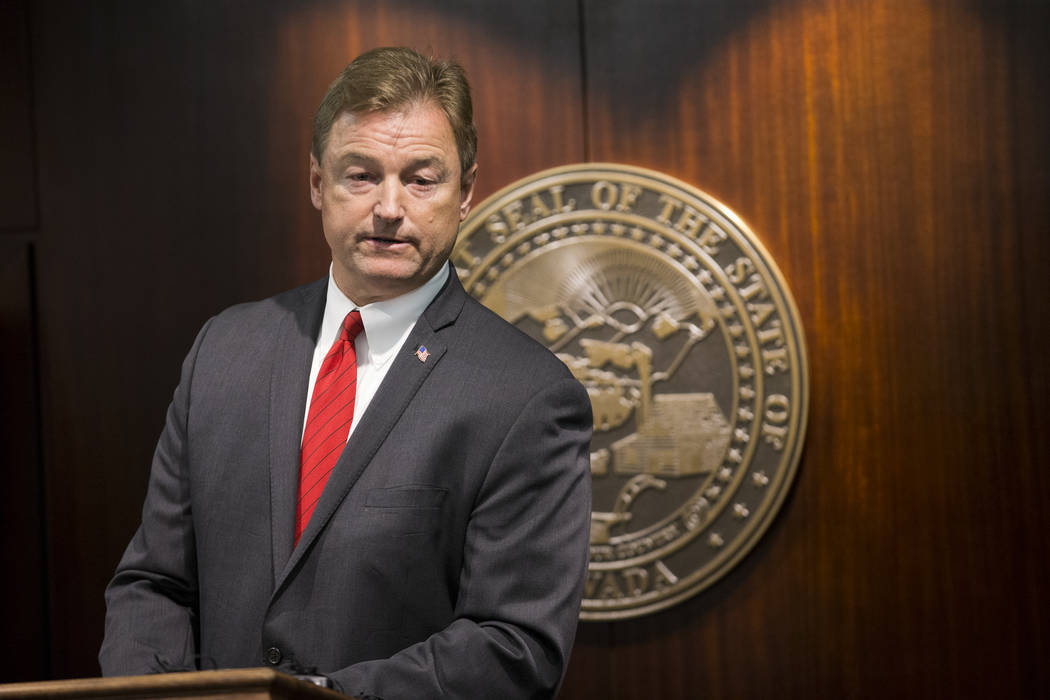 WASHINGTON — Sen. Dean Heller will report more than $3.5 million in cash on hand for his re-election when finance information is due to the Federal Election Commission this week, his campaign said Tuesday.
Heller raised $1.4 million in the period that closes July 15 — an amount nearly identical to the $1.4 million raised in the last quarter — and in anticipation of a competitive Senate race in 2018.
Heller is considered the most vulnerable Republican seeking re-election.
Last week, Rep. Jacky Rosen, D-Nev., announced that she would seek the Democratic nomination to face Heller in the 2018 general election.
She was endorsed by Emily's List and by national Democrats eyeing the competitive race in a state that Hillary Clinton won in 2016 presidential race.
In addition to raising $1.4 million, the Heller campaign said it is producing visual advertisements, making email acquisitions and offering internships for college credit through the University of Nevada Las Vegas.
"Team Dean is an expansive ground game that covers all of Nevada, and we're proud to have volunteers throughout the state. Not only do we have a first of its kind for-credit internship program, but also the most sophisticated, data-driven campaign in Nevada's history," said Tommy Ferraro, campaign spokesman.
The Democratic Senatorial Campaign Committee began running ads targeting Heller earlier this year for his 100 percent voting record with President Donald Trump.
Immediately after she announced, Rosen was attacked by the National Republican Senatorial Committee as a clone of liberal House Democratic Leader Nancy Pelosi.
The 2016 Senate race in Nevada won by Catherine Cortez Masto, a Democrat, saw more than $90 million spent by third-party and outside groups. She defeated Rep. Joe Heck, R-Nev., according to analysis by the Associated Press.
Funds raised and spent by national groups eclipsed the amount raised by the candidates, which was more than $25 million.
Contact Gary Martin at 202-662-7390 or gmartin@reviewjournal.com. Follow @garymartindc on Twitter.