Jimmy Kimmel, Brandon Flowers rally for Democrats in Las Vegas
November 2, 2018 - 10:20 am
Updated November 2, 2018 - 9:50 pm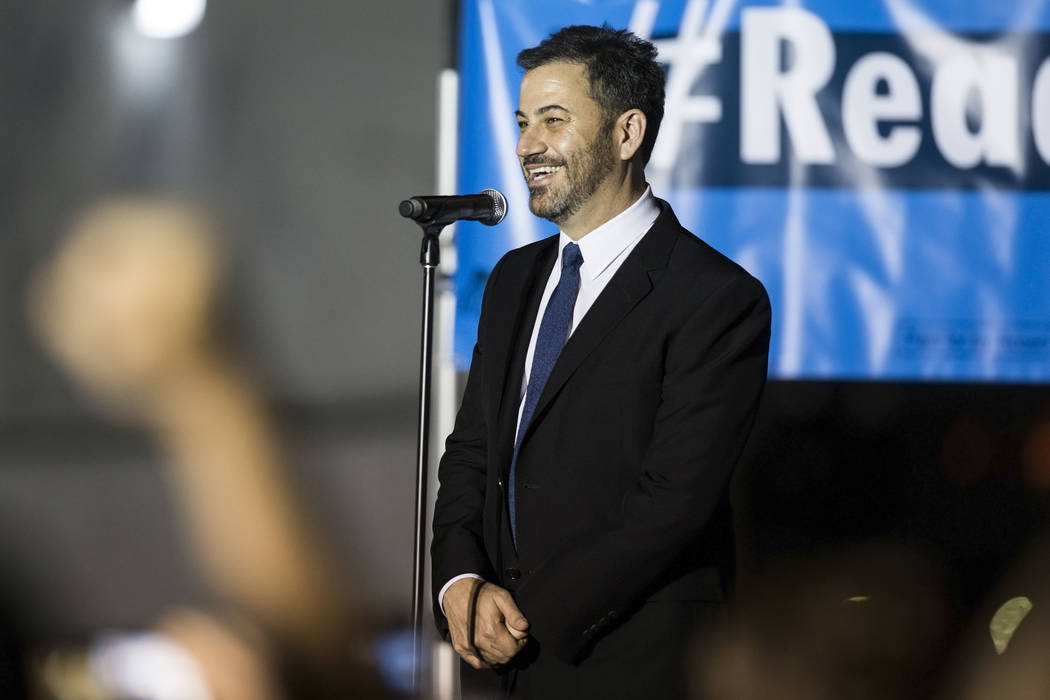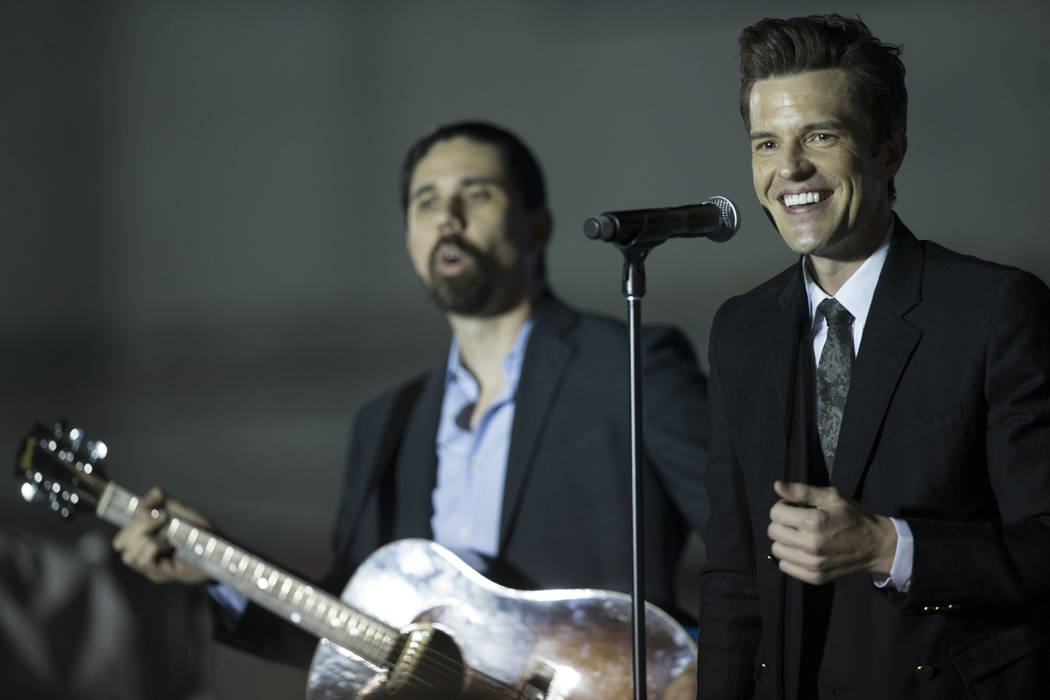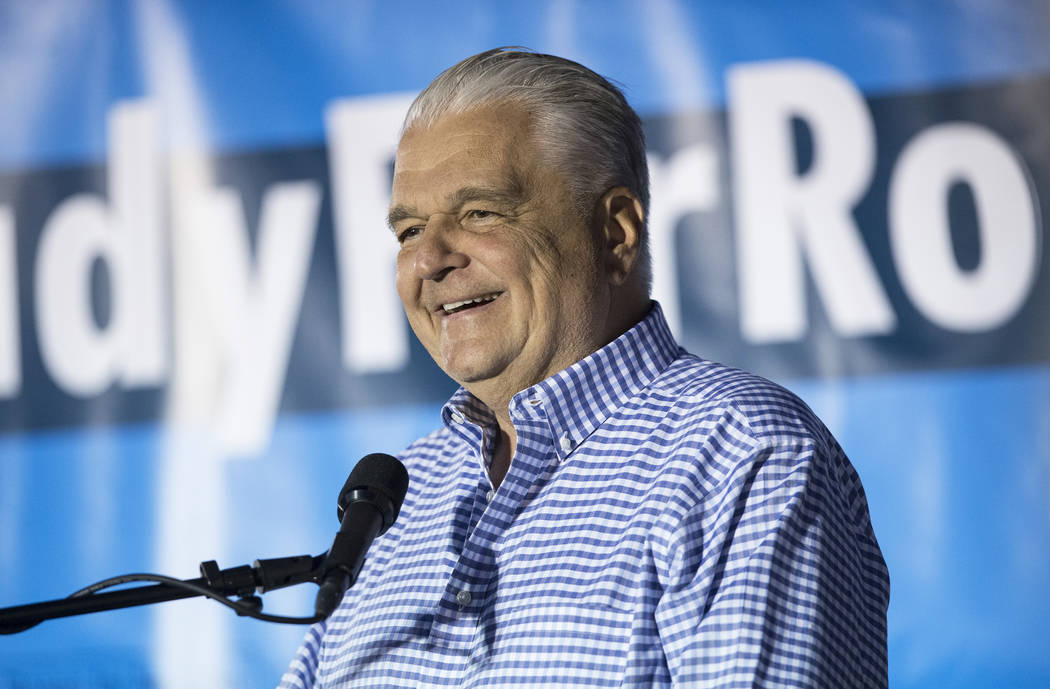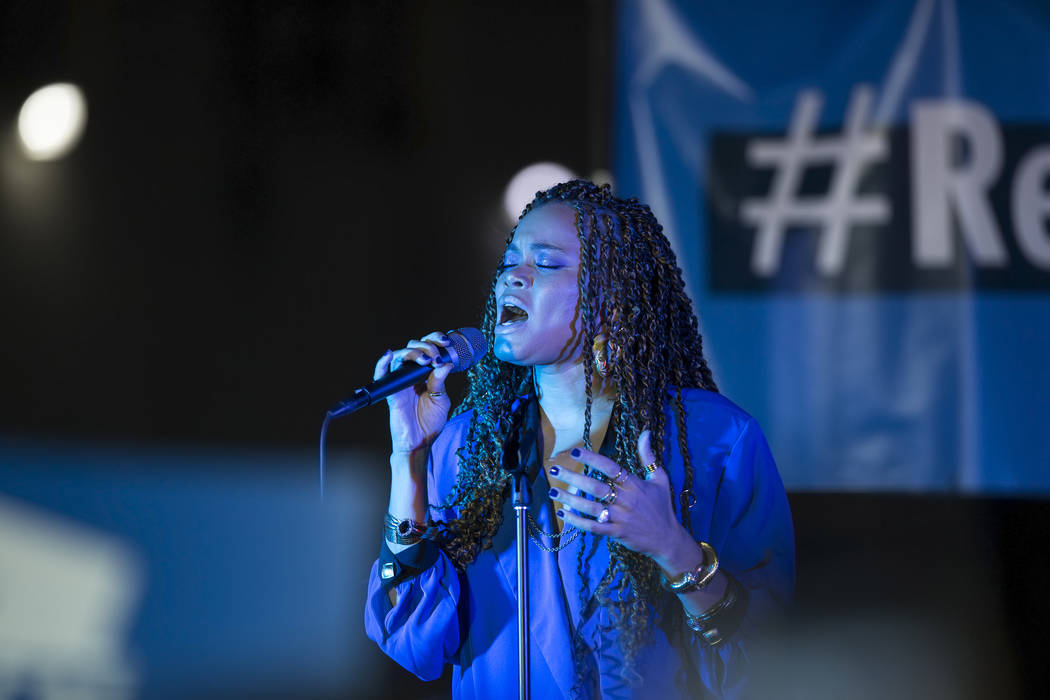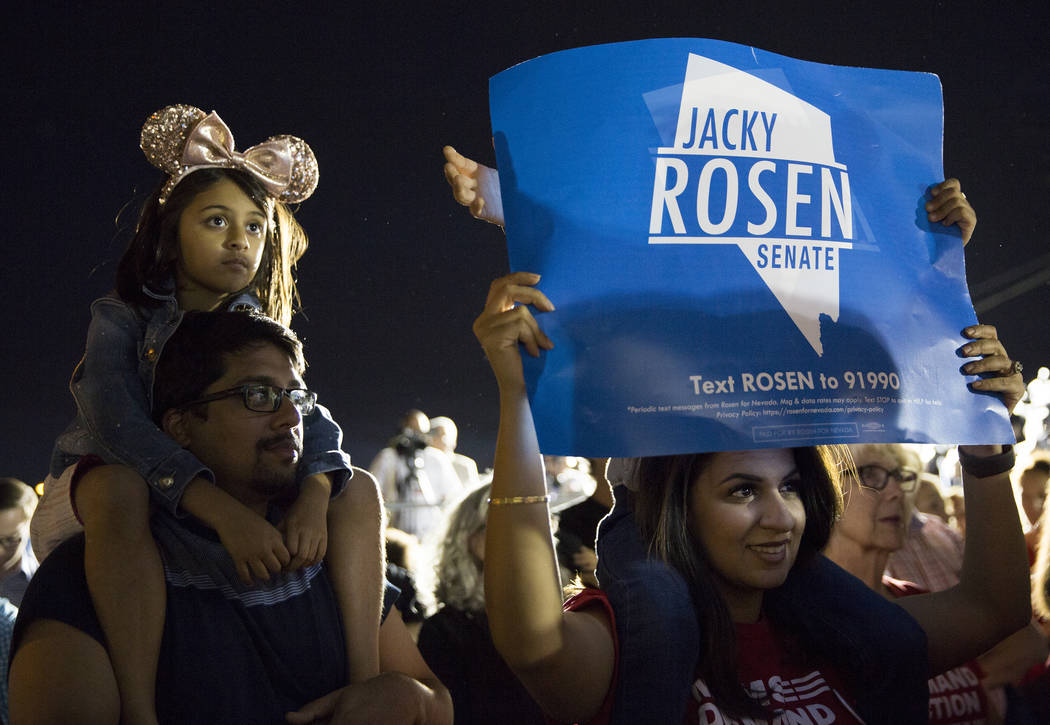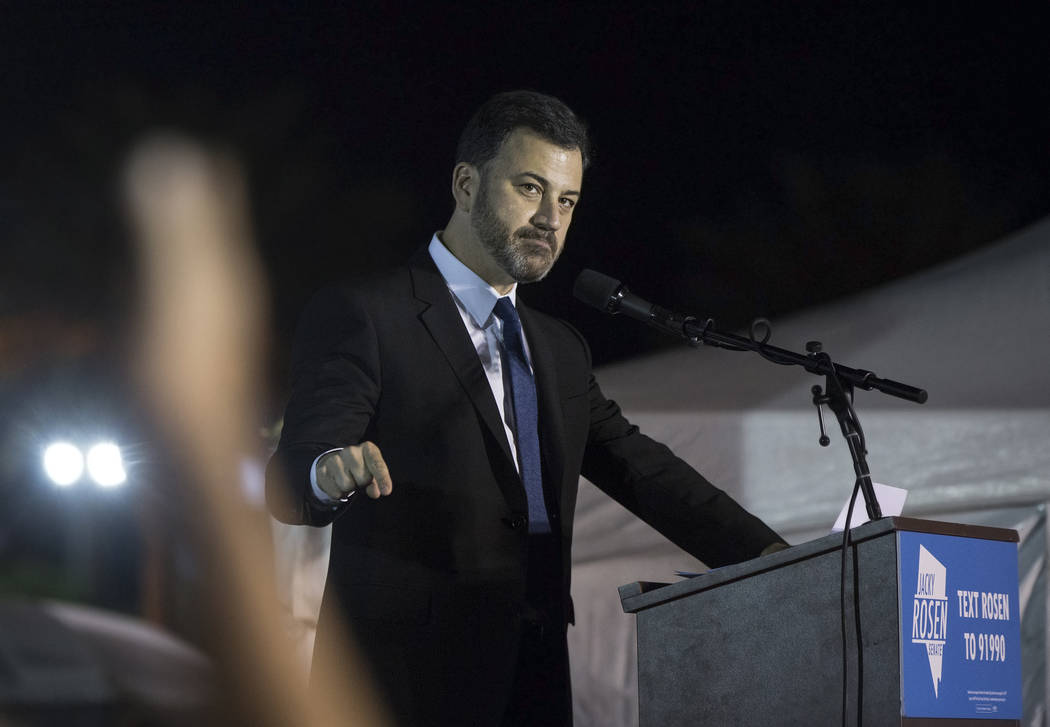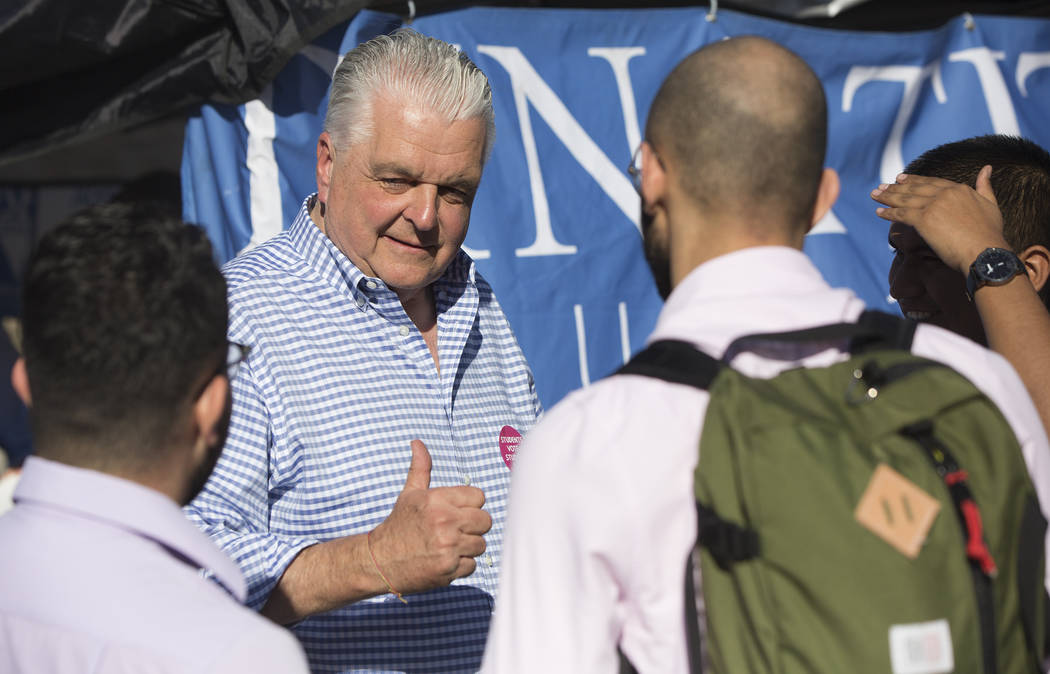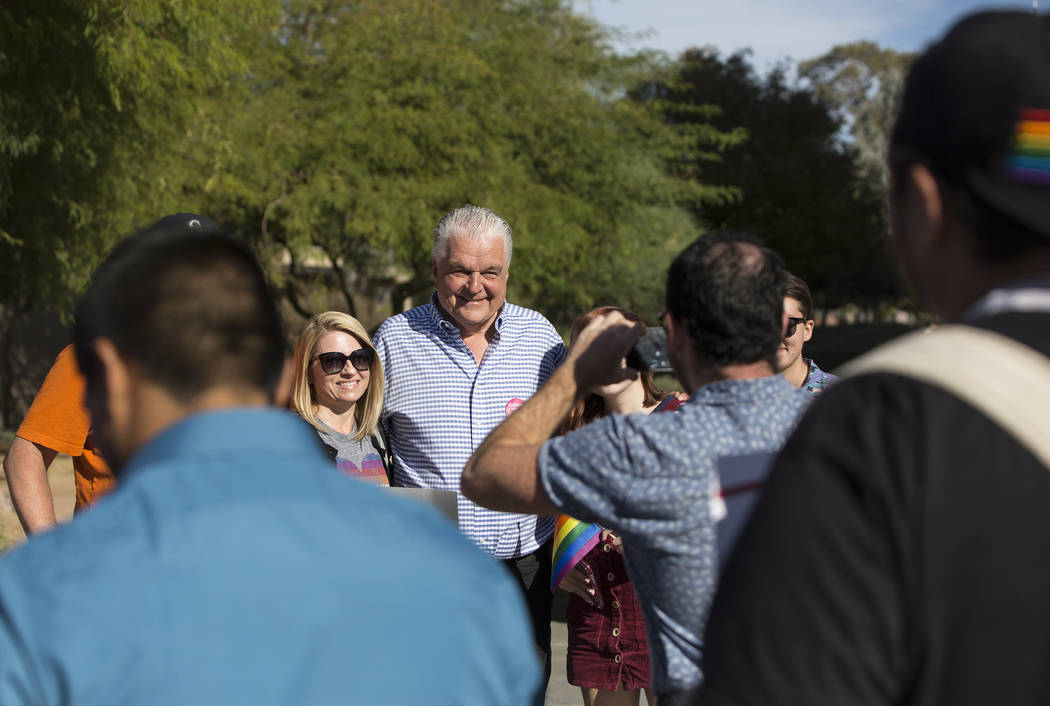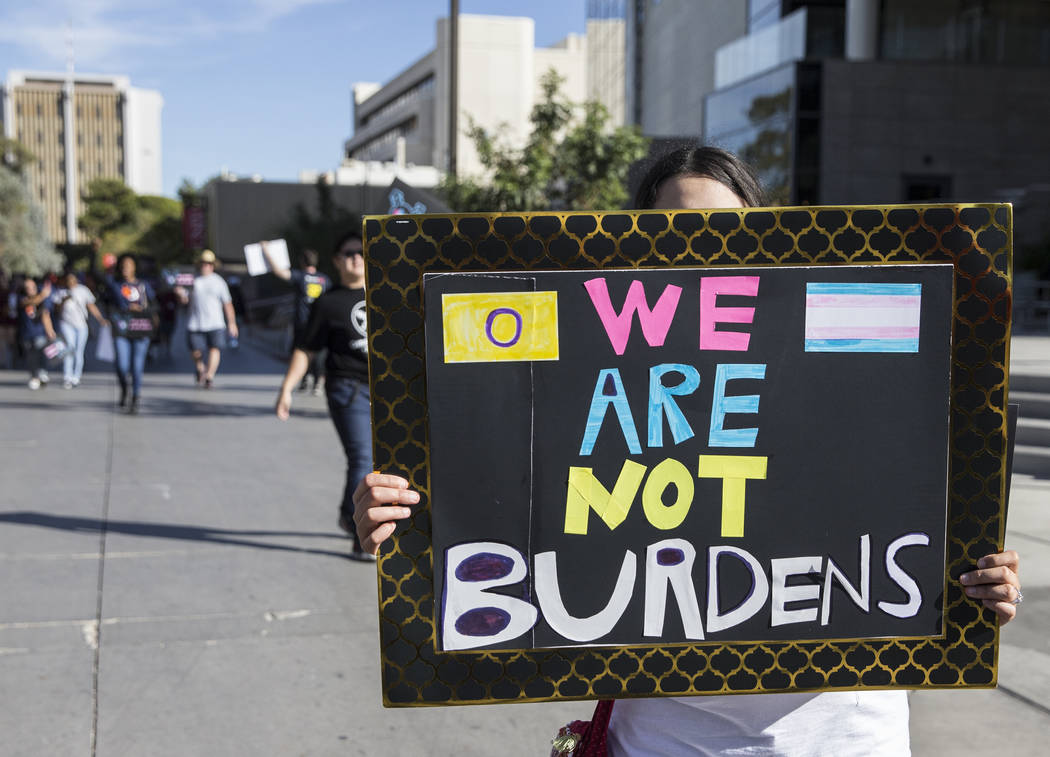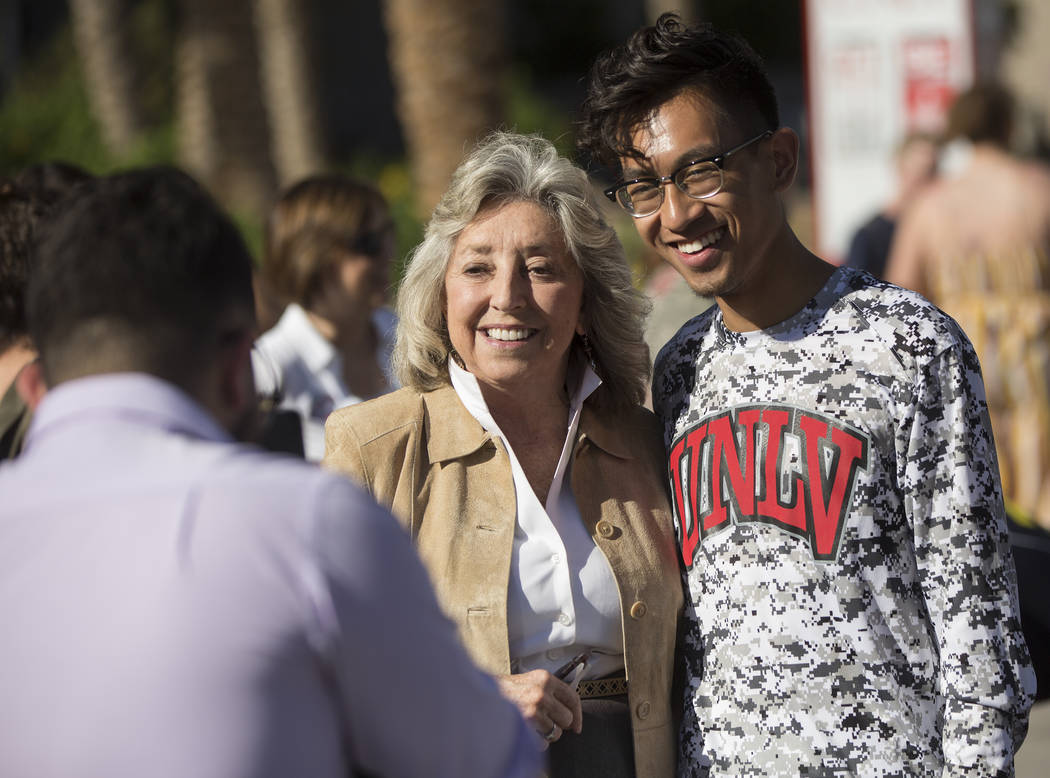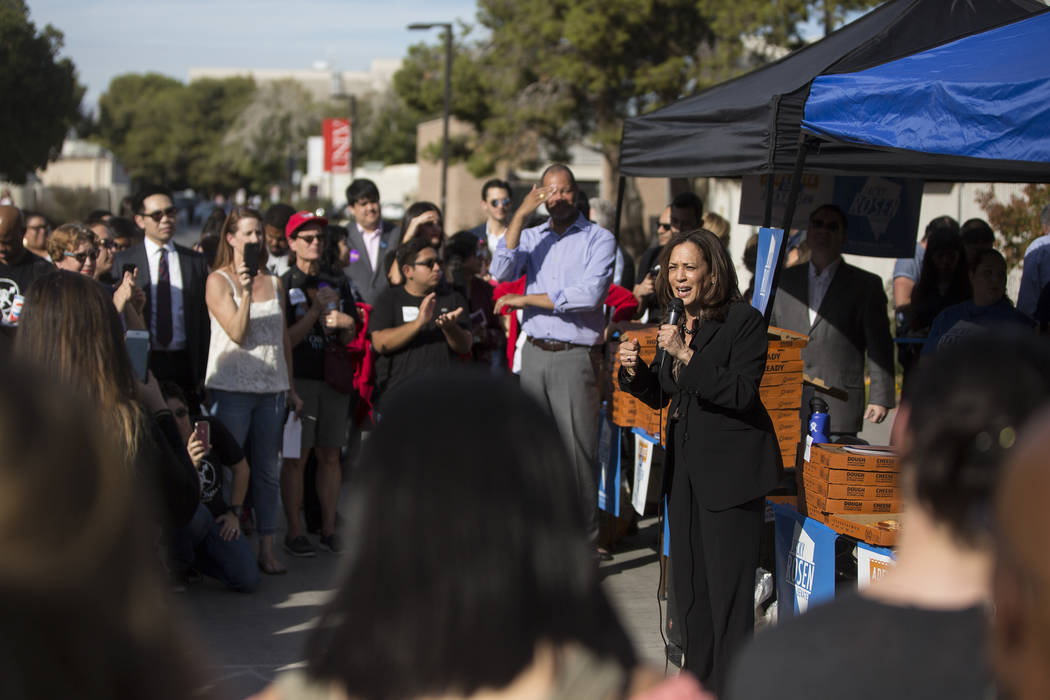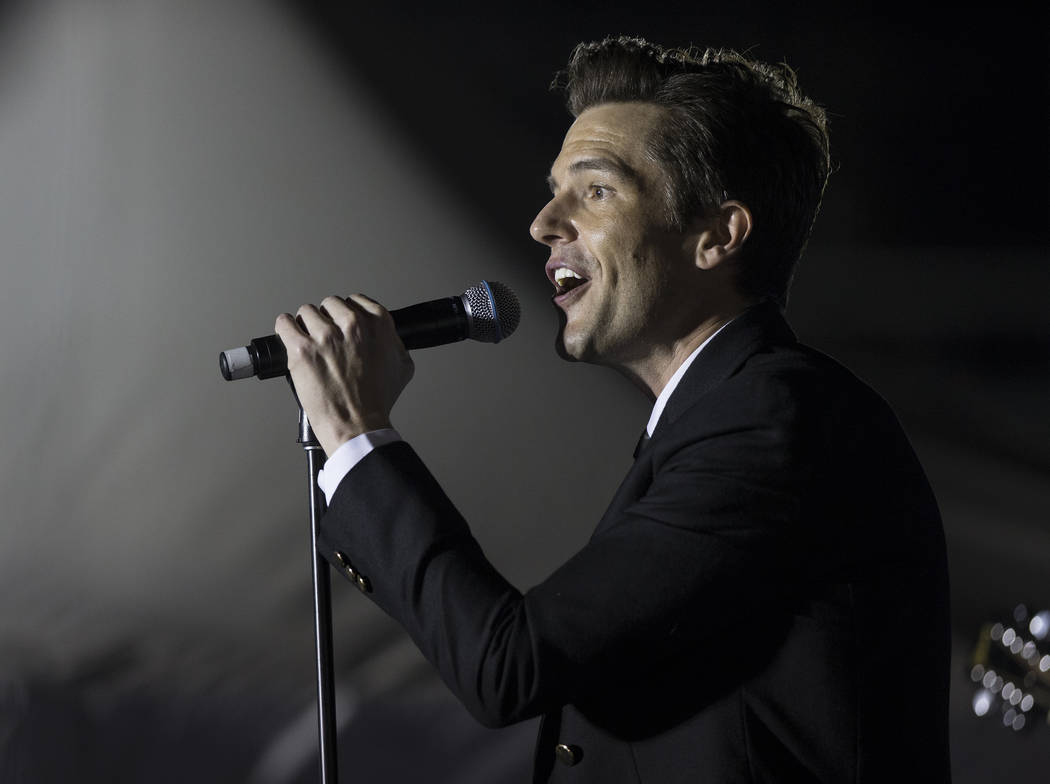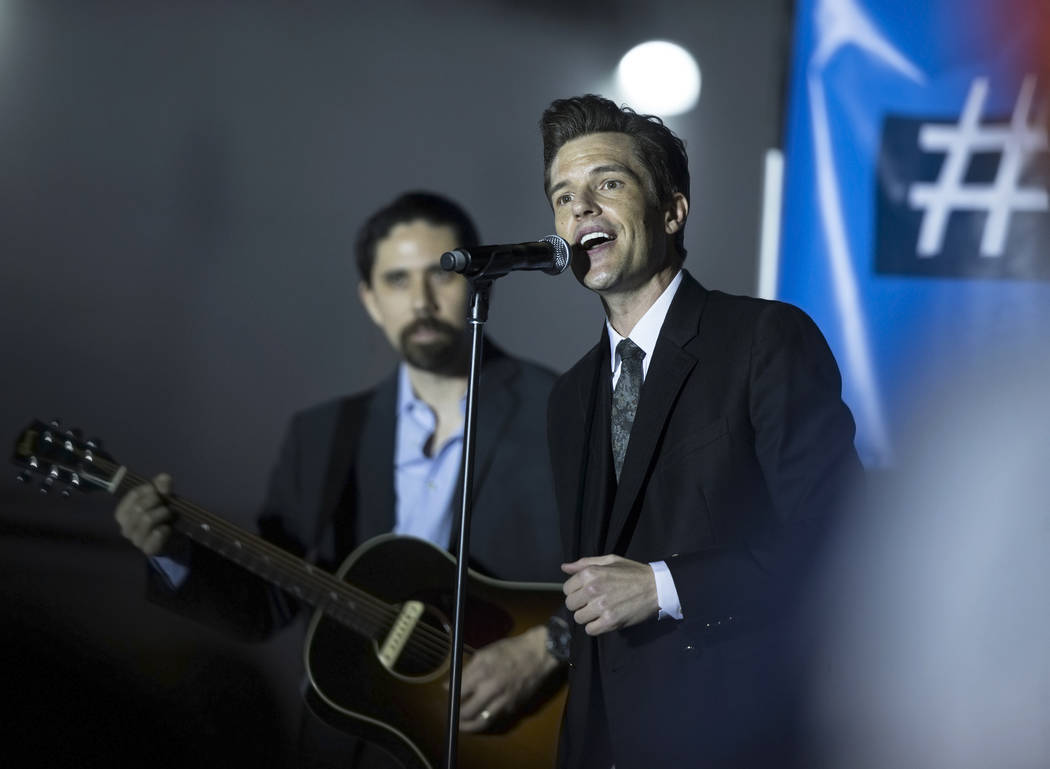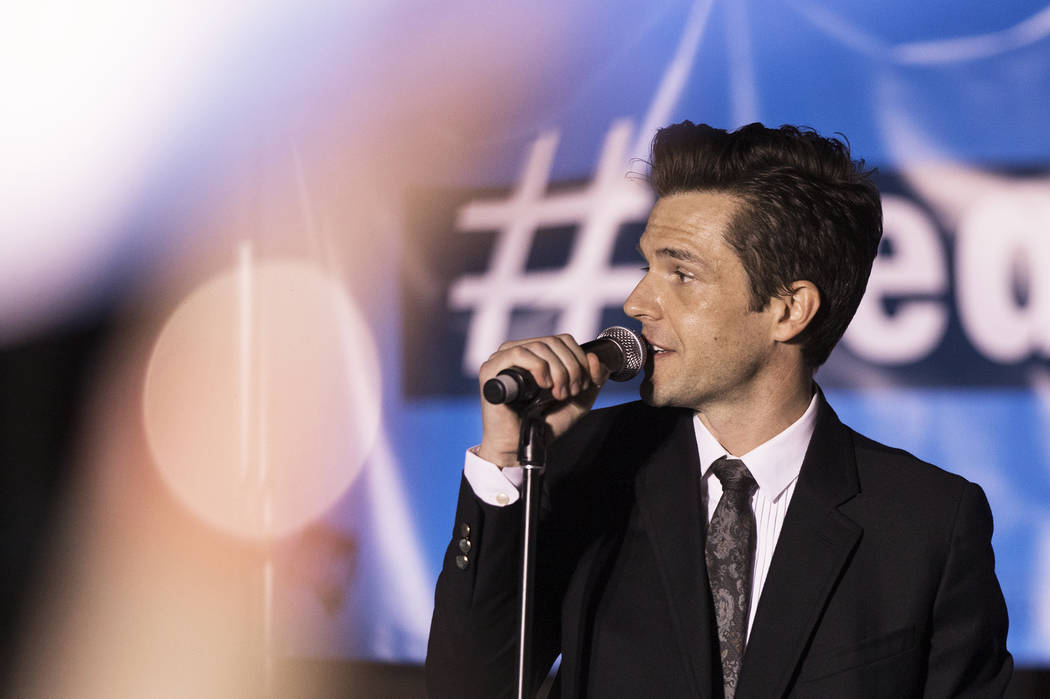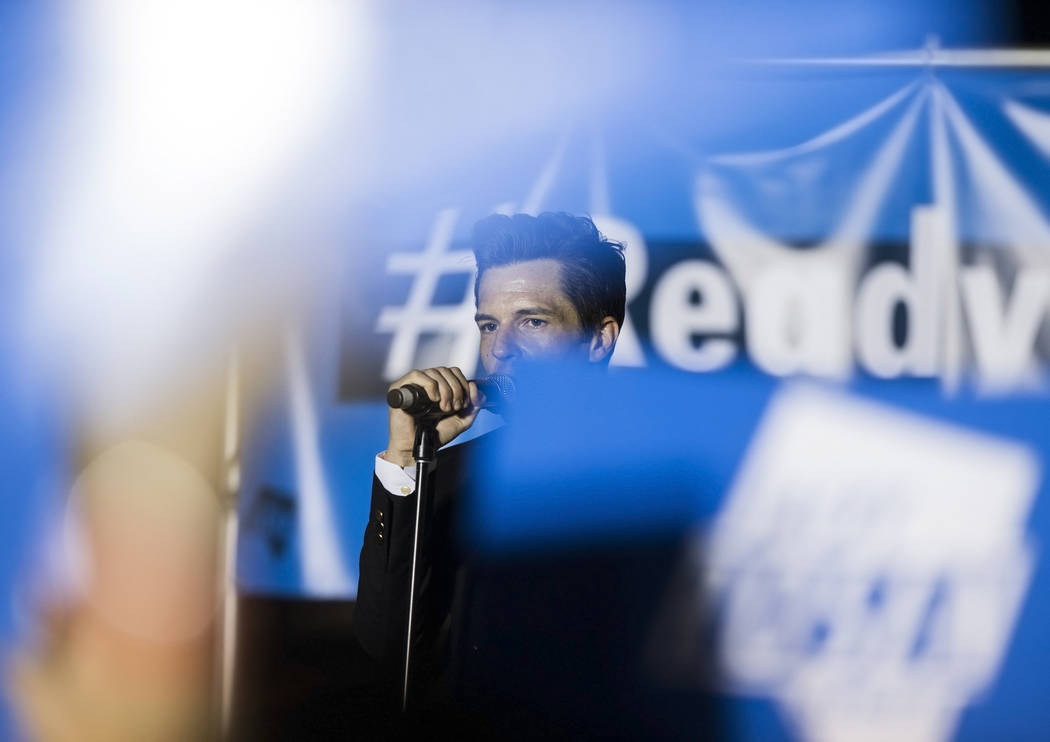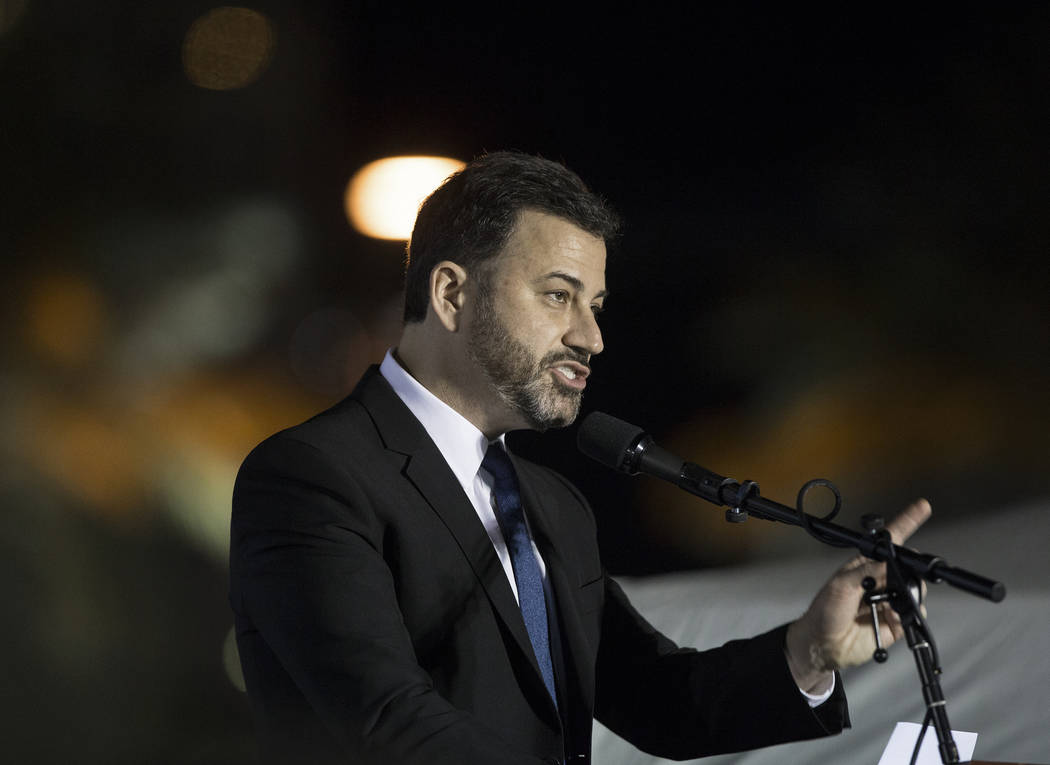 In a final push before Election Day, Donald Trump Jr. made four stops in the Silver State to campaign for Republicans on Friday, and Democratic candidates used star power in downtown Las Vegas to urge voters to get to the polls.
During a Las Vegas rally at Stoney's Rockin' Country, Trump Jr. told a crowd of about 600 that electing Nevada Republicans is critical in maintaining the economic success started by his father, President Donald Trump.
"Look at this economy," he said. "There is not a single economic metric where we are not better off today than we were two years ago."
During stops in Reno, Carson City, Pahrump and Las Vegas, Trump Jr. stumped for the GOP ticket, including U.S. Sen Dean Heller, gubernatorial candidate Adam Laxalt and congressional candidates Cresent Hardy and Danny Tarkanian.
Trump Jr. said the Democrats' platform is "outrage" and that they'll oppose anything proposed by his father.
He urged rally attendees to make sacrifices to knock on doors, call friends and get people to the polls.
"We need Nevada's help," Trump Jr. said. "My father can't do it alone."
In downtown Las Vegas, a star-studded lineup in support of Democratic candidates took to the stage during First Friday, urging voters to take advantage of the last few hours of early voting and to drag their friends to polls Tuesday.
"Voting is not enough anymore. You also have to get your stupid friends to vote, too," comedian and Clark High School graduate Jimmy Kimmel told the crowd.
Kimmel was in town supporting Democrats, including Rep. Jacky Rosen, who's attempting to unseat Heller.
Also at the downtown Las Vegas event was Brandon Flowers of the Las Vegas band The Killers. Flowers — flanked by acoustic guitars — serenaded the crowd with The Killers' hit "Read My Mind" before transitioning into "Home Means Nevada," the state song.
Flowers said he was a desert rat as a kid and is proud to support candidates who would protect the desert landscape.
He called Rosen "someone who is defending Red Rock and Gold Butte against unprecedented attacks and trying to keep public lands where they belong — in public hands."
Rosen took aim at Heller, repeatedly saying he has voted to take away health care protections for Nevadans.
"You deserve a senator who will always fight to put Nevada families first," she said.
California senator and rumored 2020 presidential candidate Kamala Harris was also at the event, after spending Thursday and Friday stumping for Democrats up and down the ballot.
Earlier Friday, a group of Las Vegas college students munched on free pizza, waved campaign signs and spoke excitedly as they waited for her to visit UNLV's campus — her fourth campaign stop Friday in Las Vegas.
Harris told the students Nevada's election has national importance and significance, and that the decisions made here could impact people around the country.
"If it's worth fighting for, it's a fight worth having," Harris said. "Health care is worth fighting for. Immigrants are worth fighting for. A criminal justice system that's not broken is worth fighting for. Working people are worth fighting for. Climate change is worth fighting for. Science is worth fighting for. There is so much on the line."
Harris kicked off the day with a 9 a.m. breakfast at DW Bistro before visiting the Expertise Cosmetology Institute. Later in the day Harris stopped by a Democratic Party field office in North Las Vegas.
The senator was joined by several candidates, including congressional and statewide candidates Steve Sisolak, Steven Horsford, Susie Lee, Nelson Araujo, Aaron Ford and Kate Marshall.
"If you voted, thank you! But I need you to do one more thing," said Sisolak, the Democratic candidate for governor. "I need you to knock on one more door, call one more friend, get one more voter. Because this is all going to come down to you and who shows up."
Harris, who also campaigned in Reno on Thursday, told the UNLV students that years from now their children will look them in the eye and ask, "Where were you in that inflection moment?"
"And what we're all going to be able to say is we were here together," she said. "We're going to tell them what we did. We got folks out to vote … we let the people know the power is with the people and their votes count."
Las Vegas resident Jeanette Bennett, 66, said Friday that she was thrilled to see Harris — who she believes could be the next U.S. president.
"The idea of a black woman president," said Bennett, a retired teacher who worked with visually impaired children. "It's amazing."
Review-Journal staff writer Meghin Delaney contributed to this report. Contact Bill Dentzer at bdentzer@reviewjournal.com or 775-461-0661. Follow @Dentzernews on Twitter. Contact Ramona Giwargis at rgiwargis@reviewjournal.com or 702-380-4538. Follow @RamonaGiwargis on Twitter.