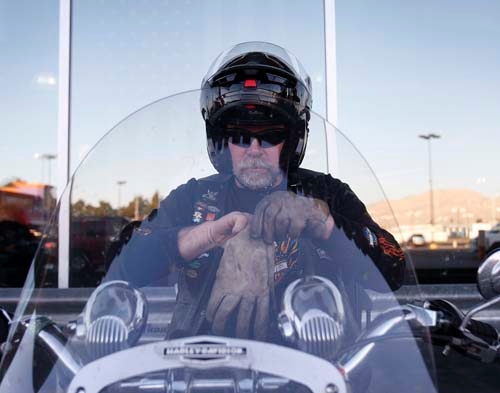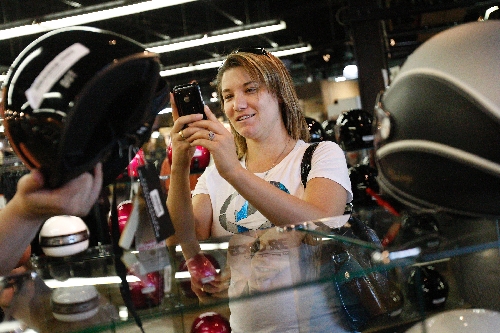 CARSON CITY — After failing for five straight sessions to repeal the state's 39-year-old motorcycle helmet law, Sen. Don Gustavson has developed a new, perhaps winnable, strategy:
Let them take off their helmets, and they will come.
He says they will show up for the Laughlin River Run, Reno Street Vibrations and every other biker rally, stay at the finest hotels and gamble away fortunes.
At the same time, a helmet-free state will spawn greater local interest in riding. More motorcycle dealerships will open.
The economy will begin to boom if Nevada repeals its helmet law, he predicts.
"Mine is the only bill that will create new jobs and revenue for Nevada without raising taxes," said Gustavson, R-Sparks, during a Senate Transportation Committee hearing last week.
The hearing attracted dozens of motorcycle riders who want the law thrown out and a large contingent of police who prefer the status quo.
Motorcycle dealers and the Laughlin River Run coordinator aren't as optimistic as Gustavson. Although they favor the proposal, they say changing the law would only bring slight increases in business.
And based on what happened in Florida after it repealed its helmet law, Nevada also could see an increase in motorcycle rider deaths.
THE BIKER EVIDENCE
Gustavson wants to amend his Senate Bill 177 to make it effective upon passage and approval. The Laughlin River Run is April 27 to May 1, and he hopes those riders won't have to wear helmets.
According to the Greater Johnstown Convention & Visitors Bureau, attendance at the Thunder in the Valley motorcycle rally in Pennsylvania increased by 30,000 following that state's repeal of its helmet law. The rally is held each June.
Based on the $2.8 billion increase in motorcycle sales reported by the Florida Department of Highway Safety and Motor Vehicles in the five years after its helmet law was repealed in 2000, Gustavson predicts a $56 million increase in the sales of motorcycles in Nevada following helmet law repeal.
"I think a 30 percent to 40 percent increase in the first year is realistic," Gustavson said. "Five percent a year after that."
Joe O'Day, coordinator of the Laughlin River Run, expects a slight, but not substantial, increase in attendance if riders don't have to wear helmets. Attendance at last year's event was 50,000, down from the peak of 70,000 before the recession hit Nevada.
"From a public relations standpoint, it would be a big boom," O'Day said. "From a safety standpoint, helmets are safer than riding without them. But riders strongly feel they should have the right to choose."
Nationally, the median age of a motorcycle rider in 2007 was 48, compared with 24 in 1980, according to Karen Juranski, vice president of the ABATE of Southern Nevada.
"I read an article that referred to us as 'rebels with disposable income,' " Juranski said. "We all know disposable income runs this state. The average motorcycle rider today is an older, educated person who has money. Shouldn't we make the decision whether to wear a helmet?"
ABATE is an organization for motorcycle enthusiasts in many states that has advocated for decades for the repeal of helmet laws. It now stands for A Brotherhood for Active Education, although initially it meant A Brotherhood Against Totalitarian Enactments.
But Fred Harold, director of purchasing for Las Vegas Harley Davidson, isn't as optimistic.
Like O'Day he predicts only slight increases in sales and attendance at rallies. As a rider himself, Harold favors passage of Gustavson's bill.
"Nevada is economically depressed," he said. "Anything that would pick up business is probably a good thing. I am old enough to dress myself, and I don't need the state to tell me to wear a helmet. But I wear a full-faced helmet out of choice."
THE BLOODY EVIDENCE
Assembly Speaker John Oceguera, D-Las Vegas, said he would not support repealing the helmet law.
"I have seen horrific accidents involving motorcyclists," said Oceguera, assistant North Las Vegas fire chief and an EMT. "And I have seen motorcyclists who were wearing a helmet walk away unhurt."
During the helmet law hearing, Rusty McAllister, a lobbyist for the Professional Firefighters of Nevada, said he keeps the dinged-up helmet that saved his life in an accident when he suffered multiple injuries.
"We are the ones who pick them up after their accidents," McAllister said. "There is no doubt in my mind that helmets save lives."
In Florida, 164 motorcyclists were killed in 1999. After the helmet law was repealed in 2000, the number of fatalities increased to 241. Fatalities climbed to 532 in 2008, but dropped 24 percent to 402 in 2009.
Dr. John Filds, the trauma center director at University Medical Center, already has seen too many mangled bodies and brains of riders who rode with and without helmets. Repeal the law and he predicts more broken bodies, with the public footing most of the bills for their care. Treating the average rider's traumatic injuries already costs about $100,000, but there are far greater costs than medical care, he said.
"Who pays to take care of the wife and children if the rider suffers brain injuries, if they die?" Filds asked. "I once rode, but I stopped. It was too risky."
Between 40 and 57 riders die each year in Nevada, even with the helmet law. Nevada now has 121,000 licensed motorcyclists, of which only 540 are under 21.
GUSTAVSON HAS ALLIES
Gustavson, typically the lone rider on the issue in past sessions, has allies in his 2011 effort to repeal the helmet law.
Sen. Elizabeth Halseth, R-Las Vegas, repeatedly challenged witnesses who spoke out against helmet law repeal last week.
Committee members John Lee, D-North Las Vegas, and Mark Manendo, D-Las Vegas, are repeal bill co-sponsors.
"We have enough votes to get it out of the committee and get it out of the Senate," Gustavson said. "I haven't polled the other house yet. Maybe the time is right. Gas prices are going up and more people will be riding. This is good for the economy and will give us our freedom back."
But Chairwoman Shirley Breeden, D-Henderson, isn't so sure the bill will pass.
Breeden said she wants to hear from the insurance industry before scheduling a vote.
The Automobile Association of America sent a letter in opposition, but did not have a representative at the hearing. The high cost of medical care for uninsured riders injured in accidents has been a primary reason why the bill failed in previous sessions.
Filds said it would be a gross mistake to repeal the helmet law.
"These people want to exercise their rights," he said. "I want to exercise my right not to pay for their medical care. There is no such thing as unpaid medical care. You and I pay for their accidents."
Even with the helmet law in place, the public pays for motorcycle accidents. In 2008 and 2009, 784 motorcyclists were treated for traumatic injuries at UMC, according to a Nevada Office of Traffic Safety report.
Of that total, 696 were wearing helmets and the cost of treating their injuries averaged $96,700. The other 88 were not wearing helmets and the cost of their treatment averaged $112,500.
A large number of the riders lacked insurance or were underinsured. The county-operated hospital ate $45 million of the treatment costs, according to John Johansen of the Office of Traffic Safety.
Gustavson's bill would require all riders and passengers under age 21 to wear helmets. Motorcyclists over 21 could ride without helmets, as long as they have at least one year of experience and passed an approved motorcycle safety course.
Contact Capital Bureau Chief Ed Vogel at evogel@reviewjournal.com or 775-687-3901.