Mental health crisis hits close to home for Nevada AG candidate
September 3, 2018 - 11:30 pm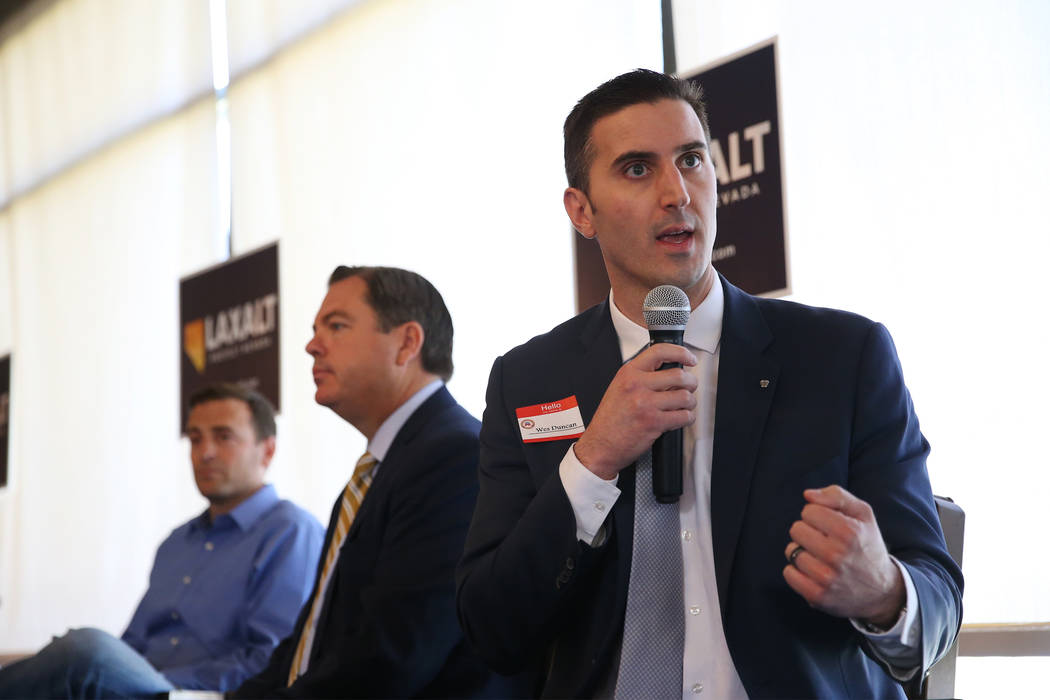 Tackling Nevada's mental health crisis is more than a campaign talking point for Wes Duncan.
Duncan, the Republican nominee for attorney general, has experienced the impacts of mental illness firsthand. His brother-in-law is bipolar and now homeless — after being shuffled from hospital to hospital.
"He's suffered from mental illness since his mid-teens, and it's been a continual struggle for the last 20 years of his life," Duncan said in an interview with the Review-Journal. "There's always the worry of where the person is at, if they have an episode. Where are they sleeping? Are they getting any care? Are they well? Because they'll disappear at certain stages."
But that's not the primary reason Duncan has made mental health a cornerstone of his campaign.
He toured Nevada to gather input from law enforcement officials about challenges they face, and the lack of mental health services was the number one issue Duncan heard about — especially in rural counties.
Nevada's frontier counties, such as White Pine, Mineral, Lander and Eureka, face major gaps in service and transportation. None of them have inpatient psychiatric services. Eureka County doesn't have a hospital at all.
So, when a resident experiences a psychiatric episode they end up in either an emergency room or in a jail cell.
Duncan, a former prosecutor and Iraq War veteran, believes there should be an alternative — a middle-ground location to triage and stabilize people before determining next steps. Duncan calls them "psychiatric ERs," and Nevada has one — in Carson City. Duncan would like to see these centers within an hour drive in every community.
Joelle Gutman, a regional behavioral health coordinator for the rural counties, said the model has worked in other states. Without a triage center, Gutman said, people experiencing a mental health crisis in rural counties wait hours — or even days — for help.
"They have to wait for days in ER for a bed to open," Gutman said. "And the only way to transport them to the hospital is in a sheriff's car, and it totally stigmatizes them. They're already having the worst day of their life and they have to go into a caged, marked vehicle with law enforcement."
Duncan proposes using the AG office's settlement funds for infrastructure costs.
Gutman says that fund would "drain really quickly," but the option is worth exploring.
The next step in Duncan's plan is to create more "mobile outreach safety teams," which pair a social worker or counselor with cops responding to calls involving psychiatric issues.
Duncan also supports bolstering resources for telehealth, which helps people in rural areas and prisoners receive specialty care without travel costs.
Another concern from law enforcement leaders in rural counties is receiving crisis intervention training.
Many rural police departments send just one officer to regional training sessions because of the costs of travel and taking officers off the street.
Gutman said less fewer than 5 percent of officers in rural counties have gone through crisis intervention training. Duncan said the attorney general's office could bring the critical training to the rural communities or fund it for the departments.
The last piece of Duncan's plan is to provide mental health jail assessments when someone is booked. That allows officials to provide mental health services from the start and helps reduce recidivism.
"It'll help flag people," Duncan said. "I think being proactive and using early intervention is going to be really important to solve this crisis."
Duncan also promises to be tough on crime. He vowed to crack down on group home owners who operate illegally or house mentally ill people in deplorable conditions, an epidemic revealed in a state audit earlier this year.
"You have to deter that kind of behavior, and sometimes if there is a crime committed, certainly people need to be held to account," Duncan said.
Robin Reedy, executive director of Nevada's National Alliance on Mental Illness, said Duncan's plan is realistic and much-needed if Nevada is going to improve its failing mental health care system.
"We are in last place for mental health," Reedy said. "The state of Nevada is behind Puerto Rico — and they just got electricity (back). You have to have investments in these type of programs in order to save money in the long run."
Contact Ramona Giwargis at rgiwargis@reviewjournal.com or 702-380-4538. Follow @RamonaGiwargis on Twitter.