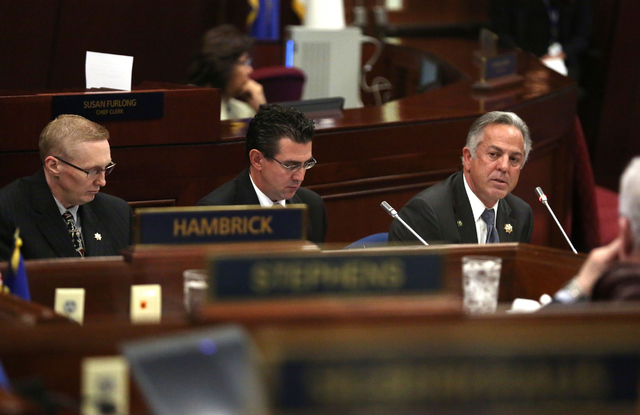 CARSON CITY — While most of the focus at the special legislative session Monday was on the stadium and convention projects, a measure that would authorize a sales tax increase to pay for more police officers also received lengthy testimony in the Assembly.
Assembly Bill 1 would allow the Clark County Commission to raise the county sales tax by one-tenth of a percentage point to hire more officers. A two-thirds vote of the commission would be required for approval.
The bill, called the Clark County Crime Prevention Act of 2016, received a strong endorsement from Bill McBeath, CEO of The Cosmopolitan of Las Vegas, who said there are days he does not feel safe walking the Strip.
"This is not subjective," he said in testimony from Las Vegas. "This is something we have to do."
Clark County Sheriff Joe Lombardo said the funding is crucial to reaching a targeted ratio of 2.0 officers per 1,000 residents. The ratio is just above 1.7 this year.
The sales tax increase would generate about $39 million, with $7.9 million going to the Las Vegas resort corridor with 66 new officers and $31.3 million going communitywide with 245 new officers.
"I cannot provide a 24-7 boots-on-the-ground presence without more police officers," Lombardo said.
AB1 needs only a simple majority to pass the Legislature. Testimony on the bill continued into the evening in the Assembly. If approved, the bill will go to the Senate for its review.
Lombardo said he believes there is support for the increase on the seven-member Clark County Commission.
But lawmakers peppered supporters with questions about the proposal.
Assemblyman Nelson Araujo, D-Las Vegas, asked Lombardo what he plans to do to hire locally and with an eye toward diversity if AB1 becomes law and is approved by the county.
Lombardo said the agency focuses on local recruitment but acknowledged that attracting minority applicants has been a challenge, especially in the Hispanic community.
And Assemblyman Ira Hansen, R-Sparks, questioned why the bill was included in the special session at all.
Hansen called it a rush and an "abuse of process." The police funding, he said, should be heard in the 2017 regular session when there is more time to review the proposal.
Jeremy Aguero with the Las Vegas research company Applied Analysis responded to the question about the measure's urgency.
"The urgency has been here a long time before now," he said.
With 3,000 new residents moving to Las Vegas each month, the Southern Nevada Tourism Infrastructure Committee agreed to support the measure.
"There is a clear and present risk that exists within the resort corridor," Aguero said.
Review-Journal reporter Rick Velotta contributed to this report. Contact Sean Whaley at swhaley@reviewjournal.com or 775-461-3820. Follow @seanw801 on Twitter.