Nevada judge tosses Trump campaign's election challenge
Updated December 4, 2020 - 4:55 pm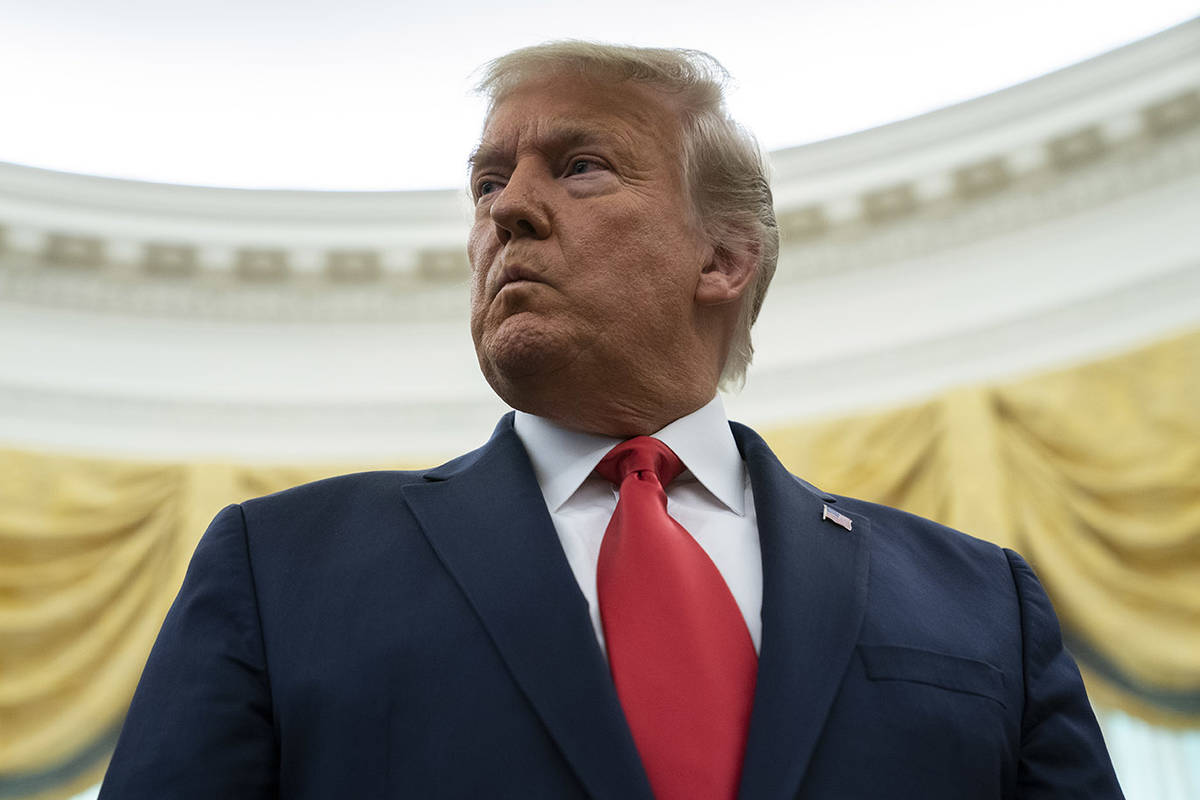 A District Court judge in Carson City on Friday ruled against an attempt by President Donald Trump's campaign to overturn Nevada's presidential election results, saying there was insufficient evidence to support fraud accusations.
Judge James Russell issued his order after hearing several hours of argument from attorneys representing both Trump and President-elect Joe Biden's campaigns on Thursday.
"The contestants failed to meet their burden to provide credible and relevant evidence to substantiate any of the grounds set forth in (Nevada's election contest statute) to contest the November 3, 2020 general election," Russell wrote to close his 35-page order.
Russell ruled Trump's campaign failed to meet any burden of proof, let alone the "clear and convincing evidence" standard required, on any of the four grounds required to overturn an election result: Problems with voting equipment, improper or illegal votes cast, malfeasance by election board or the altering of election results.
The Nevada Republican Party released a statement Friday afternoon saying it disagreed with the ruling and will appeal to the Nevada Supreme Court.
"The case and evidence we presented was overwhelming," the statement reads. "The fight continues for clean and fair elections."
In its legal challenge, Trump's campaign echoed the president's calls of voter fraud and alleged that Clark County election staff failed to address 40,000 cases of double voting and thousands more illegal votes from the deceased or voters who do not live in Nevada.
Democrats argued the challenge did not identify a single voter who allegedly committed fraud, nor did it provide any other evidence to warrant overturning the will of the majority of Nevada's 1.4 million voters.
The large numbers of alleged voter fraud made for popular social media fodder among conservatives, but Russell stressed they did not meet any legal standard.
"Contestants did not prove under any legal standard of proof that illegal votes were cast and counted, or legal votes were not counted at all, due to voter fraud, nor in an amount equal to or greater than 33,596, or otherwise in an amount sufficient to raise reasonable doubt as to the outcome of the election," Russell wrote.
He wrote similar denials for each of the Trump campaign's improper or illegal vote claims, saying the challenge also failed to show any proof of dead voters being counted, problems with mail ballot signature verification and so on.
Russell also found the testimony of experts provided by the Trump campaign "was of little to no value at all," and he ordered the campaign to pay the Democrats' financial cost of defending against the lawsuit.
The election "contest," or challenge, was filed last month by Trump's proposed presidential electors against Biden's six electors, who have since been confirmed as Nevada's representatives to the Electoral College. The college meets on Dec. 14 to formally vote for the next president.
Nevada certified its election results last week, naming Biden the state winner by 33,596 votes.
Trump's campaign is attempting similar legal action in other battleground states across the country, but no judge has yet overturned any state's presidential contest in his favor. States have until Tuesday to settle any election-related lawsuits.
Nevada State Democratic Party Chair William McCurdy II said in a statement he hopes the ruling will allow Republicans to join him and the vast majority of other Americans in moving on from this year's election.
"These continued attacks are not only preventing us from getting through this pandemic, they are dangerous and, if continued, will result in long term damage to our democracy," McCurdy said. "I hope this is the last time a court has to deny Republicans' attempts to overturn the will of Nevadans — it's what our state and country deserve."
Contact Rory Appleton at rappleton@reviewjournal.com or 702-383-0276. Follow @RoryDoesPhonics on Twitter.
Order Granting Motion to Dismiss Statement of Contest by Las Vegas Review-Journal on Scribd