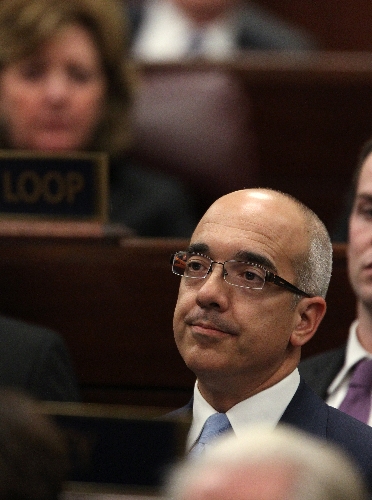 CARSON CITY – State Senate Majority Leader Mo Denis, a Las Vegas Democrat, uses the word "friendly" to describe the tone he expects during the 77th Nevada legislative session that begins in two weeks.
His counterpart, Senate Minority Leader Michael Roberson, a Las Vegas Republican, said his goal is to get along with other leaders of the Nevada Legislature even when they disagree.
"It's going to be a different session," said Roberson, who will sit next to Denis on the Senate floor, a break with tradition and a public show of comity.
On the Assembly side, Speaker Marilyn Kirkpatrick, a North Las Vegas Democrat, and Republican Minority Leader Pat Hickey of Reno are stating similar intentions to keep the tone positive during the budget, tax and policy discussions on "everything from guns to butter," as Hickey put it.
"The fact that we're talking amongst ourselves about setting the right tone is itself a positive step," Hickey said.
Preparing for the session, Kirkpatrick said she reviewed quotes from legislative leaders dating back 50 years and concluded bare-knuckled politics had grown worse in the past few sessions as Nevada's economy tanked.
"I do think there will be some tough discussions," said Kirk­patrick. "And that's OK. That brings good policy, but as long as we can walk out and say, 'It's OK, I disagree with you, but now let's move forward. What can we do?' Is there an art of compromise? We lost that and I just want to bring it back because I think our state benefits."
The attempt at congeniality will be sorely tested on issues ranging from taxes to education after the biennial legislative session kicks off Feb. 4. A political endurance test, it lasts 120 days, ensuring moments of frayed nerves and tempers. It can end in political standoffs, which sometimes have been settled by the Nevada Supreme Court.
Not this time, the leaders vowed last week, as Republican Gov. Brian Sandoval delivered his $6.55 billion general fund budget proposal for fiscal years 2014-15 that lawmakers will use as a starting point for discussions.
Sandoval, addressing lawmakers in the Assembly chambers, said in his State of the State address that he, too, wanted to get along, setting the same tone he did ahead of his first session in 2011. Two years ago, a state high court ruling blew a hole in the governor's budget, forcing a last-minute bipartisan compromise.
"Tonight, we prepare to embark on a legislative session that I hope will set an example of bipartisanship," Sandoval said Wednesday evening, his future and Nevada's at stake.
The political tone – and how it changes – is just one thing to watch for during the session, particularly Sandoval's relation­ship with lawmakers before he runs for re-election in 2014.
A rocky session could wound Sandoval, making him vulnerable to a strong Democratic challenger, possibly Attorney General Catherine Cortez Masto. A successful session could send him skating toward victory as one of the state's most popular governors – and headed for higher office, possibly a U.S. Senate run in 2016.
What nobody wants is to be like Congress, where gridlock and partisan battles have made it less popular than head lice, root canals, cockroaches and a list of other loathsome things, according to a recent Public Policy Poll.
"We have to do the opposite of what is happening there" in Washington, said Gerald Gardner, the governor's new chief of staff. "We have to work together to solve real problems and not play games."
Despite the good intentions, there are deep differences between the Democratic-led Legislature and Sandoval, whose agenda is largely supported by Republicans in both the Assembly and the state Senate.
Here's a look at top issues to watch where Democrats and Republicans might butt heads:
TAXES
Sandoval proposed extending $649 million in sales and business taxes for the general fund that otherwise would expire June 30.
But he raised an exemption for businesses with an annual payroll of less than $330,000, giving 2,700 small companies a tax break. As a result, under his plan about three-quarters of Nevada employers won't have to pay the 1.17 percent Modified Business Tax that was to be repealed. It was first approved in 2009.
Republicans would like to see the payroll tax expire – as would Sandoval, who said he exempted more small businesses because of rising health care costs.
The governor, who ran in 2010 on a no-new-taxes promise, said Wednesday he would veto any attempt to raise taxes this year since the Nevada economy remains fragile.
Democrats have two main problems with Sandoval's proposal – that it didn't give middle class Nevadans a tax break and that it doesn't include enough revenue to support greater education and social services funding.
Denis criticized Sandoval for giving small businesses a tax break – a total of $24 million – while extending a higher sales tax rate on the middle class, a 0.35 percentage point levy that will raise $331 million over the biennium. (That's on top of a 6.5 percent state sales tax rate and local taxes that raise the total levy to more than 8 percent in Clark County.)
Kirkpatrick said the Legislature will on Day 2 launch a serious discussion of tax reform to raise more revenue and to consider ways to replace the payroll tax. Like other Democratic leaders, she refused to be pinned down on what taxes she might support, but said a new business tax and a tax on services should be considered.
"I think we have to look at that," Kirkpatrick said of a services tax, adding that 36 other states tax services – anything from haircuts to landscaping – which are a growing part of Nevada's economy.
Even some Republicans have said they would consider a service tax if it were "revenue-neutral," although Sandoval has said he wouldn't favor any new levy that would raise taxes on any individual or business.
The Legislature might be forced to consider a proposed 2 percent margins tax on businesses with an income of more than $1 million that would raise about $800 million a year for education.
The state teachers union got more than 150,000 signatures on an initiative petition to put the margins tax question on the 2014 ballot, but a lower court struck it down for technical reasons. If the Nevada Supreme Court revives the initiative, the Legislature would have 40 days to approve it or allow it to go on the ballot as written.
Lawmakers also could put an alternative tax question on the ballot, something Sandoval also said he opposes.
The high court has said it would rule before the Legislature convenes Feb. 4.
EDUCATION
Sandoval proposed increasing school funding by $135 million for kindergarten through 12th grade, including $20 million to expand all-day kindergarten to 160 "at risk" schools from the current 114 schools.
Democrats want to put full-day kinder­garten in all public schools, arguing early education is key to classroom success.
Sandoval also proposed $14 million to help English language learners from preschool to third grade, an effort to ensure that Nevada children have better reading skills in grade school so they're more likely to graduate from high school.
Democrats noted education spending has been cut about $1 billion since the economic crisis hit Nevada and argued schools need a big boost now and not improvements around the margins.
"He talked about making improvements for the class of 2023. What about the class of 2015?" Denis asked.
Sandoval also might get push-back from Democrats on a proposal to give businesses a tax break to contribute to a "school choice" fund, which would allow students to attend private schools.
MEDICAID
Sandoval expanded Medicaid, the medical program for the poor. Under President Barack Obama's health care law, 78,000 new people will be added by July 2015, raising the total caseload to 490,000, including natural growth and the addition of poor people who will be required to enroll in the program or face penalties.
The expansion will cost the state an extra $138 million over the next two years, budget officials said. But Sandoval said it also will allow the state to shift $25 million in mental health costs to the federal government.
Sandoval said he reserved the right to opt out of Medicaid expansion if the cost grows too much.
He also said he wanted Medicaid patients "to make a modest contribution toward the cost of their own care." Democrats already have balked at the idea of charging Medicaid recipients a co-pay, which could be $2 to $10 per visit.
GUN CONTROL AND MENTAL HEALTH
Sandoval didn't mention anything about gun control in his State of the State address, and there seems to be little appetite in the Legislature to pass any major laws in the strong gun rights state.
Still, state Sen. Tick Segerblom, D-Las Vegas, said he will introduce a bill that might limit assault weapons and clip sizes in the aftermath of the school shooting in Connecticut where 20 children and six adults were killed.
The discussion in Nevada is expected to focus more on mental health and ways to keep guns out of the hands of disturbed people who might turn violent. It happened in September 2011 in Carson City, when Eduardo Sencion killed four people and injured more than a dozen at a local IHOP restaurant before killing himself.
The issue is tricky, however, since most mental health records are private unless a person has been involuntarily committed to a mental health institute or judged legally insane by a court.
Stricter mental health reporting requirements for gun background checks might grow out of the discussion as well as better treatment.
Sandoval recommended spending $800,000 to open a 24-hour urgent mental health care center in Las Vegas, for example.
The proposal is aimed mostly at relieving jails, prisons and emergency rooms, but also at keeping potentially dangerous people off the streets and ensuring they're stabilized with medication as needed.
DRIVER PRIVILEGE CARDS
Democrats led by Denis and some Republicans are backing a "driver privilege card" that would allow un­documented immigrants to legally drive and buy insurance in Nevada. Denis said it's a safety issue and the cards couldn't be used as official IDs like a regular driver's license. It's patterned after a Utah program.
Sandoval has said he supports giving driver's licenses to young immigrants, or so-called Dream Act children, who have permits to study and work in the United States under a new program the Obama administration offered last year.
But the governor's chief of staff, Gardner, said Sandoval, a former attorney general and judge, doesn't back driver privilege cards for immigrants who aren't in Nevada legally because "they're breaking the law."
Sandoval would likely veto any driver privilege card for all illegal immigrants.
Contact reporter Laura Myers at lmyers@reviewjournal .com or 702-387-2919. Follow @lmyerslvrj on Twitter.