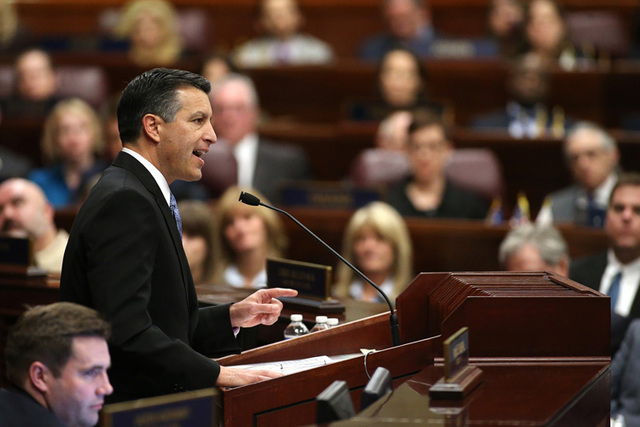 CARSON CITY — After years of keeping state buildings patched together on a shoestring budget, Gov. Brian Sandoval is proposing $234 million in projects involving everything from keeping the lights on and paving parking lots to moving forward with a new hotel college and Department of Motor Vehicles office in Las Vegas.
The cumulative price tag includes $105 million in state funds.
The total project list is more than double the roughly $100 million in projects approved for the last biennium, said Gus Nunez, state public works administrator.
"We've had some lean years," Nunez said Tuesday before presenting an overview of the capital improvement proposals to members of the Senate Finance and Assembly Ways and Means committees. "I think things are coming back up."
Most of the 71 projects to be considered by lawmakers during the 120-day legislative session that begins Feb. 2 involve maintenance for such things as electrical, heating and cooling systems, outdoor lighting, kitchen equipment and security measures at various state buildings around Nevada
Deferred maintenance was common during the recession when Nevada's economy tanked and state coffers dried up. Now the agency in charge of keeping state buildings safe and shipshape is playing catch-up.
The biggest project on the proposal list is construction of a Northern Nevada veterans home in Sparks, with an estimated price tag of $48 million.
The next two largest are in Southern Nevada. A new hotel college building at the University of Nevada, Las Vegas is pegged at $45 million. Sandoval is proposing $24 million in state funding, with the rest to be raised privately.
Las Vegas also is in line for a new DMV office on East Sahara Avenue, projected at $23.4 million. Though a timeline for construction wasn't immediately clear, Nunez said it will be built next door to the existing DMV office, which will be demolished once the new office is completed. To make room for it, the state plans to tear down another building on the site.
The governor's project list also seeks $830,000 to remodel an administrative building at Ely State Prison into a new execution chamber. Ely is where Nevada death row inmates are housed.
Nevada executions were carried out in Carson City at the old Nevada State Prison until it closed in 2012. Legislators in 2013 rejected funding for a new death chamber, saying they couldn't justify the expense when no executions were imminent. Prison officials at the time said the old execution chamber could be used if necessary.
The last execution in Nevada was carried out in 2006.
Contact Sandra Chereb at schereb@reviewjournal.com or 775-687-3901. Find her on Twitter: @SandraChereb

RELATED STORIES
Legislative money committees to be briefed on budget
Sandoval proposes big boost in Nevada education funding
Sandoval proposes $7.3 billion spending plan for Nevada
New year could bring big changes in state
Conservative activist starts PAC to recall Nevada's Assembly Speaker-designate
Southern Nevadans take all top Legislature leadership posts
See all of our coverage: 2015 Nevada Legislature.