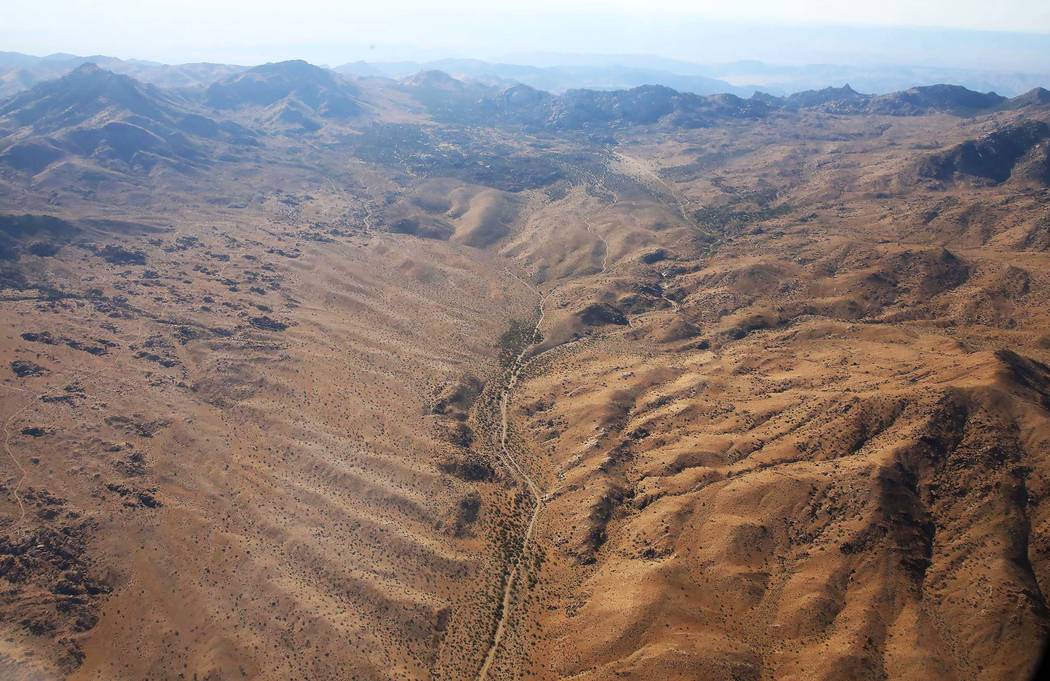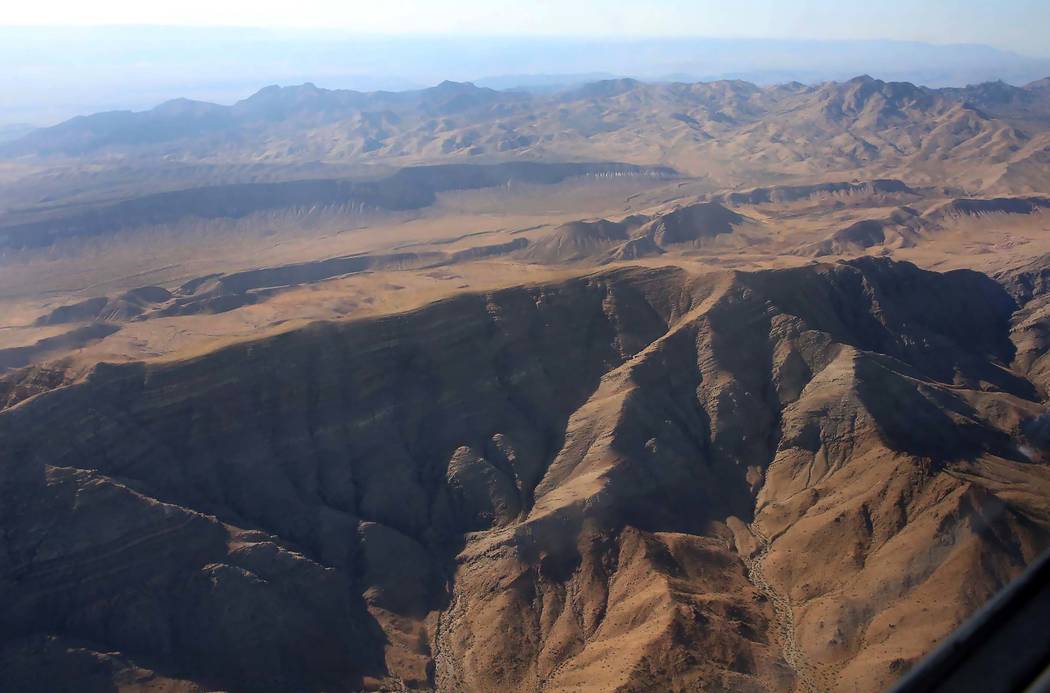 WASHINGTON — Two national monuments in Nevada have been spared from dramatic downsizing, but Interior Secretary Ryan Zinke confirmed Tuesday that he wants to see some land carved from Gold Butte in northeastern Clark County.
Zinke is recommending what he characterized as a minor adjustment to the northern boundary of the 297,000-acre monument to exclude five springs held by the Virgin Valley Water District as a future water source for Mesquite.
But when and how that change might be made remains unclear.
On Monday, President Donald Trump traveled to Salt Lake City to sign a pair of proclamations slashing about 2 million acres from two Utah monuments — Bears Ears and Grand Staircase-Escalante.
The move was hailed by elected leaders in Utah but drew protests and immediate legal action from conservationists and tribal groups.
Zinke's comments Tuesday came during a call with reporters that accompanied the release of his final recommendations for 27 land and marine monuments designated by presidential decree since 1996.
Trump ordered an unprecedented review of those monuments in April, and Zinke submitted a draft version of his findings to the White House in August. The report was not released to the public at that time, though copies of it were leaked to the media.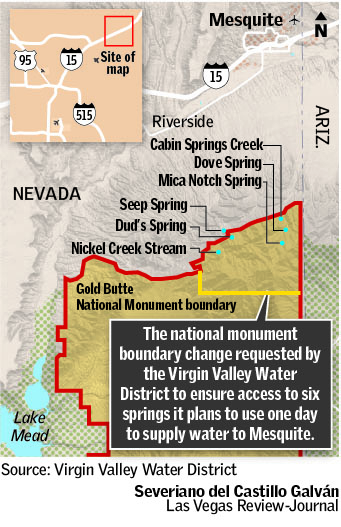 No change for Basin and Range
In his final report, Zinke recommends no changes to Basin and Range National Monument, the 704,000-acre preserve created by President Barack Obama on federal land in remote Lincoln and Nye counties.
His report does not specify how much land should be cut from Gold Butte, but the Virgin Valley Water District has suggested removing about 24 square miles from the roughly 460-square-mile monument.
Elsewhere, Zinke is calling for unspecified boundary reductions for two marine monuments and Oregon's Cascade-Siskiyou National Monument and changes in the management of 10 other monuments. He also recommended that Trump consider three new monuments: Camp Nelson, an 1863 Union Army supply depot and hospital in Kentucky; the Jackson, Mississippi, home of civil rights leader Medgar Evers; and the Badger-Two Medicine area in Zinke's home state of Montana.
Reaction to Zinke's final report was split along party lines in Nevada. Republican Sen. Dean Heller praised the secretary's willingness to "prioritize local concerns over the opinion of Washington bureaucrats," while Democratic Sen. Catherine Cortez Masto said the administration's approach to national monuments "threatens over a century of environmental protections guaranteed by the Antiquities Act."
Gov. Brian Sandoval said he was pleased by Zinke's recommendations for Nevada, calling the proposed change to Gold Butte "a win-win for everyone."
"We're still going to have a monument … that protects a very important part of our great state but at the same time recognize the balance of private interests out there," Sandoval said.
'No land has been transferred'
Trump's decision to scale back Bears Ears and Grand Staircase-Escalante marked the first time in a half-century that a president has undone land protections made by one of his predecessors.
During Tuesday's press call, Zinke bristled at conservationist groups that have accused the administration of taking away precious public space.
"I've seen the press hits," he said. "No land has been transferred or sold."
When a reporter asked Zinke about ads by the retailer Patagonia that say, "The President Stole Your Land," the secretary scoffed, "You mean Patagonia, made in China? This is an example of a special interest."
"We've always viewed public lands as our special interest," responded Patagonia spokeswoman Corley Kenna in a written statement.
"And it's odd that Ryan Zinke has no problem with special interests when they're paying for his private jets," Kenna said, referencing a Washington Post story about a $12,375 charter flight Zinke took in June from Las Vegas to Montana in a plane owned by the executives of a Wyoming oil-and-gas exploration firm.
Contact Debra J. Saunders at dsaunders@reviewjournal.com or at 202-662-7391. Follow @DebraJSaunders on Twitter. Contact Henry Brean at hbrean@reviewjournal.com or 702-383-0350. Follow @RefriedBrean on Twitter. Review-Journal writer Colton Lochhead and the Associated Press contributed to this report.
Final recommendations
On Tuesday, Interior Secretary Ryan Zinke released his final recommendations for 27 land and marine monuments, including two in Nevada:
— Basin and Range National Monument, 704,000 acres of federal land in remote Lincoln and Nye counties designated by President Barack Obama on July 10, 2015.
Recommendation: No changes.
— Gold Butte National Monument, 297,000 acres of federal land in northeastern Clark County designated by Obama on Dec. 28, 2016.
Recommendation: Unspecified boundary reduction to exclude springs held as a future water source for Mesquite and Bunkerville, co-management by tribal groups, changes to proclamation to recognize valid grazing rights and other existing uses.