Nevada Republicans seek to recall state Sen. Patricia Farley
August 11, 2017 - 12:20 pm
Updated August 11, 2017 - 3:01 pm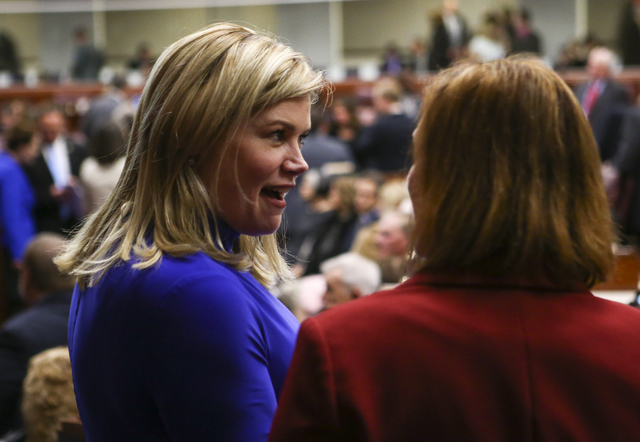 For the second time this week, Republicans filed a petition to recall a Nevada state senator.
The petition filed Friday seeks to remove nonpartisan state Sen. Patricia Farley, who scoffed at the effort.
"It's stupid. It's gutter politics at its best," Farley said.
The timing of the move is unusual because the seat is up for election in 2018, and Farley told the Review-Journal she will not seek re-election because she plans to focus on her family.
The petition was signed by John Gibson, president of the conservative political group Keystone Corporation; Kevin Kean, a board member for Keystone; and Las Vegas resident Annalise Castor.
"When you're a group of people, and you lack a substantive policy agenda, the only option you have left is pulling stunts to get attention," Farley said.
Senate Majority Leader Aaron Ford blasted the recall efforts in a statement Friday as a "backroom scheme by Republicans."
Former GOP Assemblyman Stephen Silberkraus filed a recall petition this week against state Sen. Joyce Woodhouse, D-Henderson.
The efforts, Ford continued, are "a revolting attack against outstanding women Senators, an insult to Nevada voters and taxpayers, and a blatant abuse of the recall process."
Farley was elected as a Republican in 2014. She switched to nonpartisan in 2016 and caucused with Democrats during the 2017 Legislature.
While the outcome of the petition likely would have little impact on the 2018 election, a recall would shake up the powerful Nevada Legislative Commission, which handles the Legislature's business when it is not in session.
Democrats removed Senate Minority Leader Michael Roberson from the commission in May and replaced him with Farley, shifting the balance of the body to Democrats.
The one-page petition seeks to replace Farley with Jared Glover. Nevada does not require a reason to start a recall petition. For it to get to a recall election, the group will need to gather more than 7,100 signatures from people who voted in Nevada's 8th Senate district in 2014 by Nov. 9.
Woodhouse recall
The Silberkraus petition seeks to replace Woodhouse with her 2016 Republican opponent, Carrie Buck.
That move brought Nevada Democrats out in force to rally around Woodhouse. Dozens of Democratic members of the Assembly, state Senate and even the federal delegation took to Twitter to defend Woodhouse.
".@JoyceWoodhouse is a champion for Nevada's kids & a fighter for her district. @NVGOP should accept 2016 results & stop this baseless stunt," read a tweet from Democratic Rep. Jacky Rosen, D-Nev.
Meanwhile, most Republicans have been mum on the subject, but Gov. Brian Sandoval's office said in a statement the governor had no prior knowledge of the effort and that he has not contributed to the recall efforts.
"Since it is filed, it will be up to the voters but the Governor will have nothing to do with it," the statement said.
The petitioners have until Oct. 31 to gather more than 13,000 signatures from people who voted last year in the Senate District 5 race. Woodhouse defeated Buck by fewer than 500 votes in 2016.
Las Vegas Sands Corp. Senior Vice President Andy Abboud is a vice president on Keystone Corporation's board of directors. The Review-Journal is owned by the family of Las Vegas Sands Corp. Chairman and CEO Sheldon Adelson.
Contact Colton Lochhead at clochhead@reviewjournal.com or 702-383-4638. Follow @ColtonLochhead on Twitter.