Nevada senators call on Las Vegas City Council to help end waste monopoly
Updated March 28, 2017 - 4:56 pm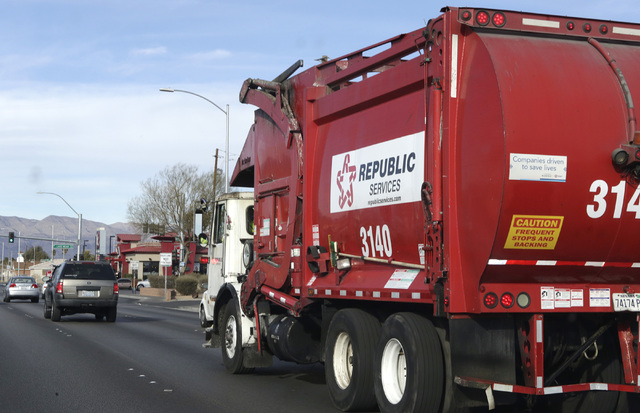 Nevada state Sens. Patricia Farley and Mo Denis are contributing to the clamor for the Las Vegas City Council to delay action on an agreement with waste hauler Republic Services until there is a more comprehensive look at the waste management industry.
The senators wrote a letter to Mayor Carolyn Goodman and the City Council this week asking them to delay action on a proposed long-term contract extension with Republic. The city and the waste company have been negotiating for more than a year despite repeated calls for the contract to go through a competitive bidding process.
Farley, I-Las Vegas, and Denis, D-Las Vegas, this month introduced Senate Bill 315 "to begin a comprehensive policy discussion around this critical and, at times, controversial industry," Farley wrote.
It's been more than 25 years since the state has "substantively" looked at recycling and waste management issues, the letter states.
"Because of this, in recent years, these issues have turned into controversial and highly volatile issues all over the state, oftentimes to the detriment of our constituents, the environment and Nevada-owned businesses."
The Las Vegas City Council is expected to take up both a framework ordinance setting guidelines for a single-stream recycling program in the city and a proposed long-term contract extension with Republic at its April 5 meeting. The agenda had not been posted as of Tuesday afternoon.
Las Vegas Mayor Carolyn Goodman said she'd like to see the council take a vote.
She called a 12-year extension to the franchise agreement "a little much," and said she'd like to see that reduced, but is "very supportive of Republic" and said residents who already have single-stream, or no sort recycling "love it." But if there are waste disposal contracts the city can bid out that are "part of the whole picture," Goodman is in favor of that, she said.
A NEVADA MONOPOLY
The legislators' letter calls Nevada "one of the most monopolized states in the country" when it comes to waste and recycling. Nevada is also unique because its two primary franchisees, Republic Services in Southern Nevada and Waste Management in Northern Nevada, own the major landfills.
"And, while franchise agreements play a role in our community fabric, without a statewide policy, they can have devastating impacts to existing business, stifle technology growth and progress and leave residents without recourse for dissatisfaction," the letter states.
The letter invites city leaders to get involved in the state-level policy discussion "so we can begin to set a statewide waste and recycling policy direction for the state."
Farley and Denis have met with locally owned businesses across Nevada in recent months. The businesses said they have "experienced significant adversity because of the current waste and recycling franchise agreements, the lack of oversight and the lack of competition in the market," the senators' letter to the council says.
Mike Draper, of Argentum Partners planned to deliver the letter to council members Tuesday.
Contact Jamie Munks at jmunks@reviewjournal.com or 702-383-0340. Find @JamieMunksRJ on Twitter.
Letter Regarding SB315 by Las Vegas Review-Journal on Scribd