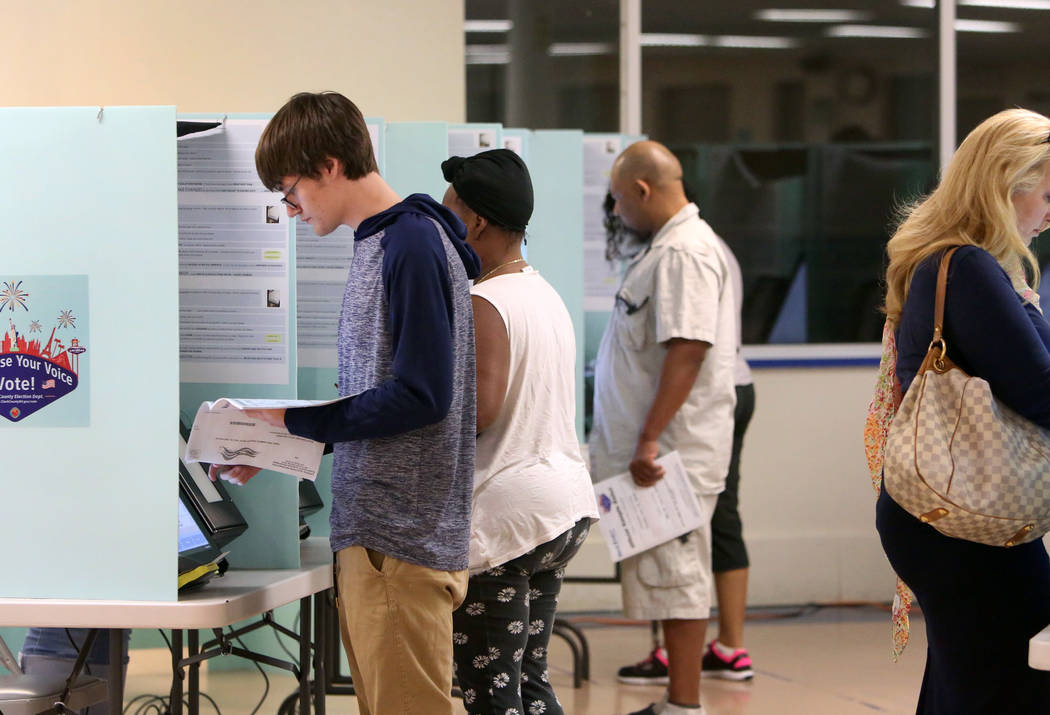 After three decades as a registered Republican, Army veteran Doug Goodman couldn't do it anymore.
Despite a surge in GOP victories in 2010 — the middle of Barack Obama's first term as president — Goodman felt his party's extreme conservatism was out of control. Democrats weren't much better. Goodman bit the bullet and switched to nonpartisan.
But the switch limited his ability to vote in Nevada's closed primary elections, which allow voters not registered as Democrats or Republicans only to vote in nonpartisan races. Goodman went from being disillusioned to largely excluded.
Now the 69-year-old is the force behind an initiative that would uproot the way Nevadans vote by scrapping primaries in favor of a single November election.
If successful, Nevada would become the first state to completely do away with the major-party primary system.
Long way to go
Goodman, who's tracked voter turnout and registration in Nevada since 2013, formed a group called Nevadans for Election Reform. The group filed the initiative, Greater Choice-Greater Voice, with the Nevada Secretary of State's office in September. They have until Nov. 13 to gather more than 112,000 signatures to move it forward.
Things are looking bleak, though. Goodman said they've gathered less than 10 percent of the signatures needed and finding volunteers to spread the word has been tough.
If Goodman is able to gather enough signatures, the initiative must be approved by the Nevada Legislature and signed by the governor in the first 40 days of the 2019 session. If it's not approved in Carson City, it would go to voters in 2020.
Sherry Hobbs, a nonpartisan voter, says she can't think of a downside to nixing the primary.
"To me, it sounds like it makes so much sense," said Hobbs, 70, a retired health care executive who moved to Henderson from California, which has open primaries. "I haven't lived in a state where you can't vote in a primary — until now. It was very disconcerting to me to not be able to vote on the candidates."
Nevada would have saved $6 million in 2016 if it had no primary election, according to a state fiscal analysis. Goodman says his initiative also will alleviate gridlock in the two-party system by giving more voters a voice.
"We want to get our government working again," Goodman said. "Right now, nothing gets done. Lawmakers and legislators are not willing to sit down and collaborate on problems."
Plus, he added, turnout in general elections is much higher — usually above 65 percent — compared with turnout in primaries that hovers around 20 percent.
Gathering support
If it passes, the measure would move Nevada to ranked-choice voting, allowing voters from all parties to rank their picks according to a top three. Goodman says this would force candidates to aim for broader appeal, rather than catering to an ideological base.
"This initiative will open up the opportunity for more qualified candidates to seek and hold office and will allow currently disenfranchised independent voters a real and direct way to vote for the candidate who they feel will best represent them," said Liberterian Party of Nevada spokesman Sam Toll.
A handful of major cities have enacted ranked choice voting, including San Francisco, Minneapolis and Santa Fe. In June, Maine became the first state to use the new method for all federal and state primary elections. Critics of ranked voting say it can be confusing to voters, may lead to unvetted candidates and requires a more intensive counting system.
Sondra Cosgrove, a history professor at College of Southern Nevada and president of the League of Women Voters Nevada, said the primary system should be reexamined because the number of nonpartisan voters continues to grow in Nevada.
"I think this petition could work because it's working in other states," she said. "Let's at least have that discussion."
Contact Ramona Giwargis at rgiwargis@reviewjournal.com or 702-380-4538. Follow @RamonaGiwargis on Twitter.