Nevada wildlife officials to mull regulating antler collecting
October 29, 2017 - 4:05 pm
Updated October 29, 2017 - 5:51 pm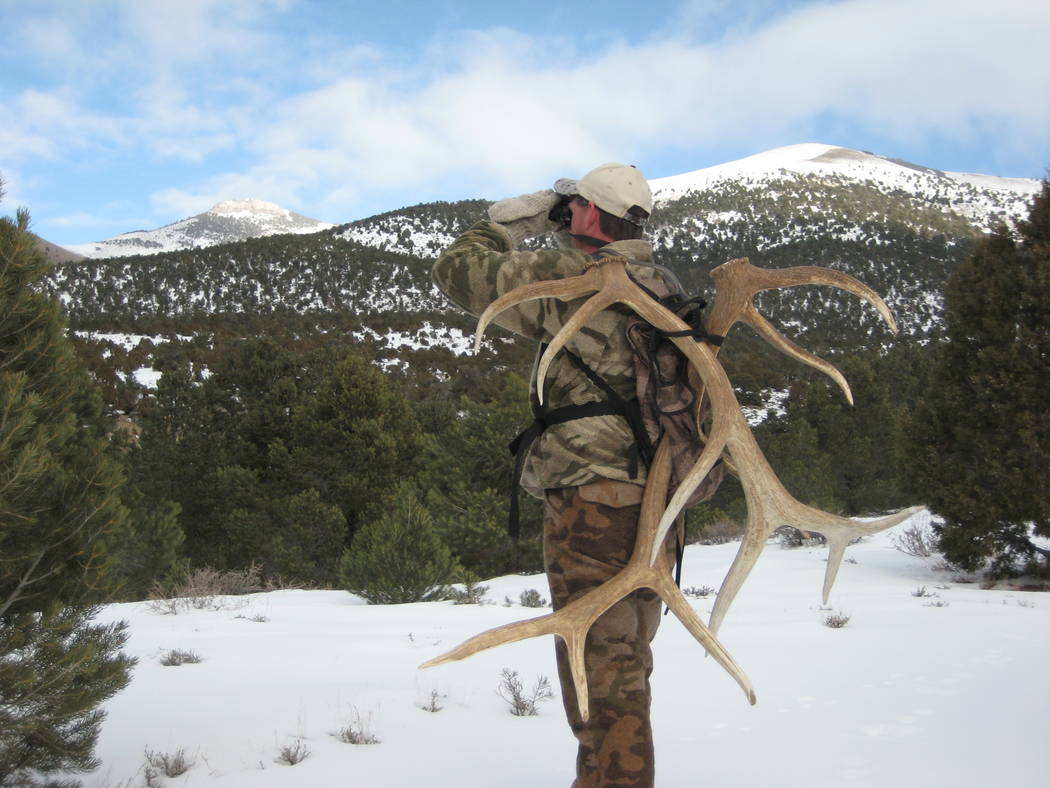 CARSON CITY — Hunters scour the Nevada wild, looking for fresh antlers that deer and elk have outgrown and shed.
The activity attracts everyone from hobbyists to commercial collectors hoping to discover a complete pair of elk antlers, which can sell for about $14 a pound.
"It's like the world's biggest Easter egg hunt," said Tyler Turnipseed, Nevada's chief game warden.
Collectors get creative in their hunting, said Cory Lytle, a member of the Lincoln County Advisory Board to Manage Wildlife.
"People are using dogs to collect antlers," Lytle said. "They're using drones. They're using any means necessary."
But hunters may have to plan future trips around new restrictions.
State wildlife officials are considering banning shed antler hunting from Jan. 1 through April 14. The Nevada Board of Wildlife Commissioners will have an initial discussion about the proposal at its Friday meeting.
The move is aimed at helping the deer and elk population and habitat avoid disruption and strain during the lean winter months, Turnipseed said. It's important that the animals' foraging activity not be interrupted, Turnipseed said. In Nevada, there are groups that come in from out of state to hunt shed antlers, sometimes for weeks.
"It's kind of exploded in popularity in the last 10 years," Turnipseed said.
Exact figures for shed antler hunters for Nevada are difficult to gauge because no state permit or license is required to hunt shed antlers.
The wildlife board passed a similar regulation in 2014, but it did not get final approval from the state's Legislative Commission.
In early February, Utah officials enacted a temporary closure on shed antler collecting, which spurred the industry in Nevada last winter.
"If we don't have any stipulations on our side of the border, it's just going to lead to more (Utah) residents coming over," Lytle said.
Utah's ban was put in place because of the season's severe winter and precipitation, said Mark Hadley, a Utah Division of Wildlife spokesman.
"I think the consensus here with the agency is we won't be doing closures like we did last year," he said. "We're probably not going to do that. It's going to have to be an extreme winter to do a closure."
The Utah Division of Wildlife has an online ethics course for hunters. In 2017, 19,878 shed antler hunters took the course. In 2009, the first year Utah had the course, 13,429 people completed it. The course is required to gather antlers between Feb. 1 and April 15. Hunters can complete the certificate and print it out and carry it with them while hunting.
"The purpose of this ethics course is to try to teach people how to gather shed antlers ethically without causing big game animals undue stress in the winter," he said.
Contact Ben Botkin at bbotkin@reviewjournal.com or 775-461-0661. Follow @BenBotkin1 on Twitter.