Officials blame high turnout for delay in Nevada election results
Updated November 7, 2018 - 8:38 pm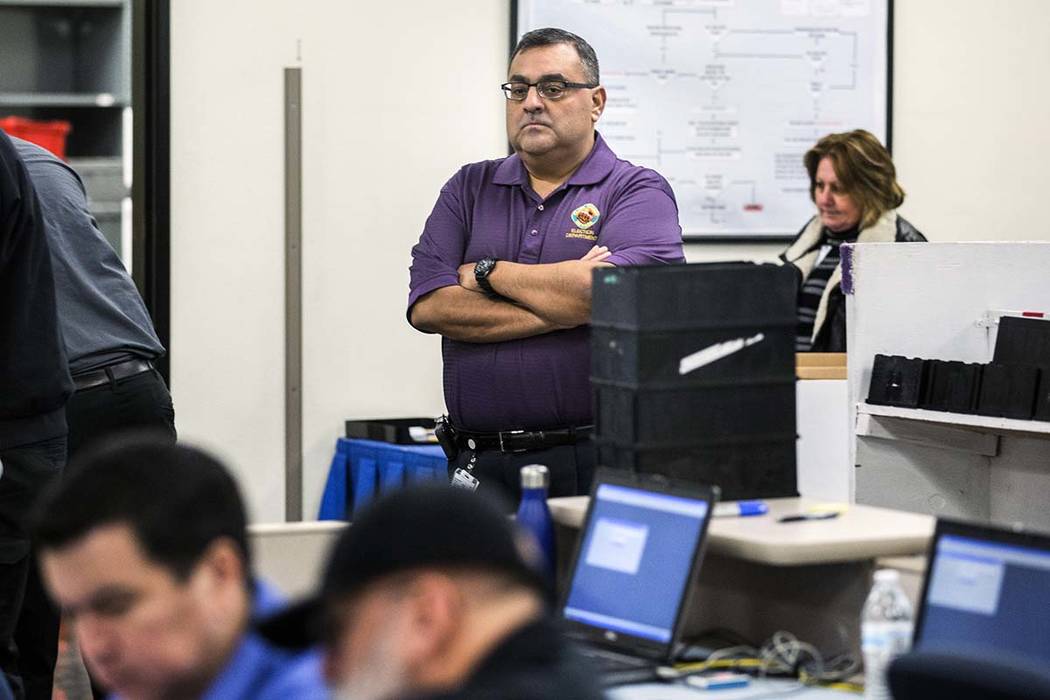 Four hours after polls closed in Nevada, Clark County voters had no idea who would win races up and down the ballot.
Amid a record turnout on Election Day, it took officials that long to post results from the state's largest county. Those results swung a handful of top-ticket races, with Democrat Steve Sisolak winning the governor's seat and Jacky Rosen ousting U.S. Sen. Dean Heller.
Polls closed in Nevada at 7 p.m., but state law says everyone in line before then can vote. Lines were backed up for hours at polling sites in Clark, Washoe and Lyon counties. No election results can be posted in Nevada until every voter who was in line before closing time has cast a ballot.
Officials said 82 of the 172 polling places in Clark County had lines after polls closed.
But as polling sites closed and even after the final voters cast ballots in Washoe County, results from several counties were released. It took another 90 minutes for Clark County's results to become public.
"It's my understanding that we were waiting to hear from the state folks that we were able to release our results," said Clark County spokesman Dan Kulin.
Registrar of Voters Joe Gloria could not be reached Wednesday. Both state and Clark County officials blamed the delays on high voter turnout.
According to the secretary of state's office, 62.1 percent of the Nevada's 1.5 million registered voters cast ballots in Tuesday's midterm election. That exceeded the 45.56 percent who voted in the last midterm election in 2014.
"I think overall Election Day yesterday was a huge success," said Wayne Thorley, who oversees elections at the secretary of state's office. "We had a lot of interest from the voters, great turnout — no major issues with the voting system."
For the first time in a general election, residents in Carson City as well as Clark, Douglas and Washoe counties could vote at any "vote center," instead of assigned precinct polling locations. The change was intended to make it easier for people to get to the polls, but it resulted in Clark County having 100 fewer polling sites than in 2016.
Thorley said it's unclear whether that contributed to crowded vote centers and the long delays.
"I think it's too early to make a determination about that right now," he said. "The number of votes cast at the 172 vote centers varied greatly. There were sites that had long lines, and there were others that had no lines."
Thorley said the state posted results from Clark County as soon as they were received, which was close to 11 p.m. Tuesday.
"We weren't sitting on anything from Clark County," he said. "We posted them as soon as we got them."
Antonia and Fernando Alverez hadn't voted at Rancho High School before, but the couple said Tuesday that they recently moved to the area, and the site was convenient for them.
They waited about an hour before somebody helped Antonia Alverez, 59, to the front because of a disability.
Waiting aside, the pair appreciated the music, as well as the water and snacks handed out to those standing in line.
Contact Ramona Giwargis at rgiwargis@reviewjournal.com or 702-380-4538. Follow @RamonaGiwargis on Twitter. Review-Journal staff writer Blake Apgar contributed to this report.