Petition filed to recall Sen. Joyce Woodhouse of Henderson
Updated August 9, 2017 - 6:34 pm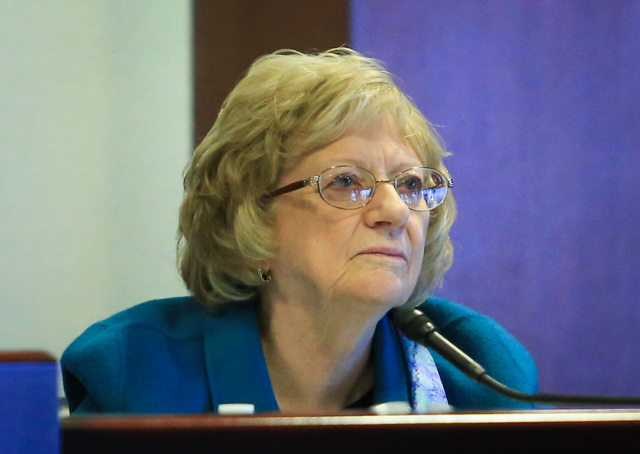 Former Republican Assemblyman Stephen Silberkraus is leading a push to recall Democrat state Sen. Joyce Woodhouse, according to a petition filed last week.
Silberkraus, his wife, Chelyn Sawyer, and another Henderson resident, David Satory, filed the recall petition with the Nevada secretary of state's office Aug. 2. The Nevada Independent first reported the recall effort.
Nevada law does not require a reason to file a recall petition. Silberkraus did not immediately respond to requests for comment Wednesday.
Woodhouse also did not respond to requests for comment. But state Senate Majority Leader Aaron Ford blasted the effort, calling it a "pitiful attempt to subvert the will of voters."
Proud to stand with Sen. @JoyceWoodhouse against nonsensical recall efforts. SD5 has spoken. So, Republicans, your distractions are futile.

— Sen. Aaron D. Ford (@AaronDFordNV) August 10, 2017
"This is a desperate effort to change the results of the last election and steal a seat in the Nevada Senate. We demand that the individuals behind this ridiculous recall petition immediately release their intentions to the public and explain why forcing an expensive special election would not be a complete waste of money for Nevada taxpayers," Ford said in a statement from the Democratic caucus.
For the effort to succeed, signatures would need to be gathered from 25 percent of people who cast a ballot in the Senate District 5 in 2016. If that happens by Oct. 31, a date would be chosen to hold a special election.
Woodhouse won re-election in 2016 by beating Republican Carrie Buck in a race decided by fewer than 500 votes. Silberkraus held the Assembly District 29 seat, which sits inside of Woodhouse's Senate district, for one term before losing to Democrat Lesley Cohen last year.
Contact Colton Lochhead at clochhead@reviewjournal.com or 702-383-4638. Follow @ColtonLochhead on Twitter.