Poll ranks best, worst legislators in Nevada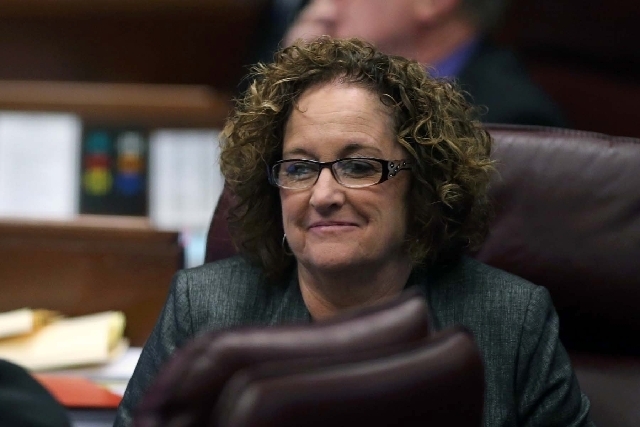 CARSON CITY — Assembly Majority Leader William Horne and Sen. Debbie Smith are the best Assembly and Senate members in the Review-Journal's anonymous poll of legislators, lobbyists and reporters.
At the same time, the poll found state Sen. Aaron Ford was the best Senate freshman, while Wes Duncan narrowly edged Andy Eisen, D-Las Vegas, in winning the best Assembly freshman honor.
Only true freshmen were ranked, not those who had previous legislative experience, but were elected to a new house or returned to the Legislature after a break in service.
Senate Minority Leader Michael Roberson, R-Las Vegas, was rated the worst senator, while Lucy Flores, D-Las Vegas, edged Michele Fiore, R-Las Vegas, as the worst Assembly member.
Senate Majority Leader Mo Denis, D-Las Vegas, received hardly any votes for best or worst senator.
Gov. Brian Sandoval received a "B-" grade for his efforts in working with the Legislature and running state government. Several respondents questioned why Sandoval seldom made the 100-yard walk from the Capitol to meet with legislators in the Legislative Building. Another voter, apparently a reporter, said Sandoval needs to work to build better press relations.
Unlike the 2011 session, Sandoval rarely held news conferences or had staff members meet with reporters.
Review-Journal reporters did not vote in the poll, which has been conducted at the end of each session for 20 years. In all, 130 questionnaires were handed out, with 35 people returning their completed polls. That is about an average return compared with past sessions.
"I am amazed," said Smith, D-Sparks, about her selection as best senator. "I do work hard. This session was new for me, chairing Finance and serving as the assistant leader and helping members getting their bills passed."
Smith won election to the state Senate in November after serving 10 years as a member of the Assembly. In 2011, she was chairwoman of the Assembly Ways and Means Committee. This session, she became chairwoman of the Senate Finance Committee, which reviews and passes bills on state spending.
She also was the assistant to Denis, the majority leader.
Some respondents mentioned how hard she works, and one called her a "rock star."
Horne, D-Las Vegas, was chosen the best Assembly leader in his final legislative session. He has served the maximum 12 years in the Assembly and now faces a decision on whether to seek another office, or remain in Las Vegas as a lawyer.
Horne might be best known this session as the man who headed the committee that reviewed the arrests and bizarre incidents involving then-Assemblyman Steven Brooks, D-North Las Vegas. Brooks was expelled from the Legislature.
Horne was also respected for his leader­ship in Assembly floor debates and his sense of humor.
"I am glad to be thought so highly of by my colleagues and the people I work closely with," Horne said.
Ford, D-Las Vegas, who attracted a lot of attention for his bow ties as well as his intelligence, beat three other Senate newcomers to become the best Senate freshman. He was saluted for his intelligence, politeness and fairness in leading the Senate Natural Resources Committee, a committee that often drew hundreds of spectators because of its bills regarding animals.
"I appreciate it; it's nice," Ford said after being notified of the poll results.
Duncan, R-Las Vegas, also expressed his appreciation for being named best Assembly freshman.
"I am very pleased to be honored by those who know me," Duncan said.
He came into the Assembly known for his upset victory in November over Assemblyman Marcus Conklin, D-Las Vegas. Conklin likely would have been named Assembly speaker if he had won re-election.
Even before taking his seat in February, Duncan, a lawyer and war veteran, was touted by Assembly Minority Leader Pat Hickey, R-Reno, as the next great Republican leader. Respondents touted Duncan for his intelligence, research and speaking ability; but one jokingly admonished Hickey, saying Duncan is not the god that the minority leader made him out to be.
Contact Capital Bureau Chief Ed Vogel at evogel@reviewjournal.com or 775-687-3901.