Pressure builds on Kihuen as second woman alleges sexual harassment
December 14, 2017 - 3:26 pm
Updated December 14, 2017 - 5:24 pm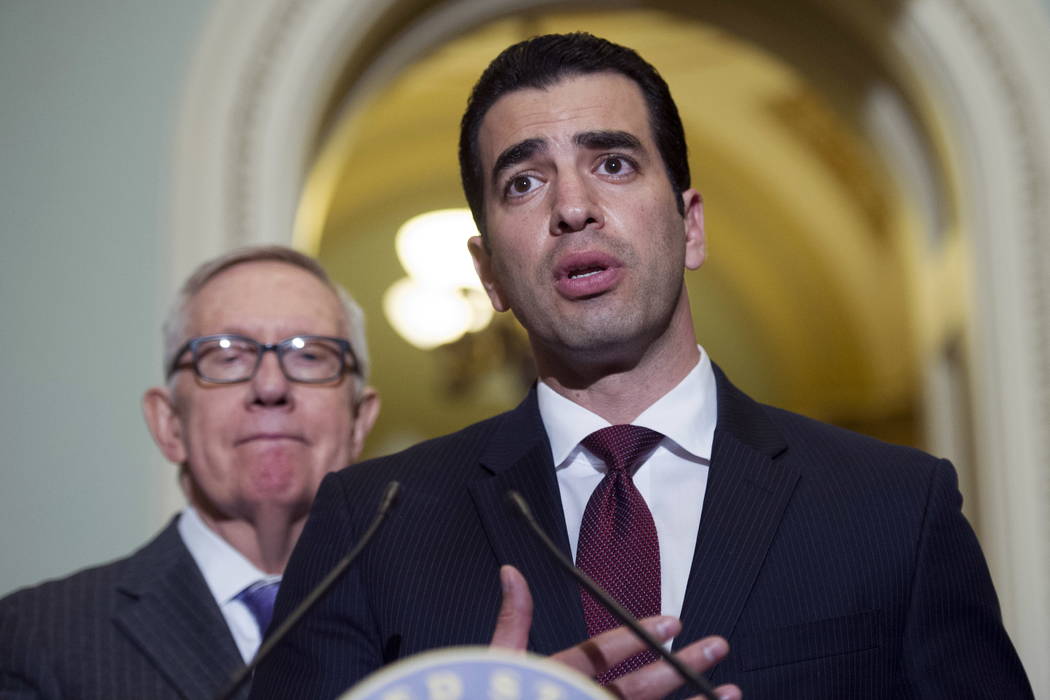 WASHINGTON — A House Republican lawmaker facing sexual harassment allegations announced Thursday he would not seek re-election as a second accuser leveled accusations against Nevada Rep. Ruben Kihuen, a Democrat.
Democratic Party leaders have called for Kihuen to step down over allegations of sexual harassment.
But Kihuen said he would not resign over accusations that he harassed a campaign finance aide in 2016, and he invited a House Ethics Committee investigation into those allegations first made public in a BuzzFeed story on Dec. 1.
A second unnamed woman, who worked as a lobbyist in Carson City when Kihuen was a state senator, came forward this week with similar accusations of harassment against the lawmaker, detailed in texts and Facebook messages. According to the web-based Nevada Independent, the lobbyist said Kihuen touched her thighs and buttocks on several occasions while he was a state senator, and made repeated sexual advances during Nevada's 2015 legislative session.
In a statement issued by his office, Kihuen said that during his 10 years in the state Legislature "I dated several different women. Out of respect for their privacy, I won't discuss my communications or any other details of those relationships."
The woman told the Nevada Independent she did not date Kihuen. Kihuen, 37, is unmarried
The accusations against Kihuen come as Rep. Blake Farenthold, R-Texas, announced he would not seek re-election next year. His announcement comes one day after the Ethics Committee announced it would seat a subcommittee to review sexual harassment charges against him.
Taxpayers footed an $84,000 settlement reached by Farenthold and a former spokeswoman.
Farenthold is the latest lawmaker to either resign to decline to seek re-election after being accused of sexual harassment. Sen. Al Franken, D-Minn., resigned and Rep. John Conyers, D-Mich., retired after allegations surfaced against the men from multiple accusers.
Rep. Trent Franks, R-Ariz., resigned when it was disclosed he asked a staffer to carry his child as a surrogate mother, and Rep. Joe Barton, R-Texas, said he would not seek re-election after explicit photos and videos made during a consensual relationship were made public.
Kihuen now faces increased pressure from party leaders and colleagues to step down following the second accusation of inappropriate behavior.
Rep. Dina Titus, D-Nev., has denounced Kihuen's behavior in sharp statements to the media.
"Ruben would not be able to work in my office where we have a zero-tolerance policy on sexual harassment," Titus said.
Rep. Jacky Rosen, D-Nev., and Sen. Dean Heller, R-Nev., have called on Kihuen to step down.
So has House Minority Leader Nancy Pelosi, D-Calif., and Rep. Ben Ray Lujan, D-N.M., chairman of the Democratic Congressional Campaign Committee.
Sen. Catherine Cortez Masto, D-Nev., has called for an expedited investigation into the allegations.
Rep. Mark Amodei, R-Nev., said inappropriate behavior is unacceptable, anywhere, but said there are concerns about affording someone the chance to defend themselves.
"Should we be held to a higher standard because of the public trust? Yes. Should we basically throw away all due process? That troubles me a lot," Amodei said.
Farenthold, in a video statement Thursday, apologized for creating a toxic environment in his office and allowing the stress of the job to manifest into degrading outbursts and not treating people with respect.
The Texas lawmaker was under Ethics Committee investigations for his behavior.
Earlier this week, House Minority Whip Steny Hoyer, D-Md., suggested an Ethics Committee could take up the allegations leveled against Kihuen. Hoyer reiterated that if the allegations were found to be true, Kihuen should resign.
Kihuen said then he encouraged an Ethics Committee review to defend himself against the charges leveled by the campaign finance aide.
Contact Gary Martin at gmartin@reviewjournal.com or 202-662-7390. Follow @garymartindc on Twitter.