Primary duel drains campaign chests for Sisolak, Giunchigliani
Updated May 23, 2018 - 7:35 pm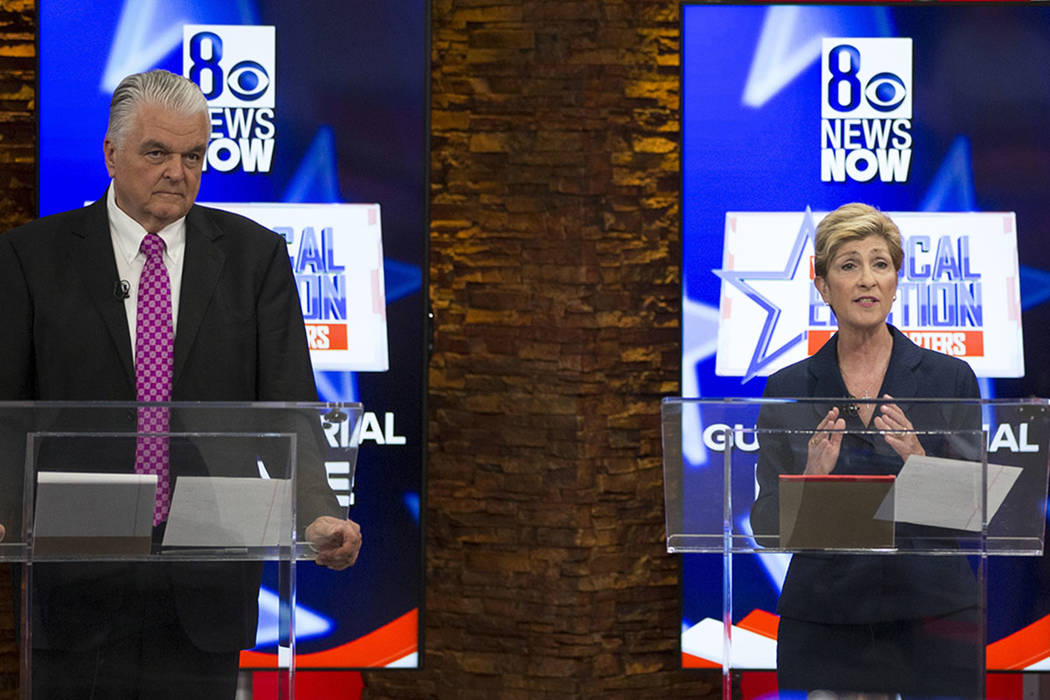 CARSON CITY — Clark County Commissioner Steve Sisolak entered 2018 with a massive $5.75 million war chest of campaign money — well ahead of either of his two key rivals in the race.
But as the duel between Sisolak and fellow commissioner and Democrat Chris Giunchigliani has intensified, Sisolak has been forced to dig deeper and deeper into that cache. His campaign has burned through nearly all of the money he entered the year with, according to campaign finance records released Tuesday night.
That means trouble for whichever Democrat comes out on top come time for the general election in November, said University of Nevada, Reno political science professor Eric Herzik.
"This is the best case scenario for (Attorney General Adam) Laxalt, and actually the Republicans, that you have this bitterly contested primary that's expensive and that could leave a lingering split at the top or near the top of the ticket," Herzik said.
Sisolak spent more than $5.2 million from Jan. 1 to May 18, according to the report. And while he has raised roughly $1.4 million this year, his nearly $6 million war chest has been reduced to about $2 million.
Giunchigliani has taken a similar approach. She entered the year with $1 million in cash on hand and reported raising approximately $800,000 this year. She has spent more than $1 million.
And while the Democrats have lambasted each other over the airwaves and effectively drained each other's campaign coffers, their top GOP rival has continued to grow his own.
Laxalt, whose closest competitors in the GOP primary are self-funded challengers Dan Schwartz and Jared Fisher, reported raising over $1.8 million in the fundraising period, and he spent just under $670,000. According to his campaign, his cash-on-hand sits at $4.2 million.
Tuning in
One place to look where that money is being spent is on the television ads that inevitably take over the airwaves as elections near.
Sisolak has run nearly twice — at a cost of about $1.5 million — as many ads as Giunchigliani on broadcast stations in the Reno and Las Vegas markets, according to Federal Communications Commission records. Giunchigliani has spent $525,000 in those two markets.
Meanwhile, Laxalt's campaign made its first major ad buy this week, securing two weeks' worth of spots in Reno and Las Vegas to air from May 30 to June 12 for $344,600, according to campaign spokesman Andy Matthews. That total includes ads on cable stations such as Fox News, the History Channel and ESPN.
Before that, he'd bought just two ad spots — one in Las Vegas and one in Reno, both of which aired during the UNR basketball game in March. Those ads cost his campaign $17,000.
And a key factor going forward, Herzik added, the Democratic primary winner will likely need to spend several months after the June 12 election refilling their campaign accounts while Laxalt will be able to do more traditional campaigning across the state.
Contact Review-Journal Capitol Bureau reporter Colton Lochhead at clochhead@reviewjournal.com or 775-461-3820. Follow @ColtonLochhead on Twitter.