Reno student suspended after call to Nevada congressman
Updated March 19, 2018 - 9:15 pm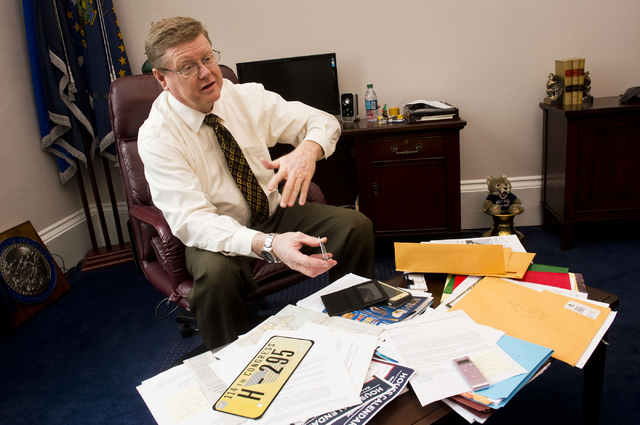 Civil rights attorneys say a Reno high school student's First Amendment rights were violated when he was suspended after calling a Northern Nevada Congressman's office.
Noah Christiansen, a junior at McQueen High School, called U.S. Rep. Mark Amodei's office while taking part in last week's national school walkout to protest gun violence.
Amodei's office then called Christiansen's school to complain, saying the 17-year-old had used "offensive, disrespectful and vulgar comments," during the call.
Three hours later, Christiansen was told he was being suspended for two days for "disrespectful behavior/language."
"It was quite sad to recognize that people think that students' opinion don't matter and they feel the need to retaliate against them," Christiansen said in an interview Monday with the Review-Journal.
The American Civil Liberties Union sent a letter to Amodei's office Monday saying it is "deeply disturbed that your office moved to restrict the First Amendment rights of one of your own constituents."
"As a member of Congress, you have sworn to uphold and defend the U.S. Constitution, and you should know that people have the right to criticize government officials, even if they use colorful language," the letter said.
Amodei's office could not be reached for comment Monday.
Christiansen said he went back into school after the 17-minute demonstration — one minute for each of victims killed last month in the Marjory Stoneman Douglas High School shooting in Parkland, Florida feeling like he "did something good."
"I could have used some better language, but it's still my right to say that language," he said. "You have the right to say anything to a representative, as long as it's not threatening.
"That's the basic tenet of democracy."
Christiansen also took issue with how the school handled his suspension. He was initially told that he would be suspended Thursday and Friday.
Friday, however, was the start of the two-day Nevada state high school debate championships. Instead, the school suspended him Thursday and Monday, allowing Christiansen to represent the school in the middle of his suspension.
Christiansen helped McQueen to a second-place finish in the policy debate competition.
"It looks fantastic for the school," he said. "But right after I do something good for the school, I'm still suspended."
The ACLU also sent a letter to the principal of McQueen High School as well as Traci Davis, the superintendent of Washoe County School District.
"Noah's activity did not disturb or impact any aspect of the educational environment. The only reason RMHS administration even discovered that Noah made this call is because someone from Congressman Amodei's office called the school in what can only be considered retaliation for expressing his political viewpoint to the Congressman."
The Washoe County School District issued a statement Monday afternoon saying that while no students were suspended for participating in the walkouts, some were disciplined "for breaking conduct codes or participating in other inappropriate behavior."
"The Washoe County School District honors, respects and adheres to the First Amendment of our U.S. Constitution. It is within this context that thousands of our students respectfully and appropriately used their First Amendment rights by participating in walk out actions on several of our campuses on March 14th as well as participated in dozens of other school-sanctioned activities related to this national movement," the statement said. "No students were suspended for participation in walk out events on March 14. However, the District cannot discuss specific discipline of individual students due to the Family Educational Rights and Privacy Act (FERPA). The District expects students to act appropriately and with decorum."
Contact Colton Lochhead at clochhead@reviewjournal.com or 702-383-4638. Follow @ColtonLochhead on Twitter.