Rep. Kihuen, immigration activists seek answers after Nevada ICE sweep
October 5, 2018 - 1:51 pm
Updated October 5, 2018 - 7:06 pm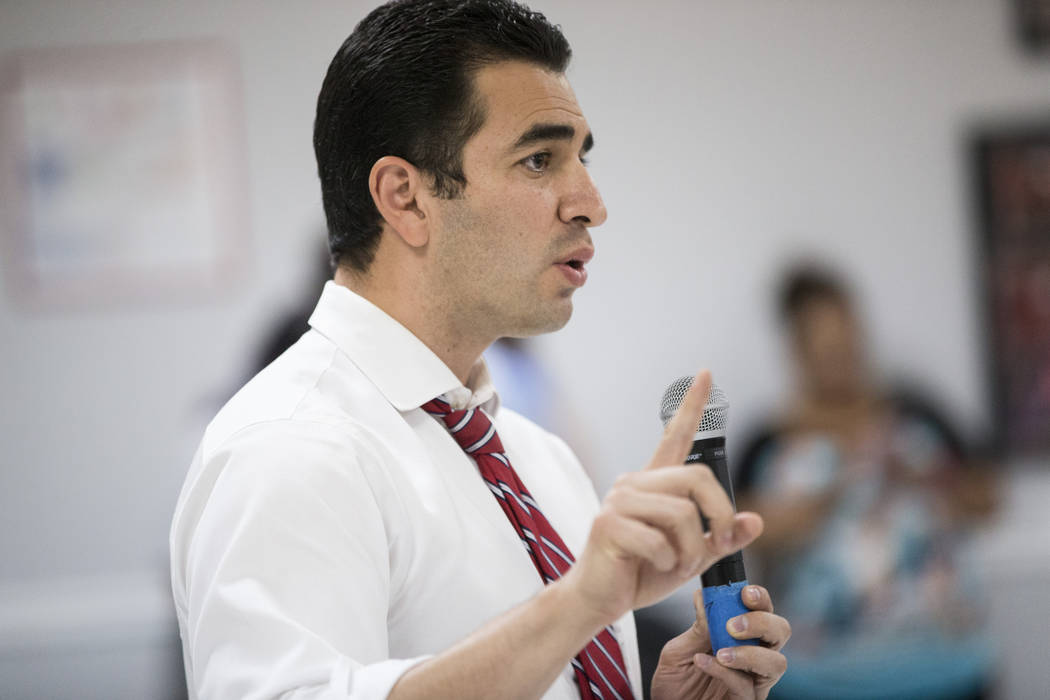 More than a week after 102 undocumented Nevadans were arrested in a sweep by U.S. Immigration and Customs Enforcement agents, immigrants' rights activists say they're left with more questions than answers.
The agency announced the arrests on Sept. 28 in a brief press release, saying that 67 people were arrested in Clark County, 24 in Washoe County, seven in both Humboldt and Elko counties and two in Carson City.
Most of those arrested had prior criminal convictions, including "assault, battery, domestic violence, DUI, weapons charges and drug violations," the release said. ICE did not provide a breakdown and declined to provide additional information to the Las Vegas Review-Journal.
That leads some to question the severity of the crimes, said Michael Kagan, director of the UNLV Immigration Clinic.
"The (ICE) statement does not rule out the possibility that a large minority of the targets had no record of all, while others may have only misdemeanor records," he said.
The statement also doesn't rule out so-called "collateral arrests," where ICE agents targeting an individual with a criminal record take other undocumented immigrants living in the same household into custody even though they haven't committed a crime, Kagan said.
But others argue that a criminal record shouldn't matter because being in the country without proper immigration documents is itself an unlawful act. And while targeting such individuals is a departure from previous administration policy, it's within ICE's authority to do so, said Mark Krikorian, executive director of the Center for Immigration Studies, which advocates for low levels of immigration.
"Under this administration, they've gone back to the normal understanding of immigration law that no category of people is exempt from enforcement," he said.
Rep. Ruben Kihuen, D-Nev., wrote a letter to ICE officials last week seeking clarification on the targets of the operation in response to a surge of calls from concerned constituents looking for help.
"There's a lot of paranoia, even from people who are here with documents, here legally," Kihuen told the Review-Journal. "These are families that are being torn apart."
In his letter to Robert Culley, the ICE field director officer in Salt Lake City whose jurisdiction includes Nevada, Kihuen listed a number of questions activists have been asking in the wake of the ICE release. The congressman said he plans to share the answers he receives from ICE.
Immigration is an issue that hits close to home for Kihuen, who was born in Mexico and immigrated to the United States with his parents when he was 8. For a time, he was living in the U.S. on an expired visa. He is now a naturalized citizen.
Kihuen is a freshman in Nevada's 4th congressional district, which includes North Las Vegas, Mesquite and Pahrump. He is not seeking re-election following allegations of sexually inappropriate behavior with women. He has denied the allegations.
As he finishes out his term, Kihuen said he intends to keep pushing the issue and raising awareness and vowed to continue his activism after he leaves office. Overall, he said, the immigration issue can't be resolved unless Congress can come together and pass comprehensive reform legislation.
He said he'd like to see a failed bill from 2013 — the Border Security, Economic Opportunity and Immigration Modernization Act — resurrected, but knows that's unlikely given the current political climate toward immigration.
"This is a dream bill, considering Congress right now," he said.
Contact Meghin Delaney at 702-383-0281 or mdelaney@reviewjournal.com. Follow @MeghinDelaney on Twitter.