Rosen introduces bill to close gun loophole in military code
December 14, 2017 - 10:03 am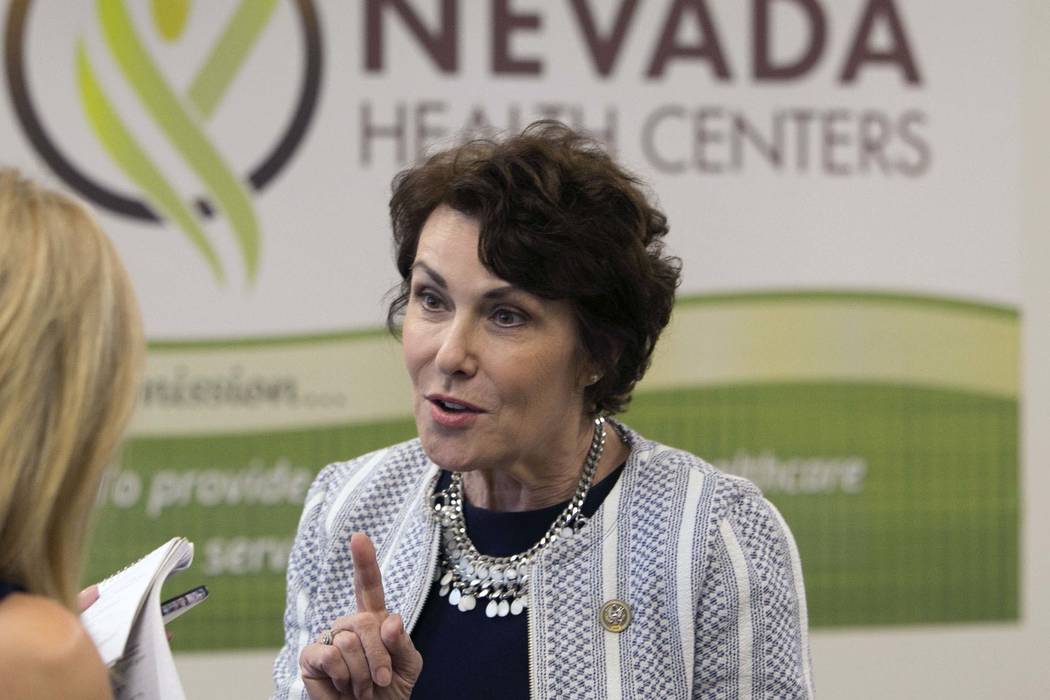 WASHINGTON — Following a mass shootings at a church in Texas, Democratic Rep. Jacky Rosen of Nevada and a Republican lawmaker on Thursday filed legislation to close a loophole in the military judicial code and ban armed services personnel convicted of domestic abuse from legally purchasing weapons.
The man who methodically gunned down parishioners in a Baptist Church in Sutherland Springs, Texas, on Nov. 5 had been convicted and jailed by the Air Force for domestic abuse.
Despite his 2012 conviction for assaulting his wife and infant child, Devin P. Kelley, 26, was able to purchase four weapons after he was discharged for bad behavior in 2014. Three of those weapons were used in the attack.
Rosen, D-Nev., said the bill she co-sponsored with Rep. Lynn Jenkins, R-Kansas, would close a loophole in the military justice system that has enabled those convicted of domestic abuse to legally buy guns.
"Congress has a responsibility to keep guns out of the hands of people who shouldn't have them," Rosen said, adding that meaningful action would "prevent the senseless gun violence that has claimed so many innocent lives."
Amendment to military code
Jenkins said the bill would amend the Uniform Code of Military Justice to prevent a repeat of the Texas tragedy, which left 26 parishioners dead.
"Closing this loophole will help in preventing senseless tragedies like the one in Sutherland Springs, Texas," Jenkins said.
Kelly, an Air Force veteran, apparently attacked the church in an attempt to target his in-laws, who attended the church. They were not present at the service on that day.
It was the worst mass shooting at a church in U.S. history.
The shooting came a little more than a month after Stephen Paddock, 64, of Mesquite opened fire from his Mandalay Bay hotel room on Oct. 1 and shot into a crowd of 22,000 people gathered for a country music festival.
Paddock killed 58 people and wounded more than 500 in the attack, using semi-automatic rifles, some equipped with bump stock devices to accelerate the rate of fire to that of nearly a fully automatic weapon.
Rosen also has co-sponsored bipartisan legislation that would ban bump stocks.
Many gun bills languish
While a flurry of gun-related bills was filed after the shootings, the House has taken up two: legislation to strengthen the FBI database reporting of convicted crimes and another that would allow people to carry concealed guns into states without those laws.
The Senate has yet to act on bills to ban bump stocks or strengthen military and government reporting to the FBI database that provides information to sellers performing background checks on those purchasing guns.
Susan Meuschke, the executive director of the Nevada Coalition to End Domestic and Sexual Violence, applauded the bill introduced Thursday.
"Nevada is among the deadliest states for women in terms of gun-related homicides," Meuschke said. "This policy will help address a dangerous loophole and could save lives in Nevada and across the country."
Contact Gary Martin at gmartin@reviewjournal.com or 202-662-7390. Follow @garymartindc on Twitter.